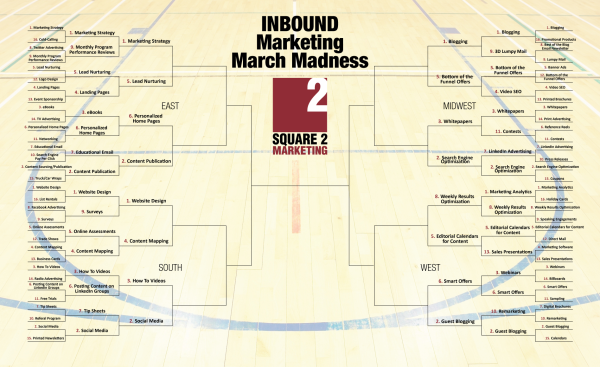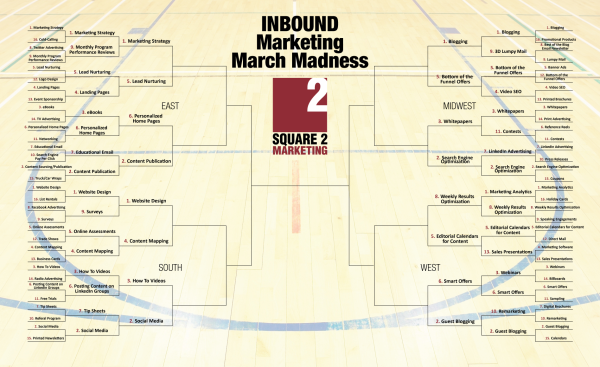 From the original field of 64, we are down to 16 of the best marketing tactics available to business owners, CEOS, CMOs and marketing executives. The field has been narrowed based on very specific criteria.
Click on the image to the right to see it in a larger format.
Is it quantifiable? One of the major tenets of Reality Marketing is measurement – if a tactic isn't measurable, or isn't easily measurable, it might not advance too far in our tournament.
Does it earn attention, or have to buy the attention of your prospects? Today's buyers don't want to be advertised to; they want to learn and be educated. So, if the tactic doesn't add value, but simply interrupts, it might not go too far, either.
Do we have actual performance data on a specific tactic? If we've been able to generate real results for real clients using the tactic, it's probably going to do well in our tournament.
Does it contribute to an experience for your prospects? Today, marketing is about differentiation and creating remarkable experiences for your prospects, which typically starts from a prospect's very first visit to your website. So, the tactics that contribute to delivering that experience are going to do well.
Does it move prospects through the sales funnel? Educational tactics and lead nurturing tactics are going to be successful when they go up against tactics that are more promotional in nature.
Here are our Sweet 16 Teams competing for the honor of best inbound marketing tactic on the planet.
Advancing From The East Region:

(1) Marketing Strategy – Clearly one of the favorites to win it all. Without strategy, the rest of the tactics often fail to live up to expectations.
(5) Lead Nurturing – Generating leads is an important tactic, but people buy on their own schedules, so it's equally important to make sure you are nurturing those leads effectively and in a timely manner.
(6) Personalized Homepages – One of the newer tactics and newer teams to the tournament. The more personalized the website experience for your visitors, the more likely prospects are to pick you.
(2) Content Publication – You can't just create content for your website, you have to get that content in front of your prospects. Content publication gives you the process and approach to do that on a weekly basis.
Advancing From The South Region:

(1) Website Design – You need an inbound marketing website design to help your business get found, get leads and close sales. Everyone is coming to your website before they call you, so it needs to be messaged correctly, emotionally compelling and it needs to have a ton of educational materials.
(4) Content Mapping – Making sure you have content for each phase of the buyer's journey is critical, and mapping that content up and down the sales funnel is exactly how you make sure you haven't missed any critical stages.
(1) How-To Videos – People love video and prefer to watch over read. The more video content you create, the easier it's going to be for businesses to find your website. Prospects are going to spend more time on your site and share more of your content on social media.
(2) Social Media – Speaking of social media, almost as many visitors are landing on your site from social media marketing as they are from traditional search engine optimization. Today, LinkedIn, GooglePlus, Facebook and Twitter are mandatory sites you need to have updated daily and perfectly integrated with the rest of your messaging.
Advancing From The MidWest Region:

(1) Blogging – If you want to get found, you have to blog. Google and the other search engines are ranking blog content as prominently as regular homepage links. The more you blog, the better you'll do with the search engines.
(5) Bottom-Of-The-Funnel Offers – Leave the traditional Contact Us page behind and get more creative with offers that actually add value to the buying process. This is one of the most underrated, yet effective inbound marketing tactics in the field today.
(3) Whitepapers – These three-to-four page pieces of educational content make up the backbone of your Content Marketing effort and need to be something you publish and promote on a monthly basis.
(2) SEO – Perhaps one of the most overrated and still traditional tactics left in the field. Today, SEO is delivered in many different ways. Traditional SEO efforts are quickly becoming overshadowed by content creation, blogging and content publication.
Advancing From The West Region:
(8) Weekly Results Optimization – What gets measured gets done. If you don't set goals and track them, your marketing never improves and never delivers measurable results. Keeping track of performance weekly is mandatory.
(5) Editorial Calendars For Content – Probably one of the more overlooked tactics, but if you make editorial calendars for blogging, whitepapers, webinars, videos and other educational materials, you quickly find that inbound marketing gets a whole lot easier.
(6) Smart Offers – Again, a newcomer to the field of 64. Technology now allows us to offer visitors educational content in context. Based on personas, you are now able to offer people the perfect whitepaper, or, if they downloaded an offer the last time they visited your site, make sure they never see that offer again. Improve their experience with your business by making it even more personal.
(2) Guest Blogging – Also a favorite to advance, Guest Blogging provides a great opportunity to tell your company's story on sites stocked with people who don't know you, but who you want to know and who are qualified prospects for your business. One guest blog post has the potential to drive thousands of new visitors and hundreds of leads in a single day.
These teams will battle it out to see who advances to the Final Four and, eventually, which tactic claims the title as, "The Most Effective Inbound Marketing Tactic" in the world. The games start up again on Thursday, with Friday's post taking the list down from 16 to eight, and then again on Monday, when we will go from eight teams to the Final Four. The remaining schedule will be published after we work out our TV schedule with CBS, TNT and TBS.
Start Today Tip – Inbound marketing sometimes seems overwhelming. It's a new way to go, it's constantly changing, the tactics are always evolving and new tools are introduced every single day. But, by reviewing the tactics that are advancing and starting with a few of the more significant tactics, you're able to get started with inbound marketing. You then start to see results, and success often breeds more success. Don't worry about where to start – just start!
Square 2 Marketing – Leading The Reality Marketing And Inbound Marketing Revolution!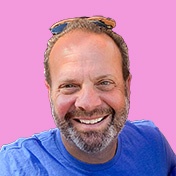 Mike Lieberman, CEO and Chief Revenue Scientist
Mike is the CEO and Chief Revenue Scientist at Square 2. He is passionate about helping people turn their ordinary businesses into businesses people talk about. For more than 25 years, Mike has been working hand-in-hand with CEOs and marketing and sales executives to help them create strategic revenue growth plans, compelling marketing strategies and remarkable sales processes that shorten the sales cycle and increase close rates.