03/08/2022 |
Mike Lieberman, CEO and Chief Revenue Scientist
Short On Leads? Today's Top 7 Marketing Tactics For Lead Generation
As we wrap up the first quarter of the year, some of you might be looking at your lead generation results and wondering, "What happened? Why didn't we generate more leads?"
The answer is probably unique to your industry, company, team, tactics, campaigns and ultimately the execution. In other words, only you can figure it out. No article on the web or list of generalizations is going to solve your challenges around lead generation.
If you did want an educated, independent and experienced opinion, we'd be happy to look at what you're doing and give you some thoughts on what to be doing differently. But I digress.
If you're going to try to fix this on your own, you should look at the tactics you're executing and make sure they are aligned with what is generating leads for other companies in 2022.
Please take note that not every marketing tactic is working as it did a few years ago. The landscape has changed and so have the tactics.
Here's what we're suggesting our clients lean into for their 2022 campaigns.
1. Video
If you read my stuff, you know how bullish I am on video. There is irrefutable evidence that people want to watch, not read, content. Yet B2B companies continue to produce whitepapers, eBooks, tip guides and infographics.
There seems to be a real fear around video.
Let me put those fears to bed and suggest that every company needs to make video their top content marketing priority in 2022.
First, it's no longer costly to produce videos. Most videos can be produced for less than $1,000 per video and some can even be done for just a few hundred dollars. This makes video even less expensive than creating written content.
Next, it now takes about a week to film, edit and publish a video. This means you can do video en masse and do it at scale.
Equipment has always been a challenge but today, you have a high-quality video camera right in your pocket (your smartphone) and the additional equipment needed is available on Amazon for less than $200.
With cost behind you, timing a no-brainer and equipment in your pockets, what else could be holding you up? Yes, it's you. You're shy to be on camera. You don't have anyone on the team who has a camera presence, or you don't know how to prep for a video.
You don't have to be a Hollywood star to do video. In fact, people like authentic and real video content. Just be yourself, flaws and all, and your audience will love it.
As for the prep, there are tactics to mitigate the risks. You can script out the video, use a teleprompter app for your phone and practice before you shoot (and you should). You can also just act naturally and do the best you can.
Post-production editing can fix almost anything and with the right editing resource, it can turn even the worst performance into a perfect video asset for any marketing campaign.
Keep in mind, you're not producing 20-minute shorts. These videos are between one and three minutes long. They might be longer if you're doing an interview or hosting a show as we do for What's Wrong With Revenue?, but in general, shorter is better.
The bottom line is get started and do it today. Your prospects will love it and your lead generation will pick up once you start incorporating the videos.

2. Lead Nurturing
I want to be clear that this tactic is not email marketing. In fact, email marketing didn't even make my list because it doesn't generate leads anymore.
But lead nurturing can turn a new contact into a lead if it's done correctly.
You want to build your lead nurturing workflows to align with your prospect's buyer journey. Their first conversion with you signals where in that journey they're starting and then your lead nurture efforts should be designed to pull them along the buyer journey and give them every opportunity to continue to signal their stage in the journey.
For example, when someone converts on your website, you should then try to get them to subscribe to your blog. That is a great first step in helping a new contact get to know your company. It's a low-risk action on their part and allows you to talk to them much more frequently.
Next, see if you can move them into a middle-stage buyer journey by inviting them to a webinar or virtual event. Perhaps there's an online assessment they might also be interested in. In this stage, you want to serve the customer opportunities that will encourage them to share more information or invest more time with you.
Finally, the end of your lead nurture campaign should be to try and get that in-person conversation. Don't ask for a sales call or request to put together a quote. Instead, offer them value. Help them with a situation they're experiencing.
Consider a mini-audit to review their current situation or give them an assessment with actions they can take on their own.
This conversation is going to help them trust you and will uncover if there's a real sales opportunity or not. If there's not, that might only be temporary. Down the road, the situation might change and you'll be their first call.
3. Website Conversion Rate Optimization (CRO)
When it comes to lead generation, there is a hidden opportunity on every company's website. Every company has people visiting their websites right now. But most companies are OK with those people stopping by and leaving.
You can stop that.
By designing a better conversion experience on your website, you can convert between 1% and 3% of all your website visitors into new Marketing Qualified Leads (MQLs).
If you're getting even 1,000 visitors a month, that is between 10 and 30 new leads each month.
This tactic has a couple of different elements. The first is making sure you have the right content on the right page. Some of this content should be gated, and other content ungated. Keep in mind that if lead gen is your goal, consider gating more and ungating fewer pieces.
Then shift into optimization mode. Start doing a weekly review of your most visited pages, website pages and landing pages. Then review and baseline the conversion rates on those pages. Immediately start making upgrades to those pages such as strengthening the headline. Keep track of those upgrades and the improvement data.
Another strategy is to shorten the form your consumers submit. Ask for only what you need, which for early buyer stage pages might mean just email and name.
Look at your copy. Is it too long, too fluffy, or are you using bullets? What about the imagery? We've found putting a large picture of the document you're providing makes people more likely to convert.
Finally, use video. Add testimonials about the specific offer on this page and make sure there is social proof of your company on this page. You could spend weeks testing all these different aspects of landing page optimization and see improvements week over week.
4. Technical SEO
But those page optimizations won't be enough if your website isn't organically ranking on the search engines. If there are technical issues with the site, this could be holding you back.
Some technical SEO issues that might be harder to uncover include how accessible your site is to the search engines. Can they crawl it? Can they index it and can they tell the language? If your site was set up properly, this shouldn't be an issue, but it's worth checking.
Crawling and indexing are important for technical SEO but the devil is in the details here. Every page on your site must be crawlable and indexable. This seems easy, but over time pages change, links get broken, pages get moved or retired and you run into issues.
On some larger sites, this can mean thousands of pages are not able to rank and this can affect your overall organic search results in a dramatic way.
Remember, Google ranks web pages, not websites. Your ongoing on-page SEO work is critical to keeping pages ranking. This means title tags, meta descriptions, duplicate content flags, H1s, image tags and more need to be correct for every page on the site.
Again, if you have a lot of pages and a lot of people interacting with your site, this can get messed up quickly and might be hard to fix if it becomes a big set of pages.
Your visitor's mobile experience is critical. This means your website needs to be designed and built to run on a variety of mobile devices. This is different than having your website simply run on a mobile device. The site has to recognize the device and deploy the correct responsive site design.
The implication for not having a site that runs well on mobile is that Google won't show your site at all on a search.
Finally, your site has to be lightning fast. Each page has to load in 2 seconds or less. If it's slow, Google's not going to show it. It's not that they're penalizing you, but they know their customers want sites that download quickly.
There are a lot of things that can slow down sites. Images on the page, operating plug-ins and the size of the pages are all ranking factors. There are also a variety of other factors that can impact the speed of your site pages.
You have to get all of these issues resolved and more importantly, you have to keep an eye on the site to make sure as your site grows and changes, everything is always working properly.
5. Paid Social Ads
If you need more leads, launch a social ad campaign. Please keep in mind that not every company has success with paid social advertising.
There are a few secrets to keep in mind. Pick a social platform and focus on one at a time. Don't launch ads on all the platforms. Get one to work and then move on to the second platform.
Be patient. The social ad algorithms require time to optimize. We recommend running the ads for at least 30 days before you start adjusting any parameters. You probably need three months, with two months of optimization, before you evaluate performance.
Finally, realize that there are a lot of variables to the success of your paid social ad campaigns. Those elements include the targeting criteria, the copy, the creative, the offer, the landing page, the conversion experience and the budget.
Each aspect of a campaign needs to be tested and optimized during the three-month period. Your paid experts should be good at making recommendations around each of these variables and providing data on the improvements as you make optimization upgrades.
There is an element of paid social ads that we should discuss. Not every social platform is right for lead generation. You should decide if brand awareness, demand generation or lead generation are your goals.
That decision is going to direct your complete campaign details. Each of those strategies will require a different approach.

6. Content Marketing Publication
Want more leads? Publish more content. Every single client we work with sees increases in leads when they increase their pace of content marketing.
This isn't an easy task. Creating content at scale is challenging but you need to crack the code on this.
Blog articles, videos, long-form, short-form, podcasts, social posts and even webinars are forms of content that need to be part of your plan.
Consider a schedule that includes three or four blog articles per week, at least one new video or podcast episode a week, and something more substantial like an eBook, webinar, event, or on-demand event monthly. Produce social posts daily, or in some cases, multiple posts per day.
The schedule is generally the easiest piece of the puzzle.
To figure out what to publish, go back to the questions your prospects are asking you during their buyer journey. Create an inventory of those questions and use your content publication strategy to answer those questions. Combine this question approach with your keyword strategy for organic search.
It's the combination of these two approaches that can turn your content marketing strategy into a lead generation plan.
7. Affiliate Marketing
Looking for something slightly different to add to your portfolio of lead generation tactics? Consider working with non-competitive partners.
These programs usually work nicely in producing marketing qualified leads. If you nurture them properly, you could see sales-qualified leads and legitimate sales opportunities.
Sometimes this is hard to visualize, so let me give you a few examples of what these programs could look like.
Scenario 1 – A digital agency gets together with a high-end B2B accounting firm. They share their lists and invite both groups to a series of events that combine the topics. One event could be a 2022 planning workshop that focuses on accounting and marketing-related topics.
Scenario 2 – A high-end architectural firm partners up with an interior design firm and create a piece of research-based content highlighting the latest trends in design. They market the research to clients and prospects but share the list generated by any of the conversions.
Both of these events leverage the lists of the partner firms and allow introductions to an entirely new audience.
One other potential approach that is similar would be to connect with associations and membership organizations that would appreciate your content, perspective and expertise.
Vistage is an international organization of CEOs, and while they focus on helping CEOs run their organizations and grow their companies, offering them marketing and sales improvement content would be highly beneficial.
Vistage benefits by bringing good, helpful content to their members and we would benefit by getting in front of our perfect audience. It's a win-win for both organizations.
There's a lot to digest here. I get it. If you take nothing away from this article, please consider the fact that you have to do many different things simultaneously to generate leads.
You can't run a single tactic and expect it to work. You have to run eight tactics all at the same time. One plus one equals three when it comes to marketing.
This makes execution extremely complicated. In some cases, you might need help creating the strategy, planning the tactics, executing the tactics, optimizing the campaigns and tracking the results.
If this seems like something you or your current team can't handle, consider looking for help. There are many ways to get help with the execution of lead generation tactics like the ones we discussed here.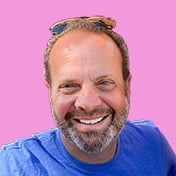 CEO and Chief Revenue Scientist
Mike Lieberman, CEO and Chief Revenue Scientist
Mike is the CEO and Chief Revenue Scientist at Square 2. He is passionate about helping people turn their ordinary businesses into businesses people talk about. For more than 25 years, Mike has been working hand-in-hand with CEOs and marketing and sales executives to help them create strategic revenue growth plans, compelling marketing strategies and remarkable sales processes that shorten the sales cycle and increase close rates.
Get With the Program
Whether you want to stay in touch, go deeper into RGS or start a conversation, here are three easy ways to take the next step.