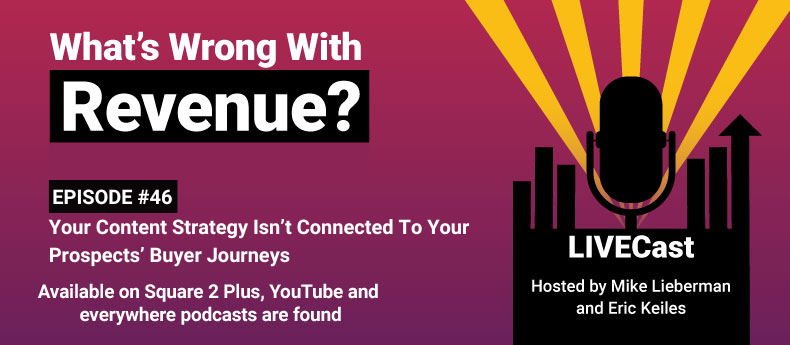 This show aired LIVE on August 10. To watch the show on demand, visit the show page here. To see all our audio and video content, check out our new free streaming service, Square 2+.
In this episode of What's Wrong With Revenue? we talked about how critical it is for your content to be tightly connected to your prospects' buyer journeys.
If you want to stop random acts of marketing and improve the overall performance of your marketing efforts, start by looking for improvements in your prospects' buyer journeys.
We began the show going deep into the buyer journey model we use at Square 2. The Cyclonic Buyer Journey

™

model has eight stages, not just three or four. All those extra stages provide more opportunities to create content that nurtures and engages your prospects.
The stages – Pre-Awareness, Awareness, Education, Consideration, Evaluation, Rationalization, Decision and Delivery – are all vital to creating a prospect experience fueled by content.
We then talked in detail about how to create content, including what to create, how to create it and which formats or media to use.
In short, you need to understand your prospects' questions, challenges, pains and issues at each step in their journeys.
Once you have those mapped out by stage of the buyer journey, you can start answering their questions with blog articles, e-books, whitepapers, tip guides, infographics, podcast episodes (like this one), videos, webinars and pillar pages on your website and more.
The questions your prospects are asking, combined with their buyer journeys, provides a map for your new content creation strategy.
The trick to deploying this content is using it to help move prospects through their journeys and letting them signal their movements to you.
Through your marketing tactics, like email marketing, lead nurturing emails, blog articles and other ongoing marketing campaigns, you'll try to move them. But as they engage and convert with your content, they'll be signaling you, and you have to be prepared to act on those signals.
For example, when a prospect visits one of your website pages as a result of your campaign, your sales reps should get notified and follow up accordingly with another piece of relevant content in context to their actions.
During the show, we talked a lot about the content creation challenges marketers face today. The sheer amount of content is daunting, and most people don't have the budget or resources to do everything they might want to do.
Look for content projects that scale, like this podcast. In just an hour, we created a podcast episode, a video and a LIVECast. We also publish an article about each show to our blog. That's a lot of content in a short amount of time and it takes only limited resources to support.
Also, video and audio content (like a podcast) are among the top-performing content types today. They are portable, can be delivered live or on demand and are highly sharable. This type of content can also be broken up and published in smaller portions. We publish snippets from these shows to social media a few times a week, and it works great.
Content marketing isn't getting easier. In fact, it's getting harder. But content is the fuel for your demand generation or inbound marketing programs. You have to do it – and do it well.
To learn more about how to design a lead-generating content strategy to grow your company, check out this show.
If you'd like to subscribe to the show, we'll send you reminders and email you a link after each live show – just click here. If you'd like to submit a question to the show, we answer questions every week – just click here.
If you want to watch the show and all the other audio and video content published by Square 2, visit our new Square 2+ page. It's full of valuable content related to marketing, sales, technology, revenue growth and more.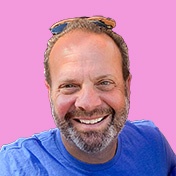 Mike Lieberman, CEO and Chief Revenue Scientist
Mike is the CEO and Chief Revenue Scientist at Square 2. He is passionate about helping people turn their ordinary businesses into businesses people talk about. For more than 25 years, Mike has been working hand-in-hand with CEOs and marketing and sales executives to help them create strategic revenue growth plans, compelling marketing strategies and remarkable sales processes that shorten the sales cycle and increase close rates.