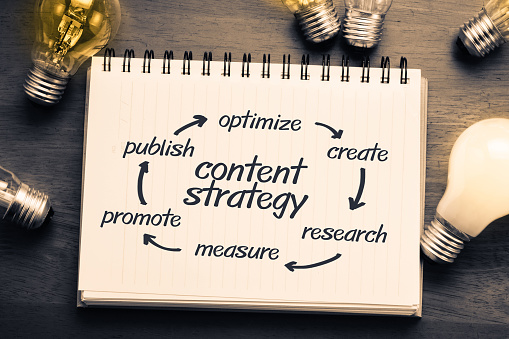 Publishing Has To Pick Up For Customers, Prospects, Partners, Friends And Family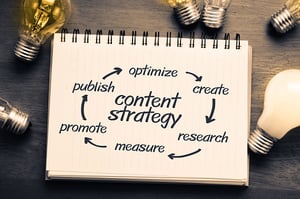 You may have noticed a ton of content being published, primarily on social media, and it's not by accident. Content marketing is more important to your lead generation efforts than ever before.
People are out there looking for information related to your company, products and services. But they're not all ready to jump on a call and talk to a sales rep.
Today, perhaps more than ever, they're looking at you from the shadows, cautiously educating themselves about your company and all of your competitors.
But they are taking their time, and you need to encourage them to come out of the shadows and tell you who they are so you can help them.
How you help them, how you tell your story and how you make them feel has never been more important.
Adjust Your Story To Be Timely And Relevant
Your content can't be oblivious to what we're all dealing with, and while it might be too late to start publishing content around remote working (because it's everywhere), that doesn't mean you can't adjust your content plans accordingly.
You might have content plans from months ago, and those need to be looked at carefully. I'm still getting emails with content offers that look like they were planned months ago and were not adjusted accordingly.
This is much bigger than changing a title. This is about understanding what new questions your prospects have now that they didn't have a few weeks ago.

It might be about the steps you're taking to keep your factory clean and sterilized. It might mean how you're taking care of your people. It might mean what new services you're offering and why.
Your prospects have different questions, and you'll need different content to answer those questions.
Go back and revise the questions your prospects might be asking all through the buyer journey. If you follow our eight stages of the Cyclonic Buyer Journey™, work through each stage and identify five to seven questions for each stage.
This will give you a much better idea of what questions you need to answer with your content marketing strategy.
Don't Forget About Content Marketing Strategy
Continuing the conversation around content marketing strategy is very important. When people get distracted and resources are tight, it's easy to skip or ignore your content strategy, but don't let strategy take a back seat to content creation.
Creating content efficiently should be a big part of your content marketing strategy. This means being smart about the way you create content. When we work with a client, we just don't do an e-book irrespective of other content that spins around that e-book, and you shouldn't either.
Here's an example.
If you write and design an e-book called "10 Ways To Adjust Your Marketing During A Crisis," you want to be able to use that content in a few other places. Turn that long-form content item into 10 individual blog posts, one for each of the 10 items in your e-book.
Then take each of those blog articles and come up with two or three conversation starters for social posts on LinkedIn, Facebook and Twitter.
Create a video that goes along with the e-book, and use it on your e-book's landing page and in a few of the blog articles. You can put the video on your YouTube channel, too.
Make sure the call-to-action (CTA) button for the e-book ends up on all 10 of the related blog articles. Make sure the CTA button is on the video you posted to YouTube and that the social posts direct back to the blog articles.
Without even noticing, you just created a hub-and-spoke content marketing strategy that efficiently created over 30 pieces of content. All of the content is strategically connected and designed to gain traction, drive visitors and turn them into leads.
Oh, and before I forget: If you created that e-book with search engine optimization in mind, all of this content should be highly optimized to help you rank for the keywords, phrases and questions associated with your long-form content.
What You Should Be Doing Now For Your Content Marketing
Now you're focused on your timely and relevant story. You're strategically planning your content marketing, and you're leveraging content across many separate but related marketing channels.
The final question: What content and in what format should you be publishing right now?
The answer might surprise you, because it's different than it was just 12 months ago.
First, look for shorter content items. Checklists, tip guides, fact sheets and one-pagers are going to be more successful than longer-form content like e-books and whitepapers.
Infographics are also going to be more productive than longer written documents. People have short attention spans. They are highly distracted and want info in bite-sized chunks.
One way we're tackling this challenge is by doing long-form and short-form content. We're writing longer-form playbooks and practical guides, and then we're curating a set of one-pagers from those assets.
Your blog is going to be even more important. I would consider leaning into the blog, primarily because you can do timely content in the blog, it gets delivered directly to your prospects' inboxes and posts can be shared easily on social media.
Blogging checks a lot of boxes, and especially now, the timely delivery of highly relevant content is important.
Video also needs to be in your content marketing strategy. More than ever, people want to watch. Make short videos (less than 90 seconds) and consider using them on your website, in your blog and on your social sites.
These videos are also excellent for sales to use to warm up prospects, nurture leads and help people feel safe with your company. Create a library of contextual videos that sales has easy access to, and you'll see close rates increase and sales cycles shorten, even in challenging times.
Webinars should also be part of your content strategy. People can't travel, they can't go to events or conferences and they have more time on their hands.
Educational programming should be at the top of your list, but consider the promotional timeline associated with it. You won't need four to six weeks to promote a webinar. If the content is strong, a week is plenty of time.
Podcasts (like our Smash The Funnel Podcast) and videocasts are getting even more popular, but not the highly produced podcasts you've gotten used to. The world seems to change daily, and marketing content has to change daily, too. These shows are live, they're dealing with issues of the day and they are highly interactive.
Question-and-answer sessions, ask-me-anything programs, conversations, talk shows and live content programming are all becoming very popular. People want to ask questions. They want current information and they need help.
This is an excellent time to launch something new like this to get your prospects' and your customers' attention. Just make sure the content is strong to keep their attention and keep them engaged.
You're going to need all of this, and it's going to need to come out frequently to keep your target audience's attention. If you can't create the amount of high-quality content necessary, you should consider investing in resources to help you drive this content.
The content you create today is going to help you long down the road, and now is the perfect time to invest in your content marketing assets.
Track And Test All Of Your Content Marketing
You have your content plan in place. You're creating content, you're launching content and your content is working — but how well? How do you know what's good, not so good or downright horrible?
The challenge with content tracking is the complexity of what goes into solid content performance.
Here is a quick example.
Your content needs a CTA button leading to a landing page. If your CTA button is weak on the copy or design side, your content conversion rate (a key metric) might suffer. You can track the performance of the CTA button, but it's directly related to the content you created.
The same holds true for the landing page. If you designed this poorly, or your form is too long, it could impact conversion rates on your content.
Blogs are a little easier to track, because you can look at views and conversion. Both numbers indicate popularity of the article and its ability to turn visitors into leads.
Posting content on social gives you the ability to track links and new visitors to your website.
Content like video and podcasting comes with additional metrics, including views, length of viewership, clicks back to the site and shares.
Content is also going to be a major driver for rankings and keywords, so I'd set up an SEO dashboard and monitor organic visitors as a metric related to successful content marketing.
Since it's likely you'll have data from different sources, like HubSpot, social media sites, YouTube and Spotify, consider building a content marketing dashboard to aggregate the data and give you a solid view of what's working and what's not.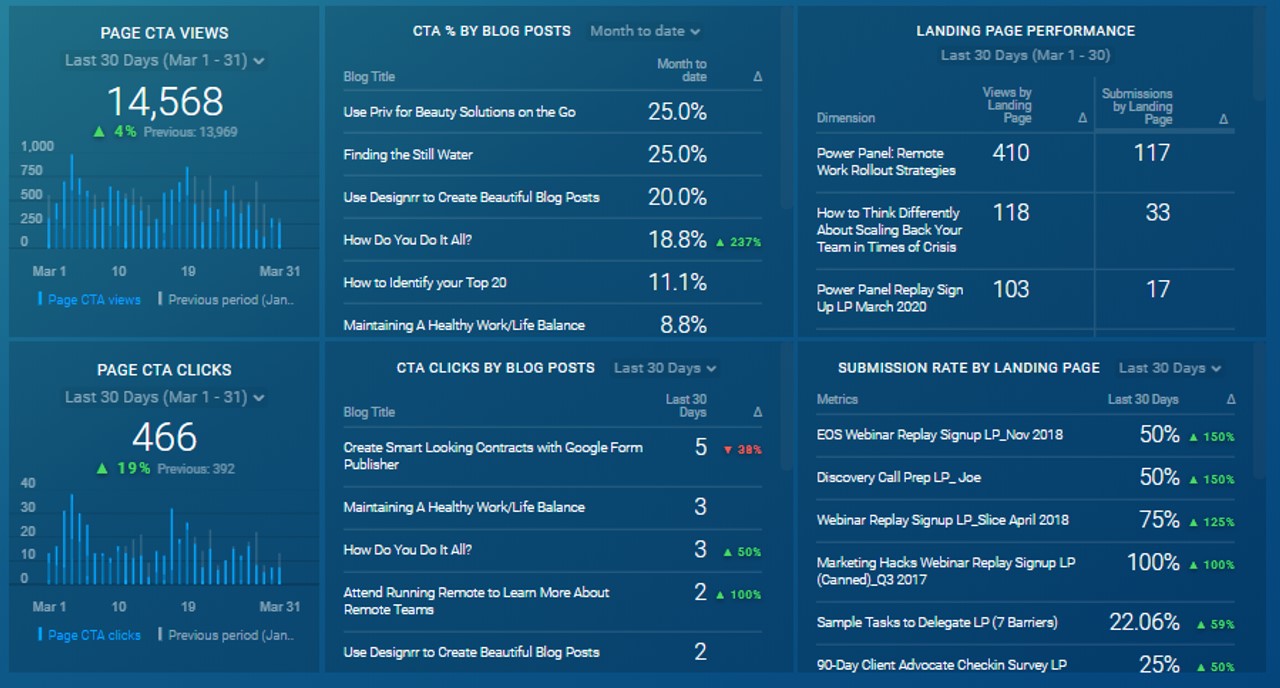 Remember, data and dashboards don't tell you what to do. They don't provide insight or recommendations; they simply report. You still have to look at the data, interpret the data and derive insights and an action plan from the data.
If this has been challenging, or you expect this to be challenging going forward, tools are available to help. MAXG is an insight and recommendation engine that looks at your HubSpot data and then provides you with immediate insights and recommendations in prioritized order.
Need more leads from your landing pages? Do A, B and C.
Think your blog is underperforming? You're right. Do E, F and G.
Does it look like your CTAs are weak? Do H, I and J.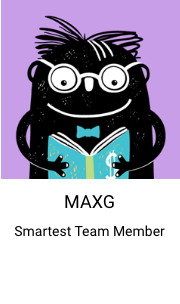 Take a closer look at MAXG. It's the future of marketing and perfect for marketing teams that are tight on resources, new to HubSpot or overwhelmed with the amount of work required to generate leads.
It's a challenging time for content marketing. You need resources to create content, and resources are tight for most companies. You can't let resources or budget constrain your content creation activities. That is a direct line to reduced visitors and reduced leads.
Now more than ever, you need to ramp up content creation — smart content creation that drives leads, sales opportunities and new business.
Square 2 — Building The Agency You'll LOVE!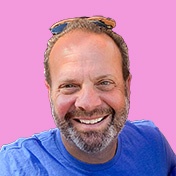 Mike Lieberman, CEO and Chief Revenue Scientist
Mike is the CEO and Chief Revenue Scientist at Square 2. He is passionate about helping people turn their ordinary businesses into businesses people talk about. For more than 25 years, Mike has been working hand-in-hand with CEOs and marketing and sales executives to help them create strategic revenue growth plans, compelling marketing strategies and remarkable sales processes that shorten the sales cycle and increase close rates.