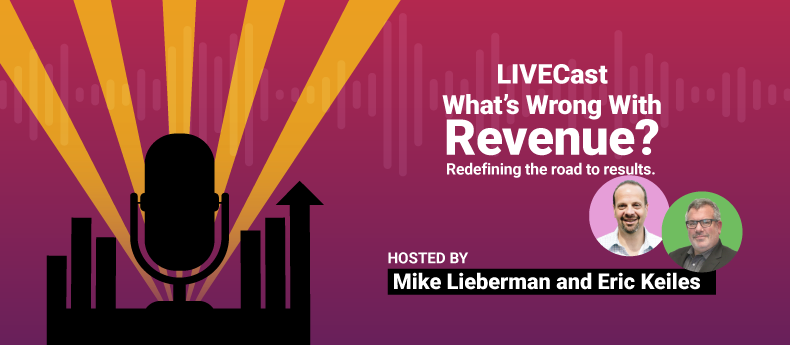 This show aired LIVE on January 26, 2022. To watch the show on demand, click here.

In this episode of What's Wrong With Revenue? we talked extensively about how to improve your sales team's close rate.

When it comes to revenue growth, the best place to start is the end of the process. If you have a 10% close rate on proposals submitted to prospects, improving that close rate to 20% will double your revenue.

There are a number of places to investigate when you're looking at your close rate.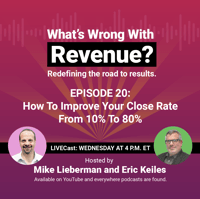 Are you giving the prospects what they need at this late stage in their buyer journey? For example, if your final proposal is all about you and not about your prospects, you're going to have a low close rate. At this point, prospects know everything they need to know about you, so your proposal should be all about what you're going to do for them.
Have you qualified your sales opportunities enough to know for sure they're ready for a proposal? Consider holding back your final proposals until your prospects are ready – maybe until they ask for it. You can submit fewer proposals and improve your close rate.
Is the proposal designed specifically to beat your competitors or does it leave prospects feeling underwhelmed? Make sure your proposals are differentiated from your competitors. Sometimes all your prospects have to make their decisions is that final paperwork. Yours has to stand out.
In the show, we also talked extensively about whether your sales process is designed to get your prospects to feel safe hiring you. We covered several ways to help prospects feel safe, including one of the best ways to think about your sales process. Stop thinking about it as a way to convince someone to buy and start thinking about it as a way to guide someone toward making the right decision for them and their business.
Finally, we also spent some time discussing if the leads you're pursuing are qualified enough and actually ready to close. It's better to work with 10 high-quality leads and close eight of them than to work with 50 low-quality leads and only close five of them.
There was a lot to talk about this week. To hear more on this topic and subscribe to the show, click here. Subscribers get updates on upcoming show content and a recording of the show delivered right to their inbox the day after the LIVECast. Anyone can submit questions here for us to answer live on the show.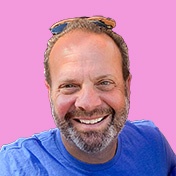 Mike Lieberman, CEO and Chief Revenue Scientist
Mike is the CEO and Chief Revenue Scientist at Square 2. He is passionate about helping people turn their ordinary businesses into businesses people talk about. For more than 25 years, Mike has been working hand-in-hand with CEOs and marketing and sales executives to help them create strategic revenue growth plans, compelling marketing strategies and remarkable sales processes that shorten the sales cycle and increase close rates.