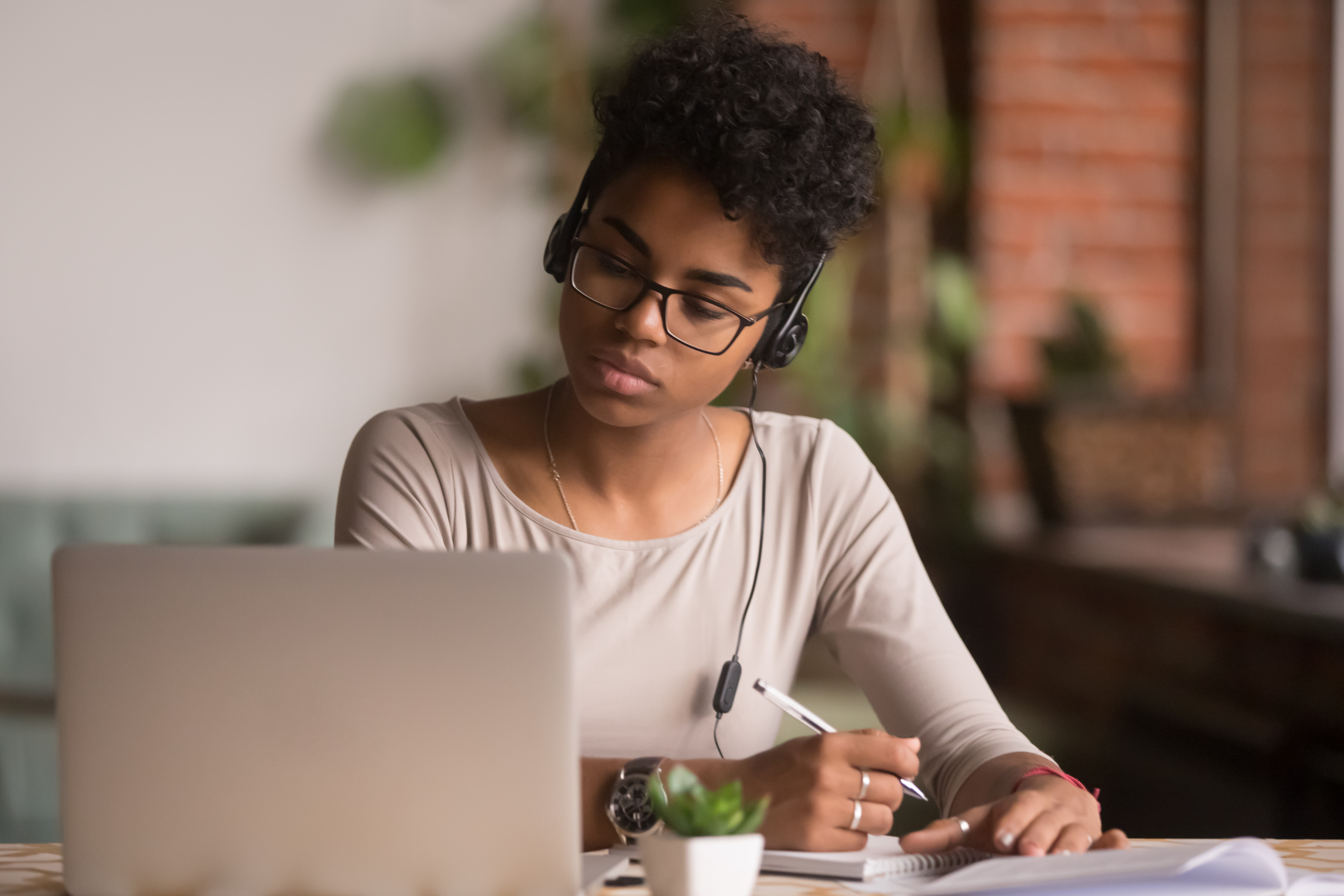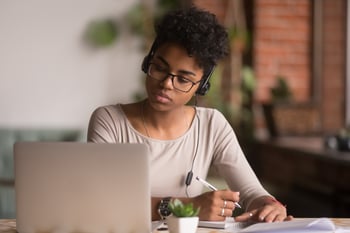 About 65% of people are visual learners. They're often called spatial learners and, unsurprisingly, they learn and remember best through visual communication.
So it's not surprising that video has become critical to creating a remarkable buyer journey that aligns with the way your prospects and customers want to interact with your brand.
But questions remain: Where and how do you weave video into your marketing, sales and customer service experiences? Where should you use video? How many videos are too many videos? What results should you expect from video? How do you track the performance of those videos?
Let's take a look at the best ways to start deploying video to drive revenue at your company.
First, let's look at some of the data. This is especially important if your CEO or leader is in denial as to the importance of video in your revenue generation efforts:
Convinced? Every company should be using video to help tell its story in the marketing, sales and customer service areas of its business. Below are eight detailed applications where video helps you generate more leads, more quality sales opportunities and more month-over-month revenue growth.
1) On Your Website Pages
Websites don't look anything like they did just two or three years ago. The advent of mobile devices, visitor scroll behavior and changes in Google search algorithms have changed the format from text heavy to text light, white space and images on almost every website.
At the same time, for websites to rank and signal value to Google, they need to deliver a couple of very key metrics.
Your visitors need to click to other directed pages on the site. They need to convert on your offers, and they need to stay on the page. Click-through rate, average time on the site, number of page views and bounce rate are important KPIs that signal value to Google and help your pages rank.
This is where video becomes incredibly helpful.
Video engages your visitors and holds them on the site, extending their time on site (and the click reduces the bounce rate, too).
Pillar pages are important to ranking on Google these days, and these long, information-rich pages often need video to break up the content and enhance the visitor experience.
Video can also direct a visitor to a landing page if your video offers additional content offers at the end of the video, further adding value by generating leads and sales opportunities.
2) On Your Landing Pages
Website pages have different goals than landing pages. Your website pages should be designed to tell a story, to direct visitors to other pages on the site and to hold a visitor's attention.
Landing pages, on the other hand, have a single goal in mind — turning visitors into leads.
The design of a landing page is different than the design of a website page.
Landing pages have strong headlines and solid sub-headlines that focus on the value of the offer on that page, while driving your rankings with selected keywords and/or phrases.
The copy is tight and quickly presents the value of the offer on the page, typically in bullet formats.
There is an image of the offer and social proof directly related to the offer.
Video does an excellent job of helping your visitor understand the value of your offer, and it can drive additional social proof if the page has a testimonial from someone who found value in the offer and is willing to share it with visitors.
Instead of reading, visitors watch and then convert.
Speaking of conversion, the form is critical. Include as few fields as possible given the offer. Also, the fields should be progressively filled in based on the visitor's profile, so there's as little friction as possible in getting that anonymous visitor to share their contact info.
If these pages are designed and written correctly, they should drive a conversion rate between 20% and 40% on average.
3) An Important Part Of Your SEO Efforts
We covered a number of SEO-related challenges in the early part of this article. Page conversion rate, headline development, time on site and bounce rates are important.
Video plays another important role in your SEO efforts. Primarily, Google loves video, and YouTube is the second most popular website behind Google. Creating a YouTube channel and posting your video there and on other video-sharing sites like Vimeo and Metacafe is important to driving back links and visitors from these sites.
To leverage these sites effectively, you need solid meta descriptions for the videos, titling that includes keywords, tagging that keeps your SEO strategy in mind and scripts that include keywords and keyword phrases. A lot of these video services use scraping technology that listens to the audio track for SEO purposes.
4) In Email Campaigns
If people prefer to watch rather than read, why send them emails to read? Instead, put video in your email marketing campaigns, too.
While people spend less than 10 seconds on your website homepage, they spend less than 20 seconds reading your emails.
As reported by dotdigital, "According to a report from Litmus Email Analytics, the average time spent reading an email is now 11.1 seconds, up 7% from 2011. The percentage of emails read for more than 18 seconds has also grown to 44.4% compared to 38.4% in 2011."
That is precisely why you need to keep your emails short, drive links to push people back to your website and include video.
Email open rates increase by 7% when you add the word "video" in the subject line. People want to watch. They watch on their devices when and where they want, and it's easier for them to hear your story with video than with words.
5) In Your Nurture Campaigns
Why limit your use of video to your general mass-email campaigns? You can apply the same thinking with your most important email marketing efforts — lead nurturing emails.
These are your leads. They've already converted on your website and they are in the middle of their buyer journey. You have to be able to effectively nurture them with emails to help guide them and, in some cases, pull them through their buyer journey.
Video can be incredibly effective in nurture campaigns.
Here is an email from Google as an example: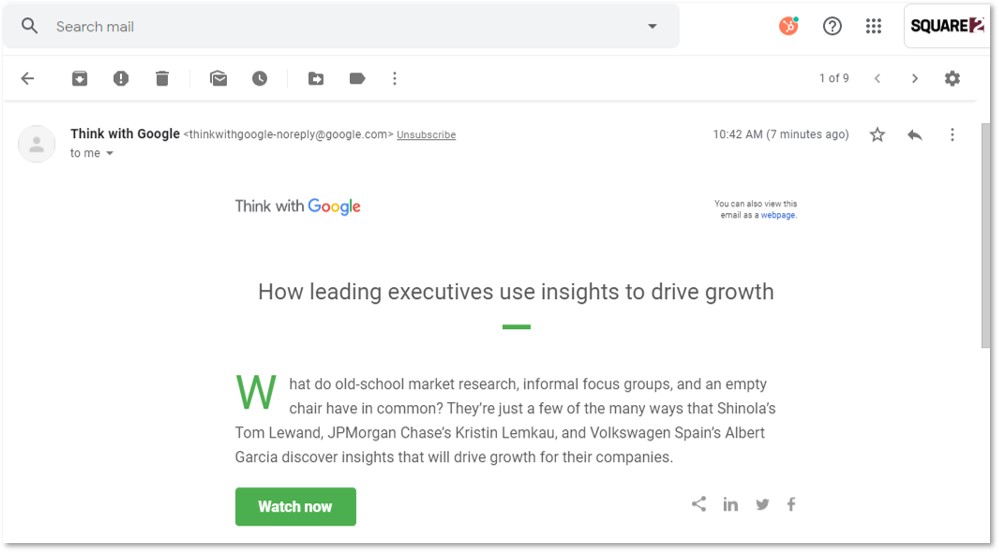 First, video can be tailored based on the context of people's challenges. If they are downloading content around the website, make sure the videos are about website design, development, UI/UX or conversion rate optimization.
If they are in a particular industry, make your video is focused on the industry they are in. If they are in a particular role, make your video focused on the challenges associated with that role.
This contextual approach to content, and in this case video, can increase your conversion rates on nurture campaigns by up to 50%.
Here is the page the Google email sent to watch the video: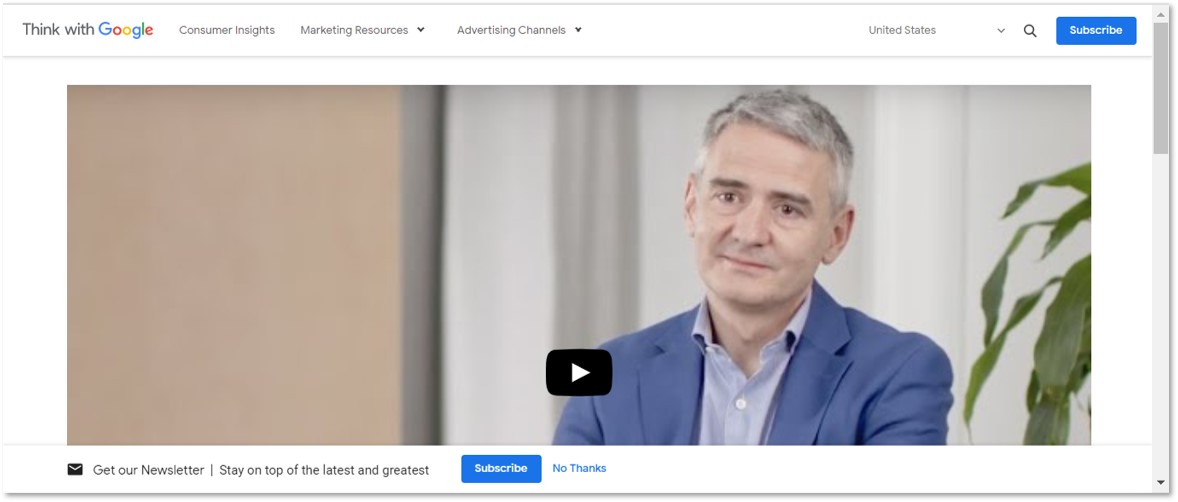 6) In Your Sales Process
People do business with people. The more personal you can make your sales process, the faster prospects will get to know, like and trust your sales reps.
The faster they get to know, like and trust them, the sooner they'll feel safe with your company as the option they want to select.
Video takes cold and impersonal emails (no matter how friendly they're written) and turns them into smiling faces, with happy people sharing information in a format that can tweak the emotional connection required to press the buy button.
Remember, people make purchase decisions emotionally. If they like your reps because they saw a friendly video clip that helped them with their decision, you are going to be ahead of your competitors.
This directly translates into helping you shorten the sales cycle and close your sales opportunities more frequently. Both of these metrics exponentially drive revenue.
7) In Your ABM Campaigns
Video plays a major role in driving the key results you should be looking for from your account-based marketing (ABM) campaigns.
First, you want new connections with people who you've identified but who don't yet know you and your company. Video makes those new connections easier to get and drives those connect rates up by close to 100%.
A lot of connect motions start with social media, either LinkedIn or Twitter. By offering a video in your LinkedIn message or private Twitter message, you have a better chance of securing that new connection.
Leverage your disruptive, compelling and emotional message (story) to get that new connection.
Next, you want those new connections to engage with your content. Now that you're connected, you can work to get them to engage in a conversation with you by providing more video.
One of the best ways to do this is by using your customers to tell your story, especially when they might start with a similar story to the targeted contacts in your ABM campaign.
Delivering video content means more clicks, more views and more conversions at the end of the video viewing session. The higher the engagement, the higher your chances of moving those people into an active sales cycle.
8) To Serve Customers Better
Many companies miss the opportunity to drive additional revenue from their current customers. This is something you should include in your revenue growth strategy for 2020.
Customers are coming to you daily with questions, concerns and requests. In some cases, these interactions should lead to additional sales and happier customers.
You can use video to show them how to use your products and introduce them to new products that solve their problems. Video can introduce them to new uses for your products that should influence how much they buy.
On the services side, you can use video to share stories from other customers who have purchased new services or leveraged your expertise in innovative ways.
All in all, video should be just as important to good customer service as it is to new customer acquisition.
We're all moving so fast that reading is quickly becoming option two behind watching. You always want your marketing and sales effort to reflect the behaviors of your prospects and customers. As this changes, you need to change, too.
In an upcoming article, we'll talk about how to create these videos, because a ton has changed here as well. What was once expensive and complicated is now cheaper and much easier.
In the meantime, start looking at your prospects' buyer journeys, and identify at least three (and up to nine) places where video can enhance their buyer journey and better connect them with your company.
Square 2 — Building The Agency You'll LOVE!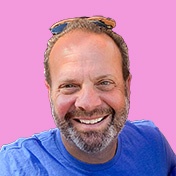 Mike Lieberman, CEO and Chief Revenue Scientist
Mike is the CEO and Chief Revenue Scientist at Square 2. He is passionate about helping people turn their ordinary businesses into businesses people talk about. For more than 25 years, Mike has been working hand-in-hand with CEOs and marketing and sales executives to help them create strategic revenue growth plans, compelling marketing strategies and remarkable sales processes that shorten the sales cycle and increase close rates.