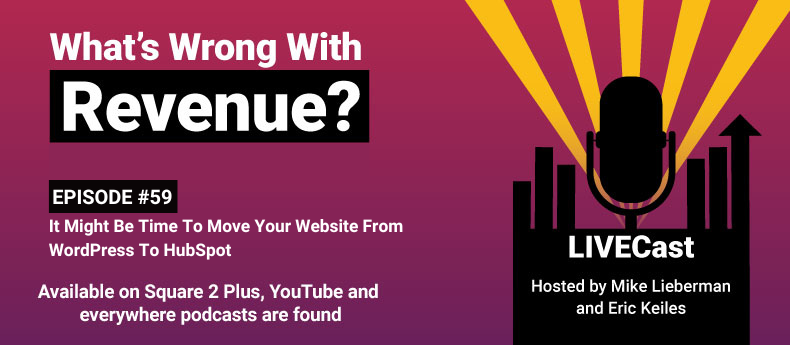 This show aired LIVE on November 9, 2022. To watch the show on demand, visit the show page here. To see all our audio and video content, check out our free streaming service, Square 2+.
In this episode of What's Wrong With Revenue?, I had the pleasure of co-hosting with Kevin Wheatcraft, Square 2's Director of Web Services. Kevin and I debunked the common misunderstandings about the WordPress CMS and the HubSpot CMS, and when we're done with the show, it should be obvious to everyone which is right for you.
WordPress and HubSpot are two of the most popular content management systems (CMS) today.
Both are excellent choices for creating and maintaining websites, but they have a few key differences.
To begin, WordPress is an open-source CMS, meaning it's free to use and can be modified to suit the needs of the user. This makes WordPress very popular, as it's much less expensive than other CMS solutions and can be customized to fit a specific website's needs.
WordPress also has a wide variety of themes, plugins and widgets, giving users the ability to create a unique website quickly and easily. However, once you start adding these features, ensuring your hosting is secure and including any of the fancy add-on widgets, WordPress sites are no longer free.
On the other hand, HubSpot CMS is a proprietary platform that offers all the features of WordPress and then some. HubSpot is a "closed" CMS, meaning it's not open source and requires a paid subscription.
However, the subscription cost is relatively low compared to other CMS solutions, and the features offered are quite robust.
HubSpot's features include an easy-to-use drag-and-drop page builder, an analytics dashboard and integration with other tools such as Google Analytics, Mailchimp and Salesforce. HubSpot also offers its own e-commerce platform, which allows users to quickly and easily create an online store – something WordPress also can do through a paid add-on.
When it comes to content management, HubSpot is definitely the more robust system. It offers a wide range of features and tools that make it easy to manage content and keep track of analytics.
WordPress is more flexible and customizable, allowing users to create almost any kind of website.
Both systems offer a wide range of SEO tools, but HubSpot offers more in-depth analytics and reporting. WordPress relies more heavily on plugins and third-party tools to optimize websites for search engine results.
Finally, when it comes to customer support, HubSpot is the clear winner. It offers a range of support options, including live chat, email and phone support. WordPress does not offer any customer support and relies on a large community of users to provide help and assistance.
In conclusion, both WordPress and HubSpot CMS are great choices for managing websites. However, they have several key differences that make them better suited for different types of websites. WordPress is a great choice for those looking for a more customizable, flexible CMS, while HubSpot is better for those who need an easier-to-use system with more robust features.
To watch the show, click here.
If you'd like to subscribe to the show, we'll send you reminders and email you a link after each show – just click here. If you'd like to submit a question to the show, we answer questions every week – just click here.
If you want to watch the show and all the other audio and video content published by Square 2, visit our Square 2+ page. It's full of valuable content related to marketing, sales, technology, revenue growth and more.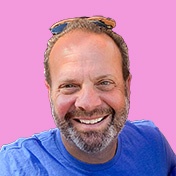 Mike Lieberman, CEO and Chief Revenue Scientist
Mike is the CEO and Chief Revenue Scientist at Square 2. He is passionate about helping people turn their ordinary businesses into businesses people talk about. For more than 25 years, Mike has been working hand-in-hand with CEOs and marketing and sales executives to help them create strategic revenue growth plans, compelling marketing strategies and remarkable sales processes that shorten the sales cycle and increase close rates.