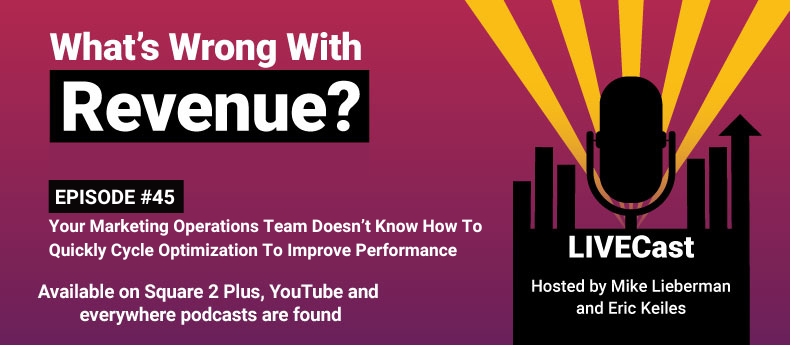 This show aired LIVE on July 27. To watch the show on demand, visit the show page here. To see all our audio and video content, check out our new free streaming service, Square 2+.
In this episode of What's Wrong With Revenue? we talked about marketing operations and how important it is to have this function and role at your company.
We talked, in detail, about what exactly marketing operations (MOPs) people are working on and how critical it is for the ongoing success of campaigns.
Two factors caused the birth of the MOPs role. First, marketing overall has become increasingly complex, with automation playing a major role in keeping those complex tactics running correctly.
Next, the introduction of marketing technology to handle all that complexity triggered the need for people who understand how to build, optimize and analyze everything the marketing software is tracking.
These aren't website people, content writers, email marketers or event marketers — but they are technical people who understand marketing and have a deep understanding of the company's marketing strategy.
In addition, they understand the data and performance expectations of the overall marketing program.
Since this is a new role, new skills are needed. We spent time during the show talking about who in the organization might have these skills or where you might look outside the company.
Unfortunately, most companies don't have people in-house with the right skills to jump into a marketing operations role.
That led us to the agency conversation. Today, this is where most people go for this type of support. Agencies increasingly offer MOPs services to their clients, and this option is a faster and more efficient way to get MOPs skills into your organization quickly and efficiently.
Once you get the right people doing the right things, you need a methodology, system or process. One key example we talk about frequently with clients is the idea of cycling — the rhythms and activities associated with a MOPs cycle.
At Square 2, when we're helping clients with MOPs, we analyze program performance, uncover insights in the data, use those insights to run regular optimization, create an action plan every 30 days based on data and use a testing methodology to run experiments with the idea of regularly adding improved performance.
This ensures your marketing execution and program performance improve every month. Eventually, that continued improvement produces significant growth.
To learn more about how marketing operations would help you grow your company, check out this show.
If you'd like to subscribe to the show, we'll send you reminders and email you a link after each live show – just click here. If you'd like to submit a question to the show, we answer questions every week – just click here.
If you want to watch the show and all the other audio and video content published by Square 2, visit our new Square 2+ page. It's full of valuable content related to marketing, sales, technology, revenue growth and more.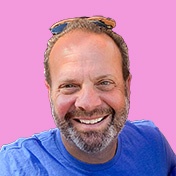 Mike Lieberman, CEO and Chief Revenue Scientist
Mike is the CEO and Chief Revenue Scientist at Square 2. He is passionate about helping people turn their ordinary businesses into businesses people talk about. For more than 25 years, Mike has been working hand-in-hand with CEOs and marketing and sales executives to help them create strategic revenue growth plans, compelling marketing strategies and remarkable sales processes that shorten the sales cycle and increase close rates.