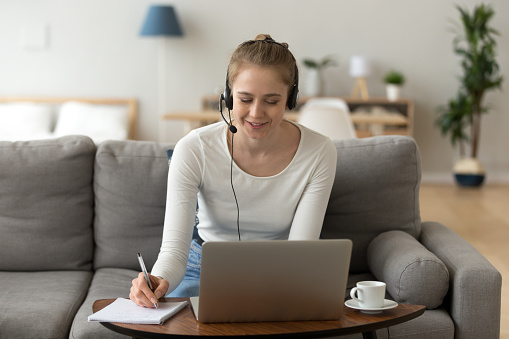 To Close Deals Now And Through The Rest Of 2020, You Have To Look Closely At How You Sell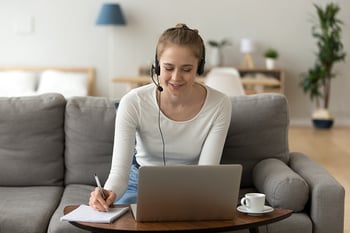 This is a crazy time for most businesses. But we can't give up, give in or run and hide. The businesses that survive, and then ultimately thrive, are the ones that adapt and push through.
We've seen this over and over again during post-9/11 and the 2008 financial crisis. This will come to an end, and the proactive companies will emerge stronger than ever.
This is especially relevant for sales and marketing. A week ago, we did an article on how to adapt your marketing strategy in the wake of canceled events, like trade shows and conferences.
Today we look at sales. If you can't travel, if you can't meet prospects face to face, if prospects are scared and if companies are more cautious than before, what can you do to keep closing new business?
Here are five sales upgrades you need to make now (and should have made a year ago) to ensure your business survives our latest global challenges.
1. Get Up And Running On Zoom (Or Any Video Conferencing Platform)
Our team recently spent the day with a 100-year-old high-tech manufacturing company that has over 1,000 employees. The company still handles sales with in-person visits and travel, and today, its leaders are scrambling to rethink their process and how they sell.
This fire drill is being repeated at companies all over the world. It's time to make sure you can use video conferencing to speak with your clients, customers and prospects whenever and from wherever.
These tools are incredibly easy to use. Click a link and launch a meeting. Make sure your camera and microphone are on. Make sure everyone can hear and see you. You're ready to go! It's that easy.
Our agency uses Zoom, but my small agency consulting company uses GoToMeeting. Many, many other options for interactions like this are available. Over the past week or two, I've spoken with many people who used Zoom for the first time, and they not only thought it was easy, but they enjoyed it.
With limited in-person exposure to people today, these Zoom meetings for sales, customer service or internal meetings can be the highlight of some people's day.
Don't hesitate on starting to use a tool like Zoom companywide. In just a meeting or two, your entire team will be video conferencing like a pro and loving it.
2. Teach Reps How To Embed Video In Email
Many of your prospects like to watch more than they like to read, but they keep receiving emails – emails that are too long, emails that are not written well, emails that don't tell a story and emails that don't entice them to connect, engage and talk to sales.
Start using video to help tell your story. It's easy to embed a video right into your emails. HubSpot and Vidyard partnered early last year to add video embed functionality into the HubSpot CRM (Sales Hub). Just click the link in your email and the camera turns on. Record your video, review it and send the email. It's simple, clean and effective.
Now prospects can watch and read, or simply watch instead of reading. You can add supplemental information in the video, or you can simply record the message from the email. Both are going to be very effective.
Embedded videos will be even more effective today when people are home with limited in-person interactions. The video will be welcomed, and its innovative approach is going to help create a remarkable sales process that makes your company stand out.
Want a competitive advantage? Clients often say they picked us because of our sales process. You can drive similar feedback and similar results by using video communication for your sales team and your sales emails.
But wait, it gets better. These videos come with analytics. You'll know who opened them, how long they watched for and what they did after the video was over (for example, what they clicked on and where they went next, like a landing page with an educational offer).
This approach will change how you talk to, work with and help your prospects.
3. Give Reps The Tools They Need To Make Prospects Feel Safe
There are other tools reps need in 2020 to close deals and close them faster. Ultimately, the goal of a well-thought-out and remarkable sales process is to get prospects to feel safe with your company.
Before anyone buys anything, they need acute pain. Sales reps are rarely in control of how acute a prospect's pain is, but they can tweak it or make it more acute.
However, reps are 100% in control of how safe a prospect feels with your company. If you want prospects to feel safe quickly, the tools your reps use can help.
What questions do reps ask and what stories do they tell prospects? These are two examples of tools reps need. They need an inventory of questions, and they need an inventory of stories to tell in context to each prospect's questions.
Since prospects don't always believe your reps, be sure to include assets like case studies and success stories from other clients just like them. They're also going to need reviews and referrals, which should be readily available.
Consider something like a reviews page on your website. Make sure you have enough video content to help your own customers tell your story in support of what your reps are saying to prospects.
Here's an example of a video from our client on our website. You can also consider building a reference reel filled with client references for reps to use instead of requesting references from active clients. This can shorten your sales cycle dramatically.
4. Make Your CRM The Cornerstone Of Your Sales Effort
Most businesses have some sort of CRM system for sales. But what businesses are doing with their systems is all over the place. I've seen clients with homegrown systems that require updating from local IT firms. I've seen clients with industry systems that haven't been updated in years.
I've seen clients who have purchased a system like HubSpot, Salesforce or Act-On and are not using it to the full extent of the system's capabilities. I've seen clients with top-of-the-line CRM systems who have reps doing whatever they want inside the system.
All of these scenarios are unacceptable. If any of these scenarios sounds even remotely like what happens at your company, this must be a top priority to fix immediately.
Regardless of what's going on in the outside world, your sales team needs to be running like a tight, well-oiled machine, and the CRM is how you achieve this state.
Your sales process must be documented and represented in the CRM. Each deal stage must be how sales reps move deals through your sales process. Every sales tool, presentation deck, proposal template, agreement, email, content asset and video must live in the CRM and be easily accessible for every rep.
Every rep should be trained on how and exactly what they need to do inside the CRM to track all of their sales-related activities. Using the CRM should never be optional. Reps who don't use the CRM to your full expectations should not be paid their commissions. That's how serious this needs to be.
The CRM should be set up to provide a full suite of reports, dashboards or analytics daily, weekly and monthly. Want to know how you're doing? Check the CRM! What to know your sales cycle in days? CRM! Want to know your close rate on proposals submitted this month vs. last month? CRM! Want to know which rep is the best at turning sales-qualified leads into sales opportunities? CRM!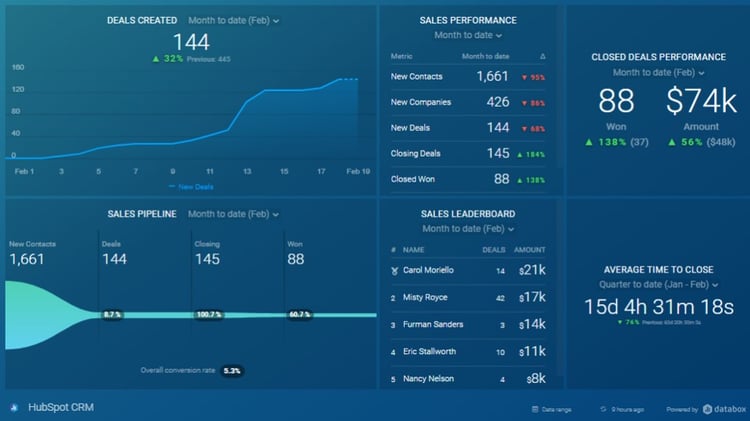 Better yet, set up a few CEO, CFO, COO and other leadership team dashboards (like the example above) that auto-update in real time, so everyone can see how the sales team is doing right from their phone or laptop.
This is the true power of the CRM. Use it now to drive revenue regardless of what's going on outside.
5. Identify And Eliminate As Much Friction From Your Sales Process As Possible
We've talked a lot and written a lot about sales process. If you don't have a documented sales process, if everyone doesn't follow it religiously and if you can't measure it, then you don't have a sales process.
Assuming you have this buttoned up, now go through it and identify all of the places there might be friction, necessary or unnecessary.
For example, you send your prospects an agreement that is 10 pages of legal jargon. Friction! Your contacts are not lawyers, so they can't understand that and they need an attorney (in-house or outside counsel) to look at your agreement. Friction slows down and extends your sales cycle.
As another example, all you have on your website are forms to fill out. People on your site have questions. They want to talk to you now, they need answers quickly and they're used to getting access to info quickly. But they have to fill out a form and wait for you to get back to them. Friction!
How about one more example? Your prospects ask for references. You have to contact someone who contacts customers and asks them if they mind being a reference. Then you make the connection between the prospect and the customer.
Now your prospect has to hunt down your customer, find time to talk, schedule the call and have the call or email correspondence.
Even if you have a list of customers who have already agreed to be references, the contact-and-conversation dance still takes place. This adds days, if not weeks, to your sales cycle. More friction.
If you're working to eliminate friction, here's how to eliminate these three friction points from your sales process:
Legal Contracts – Take a good long look at your agreements and contracts. Do you need ALL of that legalese in your paperwork? It's likely that a lawyer helped you create that agreement or contract years ago. Now is the time to go through it and make sure it contains only what you need, not what you want. Any legal language you do need should be written in common English.
We went through our standard services agreement and narrowed it down to two pages, written in English with terms everyone understands. Now agreements with clients come back in hours, not days or weeks. No legal counsel involved. We've done this with several clients over the years, and the result is always shorter sales cycles and higher close rates on submitted paperwork.
Immediate Access To Reps – This is a more current set of friction points. As your customers get younger and increasingly expect faster responses and immediate servicing, your sales process has to adjust. This is also relevant to pain. When people have pain, you want to be there to help, not make them wait.
Instead of having people fill out a form to get in touch with you, give them immediate access via chat. Turn your website into a conversation generation machine.
You can align reps with visiting prospects, so prospects get connected with the reps who already know them. You can assign chats to reps via a variety of assignment methods. Strike while the iron is hot and answer your prospects' questions in real time via chat on your website.
We've turned chat on for clients and generated leads in the first few hours. We've had reps book appointments, get quote requests and answer questions from big businesses that later turned into large customers. It works, and it works quickly.
References – Instead of the reference dance described above, consider a reference reel. This is a video with customers talking for two to three minutes each on the specific questions that most prospects ask references. What's it like to work with your company? For how long have you been working with them? What do you love? What's been challenging? How have the people been? What results have you seen and over what period of time?
You can script out eight to 10 questions and get everyone to answer them. With a little editing, you'll have a reference reel that can be used before prospects ask for references. It might not make them all go away, but it typically reduces requests for references by about 50%.
Honestly, sales doesn't get enough attention from leadership in terms of process improvements, technology and efficiency gains. Yet businesses rarely hit their sales goals month over month. HubSpot research reported that only 23% of companies surveyed regularly hit their sales targets.
The sales department is ripe for process improvements that directly impact your company's top line. Shorter sales cycles help increase close rates and mean more revenue with fewer reps.
It's all possible if you start now. Speaking of starting today, here's what you can do today to make an impact next week.
Square 2 — Building The Agency You'll LOVE!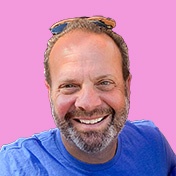 Mike Lieberman, CEO and Chief Revenue Scientist
Mike is the CEO and Chief Revenue Scientist at Square 2. He is passionate about helping people turn their ordinary businesses into businesses people talk about. For more than 25 years, Mike has been working hand-in-hand with CEOs and marketing and sales executives to help them create strategic revenue growth plans, compelling marketing strategies and remarkable sales processes that shorten the sales cycle and increase close rates.