STRATEGY
B2B Digital Marketing Strategy
If you feel like you're doing "hit-or-miss marketing," it's likely you don't have your strategy locked down. A strategy for generating revenue is going to inform your
tactics
, your
campaigns
and the
technology
needed to help you hit your revenue goals.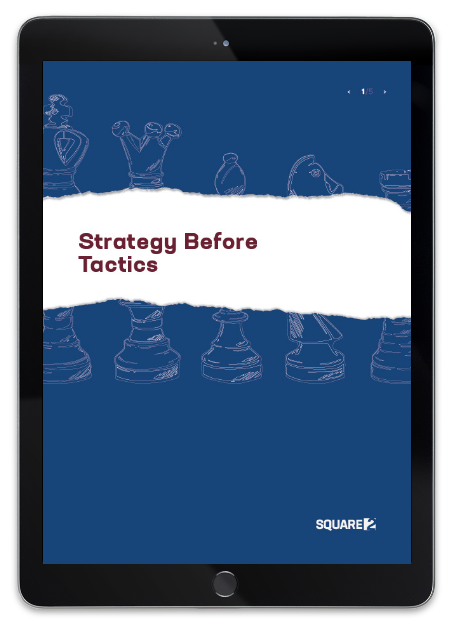 Develop Your Revenue Generation Strategy
Put an end to Hit-or-Miss Marketing with a strong marketing strategy.
What Is Strategy When You're

Talking Revenue Generation?
Who Do You Want To Attract?
Create a detailed profile (persona) of your best customer.
What's the Best Way to Get in Front of Those People?
Identify where your prospects spend their time and how you get your story into their information stream.

What Story Do You Have To Tell?
Understand your prospects' challenges, empathize with their pains and share how you satisfy those pains in a remarkable way.

How Do You Get Them Engaged?
Offer your prospects valuable educational and creative content to earn their attention or make them part of a community.

How Do You Measure Success?
Determine the KPIs to track that inform whether your strategy is working or not.
B2B Digital Marketing Strategy Services
Hear From Clients Like You
These business leaders worked with Square 2 to achieve sustainable growth with a strategy-first approach.
CEO
Blake Crosby
Crosby Hops
"Square 2's strategy before tactics approach changed our entire thinking around what needed to be done to generate more leads. Our marketing tactics finally had a focus and the results showed."
Vice President of Sales, Marketing and Business Development
Jim Aycock
G&H Orthodontics
"We tried to do this on our own but in the end needed Square 2 and their team to help us organize our personas, create better messaging and orchestrate our campaigns so they were more efficient and much more effective."
Chief Commercial Officer
Tad Remington
Solver
"They came in and organized our entire marketing and sales effort. Their fractional CMO service was exactly what we needed to get our strategy set, tactics organized and campaigns running at a high level of effectiveness."
Co-Founder
Jane Scaccetti
Drucker & Scaccetti
"We didn't know much about digital marketing when we met Square 2, but they took our brand and turned it into a story that resonated with our prospect base and the rest was history. We grew faster than ever before."
Chief Revenue Officer
Joe DeRosa
SAFEbuilt
"I've used Square 2 a number of times and they get in, get to work and produce a solid, thoughtful marketing strategy that can be used to build better marketing tactics and better sales execution. I'd recommend them to anyone and have."

Frequently Asked Questions
How long does the strategy section take to complete?
This can take anywhere from a week to two months depending on how quickly you want to go and how much attention you want to put on this work.
How much should I put aside to invest in strategy?
This is the most important investment you'll make, so put aside between $5,000 and $40,000 depending on how aggressively you want to grow your company.
Who from our company should be involved in these strategy sessions and conversations?
At a minimum, the CEO and the leadership team should be involved, but some companies bring in the next level of managers too.
How can I assess if we need this type of strategy work or not?
If you can clearly articulate your company's go-to-market strategy and you're certain both marketing and sales are telling the same exact story to every prospect every time and all your investments in marketing are paying off, you might not need any help in this area.
Do other agencies offer similar services?
Some do, but most don't. Most agencies put a cursory persona development step as the beginning of their engagement but then jump into the tactics, and the results typically are underwhelming.
What if we have the strategy locked down? Will you still work with us?
We'll do a review of your strategy and, if it's complete, we're happy to move forward to the tactics, campaigns and technology phases.
How does technology play a role in the strategy conversation?
Today, technology for marketing, sales and customer service is critical for every strategy. You can't generate revenue without marketing automation, CRM and customer service technology.
Who typically owns this type of strategy work at a company?
In many cases the CMO or CRO owns this type of strategy work, but at smaller companies it could be the CEO or business owner.
How frequently would this work need to be reviewed to make sure it's still on target?
We recommend reviewing strategy every 90 days to ensure nothing has changed and the stated strategy is still appropriate.
Start Building a Scalable Strategy
We're here to help – choose one of the options below.
Get a Personalized Revenue Health Score