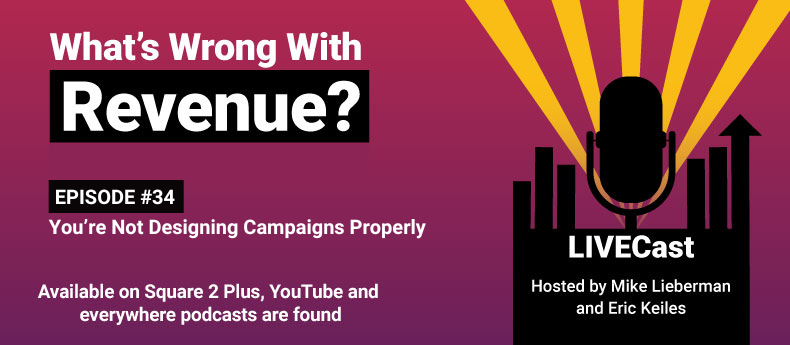 This show aired LIVE on May 11. To watch the show on demand, visit the show page here. To see all our audio and video content, check out our new free streaming service, Square 2+.
In this episode of What's Wrong With Revenue? we dove deep into what's required to correctly and efficiently design and execute marketing campaigns.
During the show we talked about how to create campaign messaging that connects to your company's overall positioning and story. You'll want campaign messaging that aligns, supports and enforces your overall story but drives specific action related to the campaign.
When it comes to tactics, we talked extensively about what goes into this selection process and how you should consider as many tactics as are appropriate and as your budget will support. The more channels you use, the better your results.
We talked in detail about the importance of the campaign goals. Demand generation and brand awareness vs. inbound marketing and lead generation campaigns – these different types of campaigns have different goals and configurations.
It's important to remember that your goal will dictate exactly which channels and tactics to consider for your campaign.
There's also going to be a difference in terms of the creative and offers. If you're trying to generate leads, you'll need late buyer journey offers. If you're trying to generate awareness or demand/interest in your company, early buyer journey offers will be more appropriate.
Not to make campaign planning more complex, but you can run full click-to-close campaigns by starting with early buyer journey offers and transitioning into middle and then late buyer journey offers.
We also talked extensively about how to track campaign success. This means setting goals before the campaign launches, tracking in-campaign progress and then running a retrospective after the campaign wraps up.
As far as metrics, you might be looking at visitors, views, downloads, form fills and actual leads or sales opportunities generated. If you have a longer sales cycle, the bigger business metrics like leads or sales opportunities might trail the campaign by months or longer. Keep tabs on these people to complete your revenue attribution calculation for campaigns like this.
Finally, one of the biggest questions we were asked has to do with the length of a campaign. Honestly, this is going to depend on several variables, including the campaign's goals, your sales cycle, the complexity of your sales process and the complexity of your prospects' buyer journeys.
In the end, we covered almost every aspect of campaign planning, and you should have a much better idea how to plan, execute, track and optimize your marketing campaigns in 2022.
If you'd like to subscribe to the show, we'll send you reminders and email you a link to the show after each live show – just click here. If you'd like to submit a question to the show, we answer questions every week – just click here.
If you want to watch the show and all the other audio and video content published by Square 2, visit our new Square 2+ page. It's full of valuable content related to marketing, sales, technology, revenue growth and more.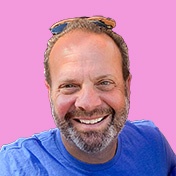 Mike Lieberman, CEO and Chief Revenue Scientist
Mike is the CEO and Chief Revenue Scientist at Square 2. He is passionate about helping people turn their ordinary businesses into businesses people talk about. For more than 25 years, Mike has been working hand-in-hand with CEOs and marketing and sales executives to help them create strategic revenue growth plans, compelling marketing strategies and remarkable sales processes that shorten the sales cycle and increase close rates.