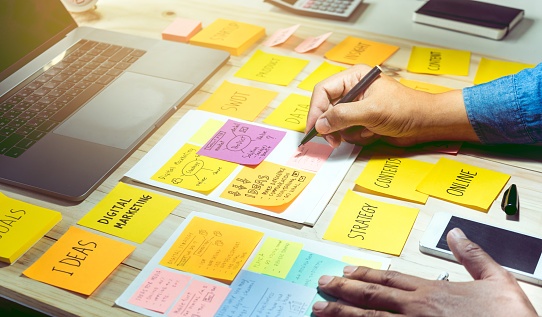 Look At The Leaders In Content Marketing For The Secrets To Success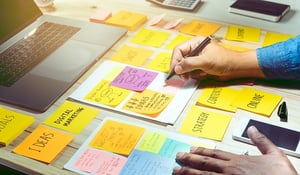 It's no secret content is the fuel for the marketing engine today.
It's no secret sales teams that use content strategically close more deals and close them more quickly.
It's no secret your prospects are overwhelmed with the sheer amount of content and the steady stream of content.
Given this "situation," how should you be adjusting your content marketing strategy to deal with the chaos and fast-paced changes influencing your prospects' buyer journey and their ability to make safe purchase decisions associated with your products or services?
Here's a quick start guide to content marketing in 2018 and beyond.
Start With Strategy, Please
You know you need content, but what content, how much and for whom? You can't just jump into the deep end and start blogging. This won't work. It won't produce results and it's a fast track to having someone shut down your misdirected content effort in its entirety. Don't do this.
Instead, take the extra time to create a content marketing strategy. This includes a deep understanding of all your personas. Anyone involved in your prospect company's buyer journey needs to have a persona profile created that includes the questions they're asking, the website they're visiting, the conferences they're attending and the current set of content they're digesting.
The questions are a big part of this, because once you have the questions, you can create answers to those questions that become the basis for highly valuable content.
Along the way, you're also going to use these profiles to create the right type of content. Video, podcasts, infographics, whitepapers, tip guides, e-books, webinars — with so many formats for content today, knowing the right format for your personas is mandatory.
Match Content To The More Complex Buyer Journey
With eight distinct stages in the Cyclonic Buyer Journey™, your content will need to be designed and assigned to those eight stages. What your prospects need in the Awareness or Education Stages is going to be much different than what they need in the Decision-Making or Rationalization Stages.
One way to try and organize content in this way is to segment the questions prospects ask while they're in their buyer journey. These questions do almost always appear to be different stage by stage.
This can be a key to creating the perfect content and delivering at the perfect time.
Match Content To The Extended Set Of People Involved In The Purchase Decision
Harvard Business Review reports that the number of people involved in the purchase decision is up to 6.8 from 5.4 just two years ago.
This has a major effect on the content you create. You must create content for everyone involved in the purchase decision, and you must understand all of their individual and personal buyer journeys. Yes, this makes content more complicated, but it's no longer OK to deliver generic content.
The procurement officer is going to need different content than the CFO, and the VP of HR is going to need different content than the CEO if she's the ultimate decision-maker.
Your marketing team has to support each individual role, while your sales team has to uncover who is going to be participating in this decision and make sure they efficiently deliver the right content at the right time in the process.
Use Tools To Deliver Content In Context
Speaking of timely delivery, content in context is not about time but rather about topics, issues and challenges. When a prospect mentions costs, you need content that supports why your level of investment is higher than your competition.
When a prospect mentions delivery timelines, you have content to assuage that concern and clearly demonstrate your ability to deliver on time. That could be case studies, delivery timelines or a video from a current client who had an early delivery.
This is all about providing content in context to your conversation and your prospect's stage in their buyer journey. Deliver the wrong content too early and you'll have a confused prospect. Deliver the right content at the wrong time and you might lose to a competitor who delivered the right content at the perfect time.
One way to make content marketing execution easier is to automate with easy-to-use tools that present all of the content you have, organized by contextual content and tied directly to your sales process through a CRM or marketing automation platform.
Now reps simply pull down content from a single sourced library related to their prospect's challenge and deliver it in a timely manner.
Not only does this create a remarkably personalized experience, but it also helps the client make a safe purchase decision and positions your company as the go-to resource.
Integrate Content Into Your Customer Service Process
Don't overlook how you apply content in your customer service effort. Sales and marketing usually get the first look when it comes to content, but how you use content to deliver a great service experience to customers is just as important.
Content can take the form of knowledge base articles, FAQs, scripts for service reps, customer surveys and other content offers that are aligned with the questions or the calls customer service reps field every day.
Consider the number of calls that come in on how to replace the batteries in a gadget. Now consider having a video that shows how to do this and empowering your reps to simply pass along the link to the video.
The customers are happy, the reps are happy, and everyone got what they needed in a highly efficient and customer-centric way.
Content is about enhancing experiences, whether for prospects or customers. Make sure you're considering all of the applications.
Create Metrics And Track The Performance Of Your Content
Today, you should be tracking almost everything. You're going to create content that doesn't drive results. It's a given. The key is identifying it quickly, taking it down and replacing it with something else that does produce the desired results.
Track clicks on the web, downloads, views, subscribers, shares and comments, and do this weekly for all of the content on your site.
In a matter of weeks, you'll have an idea about what types of content and formats are top performers, and exactly what content ideas are moving your prospects, sales opportunities and customers to action.
That insight now drives the creation of future content.
Match Content To Your Prospects' Content Experiences
No matter who your prospects are, they're consumers. That means they are seeing an upgraded content experience from the big boys, like Amazon, Netflix, YouTube and Hulu.
This is raising the bar for B2B content.
You must be ready to provide personalized content. Content that entertains and engages. Content that tells a story. Content that connects emotionally. Content that disrupts. Content that is sharable.
The bar is high and getting higher. These social media video snippets of people in their cars, people with hats on in their offices and people who simply want to hear themselves talk are quickly going to be ignored in favor of smarter, more entertaining and engaging content options.
Be part of the solution, not part of the problem.
Yes, there is a lot to do here. Anything worth doing is generally not easy to do. The takeaway here is that what's hard for you is also hard for your competitors, and if you can figure out how to do this efficiently, effectively and continuously, you'll find a sustainable competitive advantage.
Generally, a competitive position in regard to content produces advantages in search engine rankings, in website traffic, in lead generation, and ultimately in new customers and revenue growth.
If you think your company is doing content in a way that's volume-oriented, non-strategic and devoid of real business results, then hit the pause button, regroup with the above approach in mind and get back at it.
You may be able to repurpose and reposition some of your old content with the above strategy in mind. Often, we can rescue content from nonperforming content programs and turn it into high-performing content, but this takes a thoughtful and organized approach with a defined methodology at the core.
Stop doing content for content's sake, and start doing content that produces results.
Square 2 — Building The Agency You'll LOVE!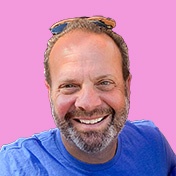 Mike Lieberman, CEO and Chief Revenue Scientist
Mike is the CEO and Chief Revenue Scientist at Square 2. He is passionate about helping people turn their ordinary businesses into businesses people talk about. For more than 25 years, Mike has been working hand-in-hand with CEOs and marketing and sales executives to help them create strategic revenue growth plans, compelling marketing strategies and remarkable sales processes that shorten the sales cycle and increase close rates.