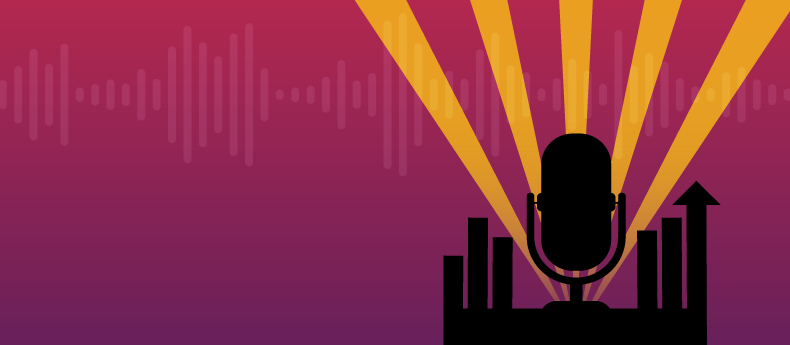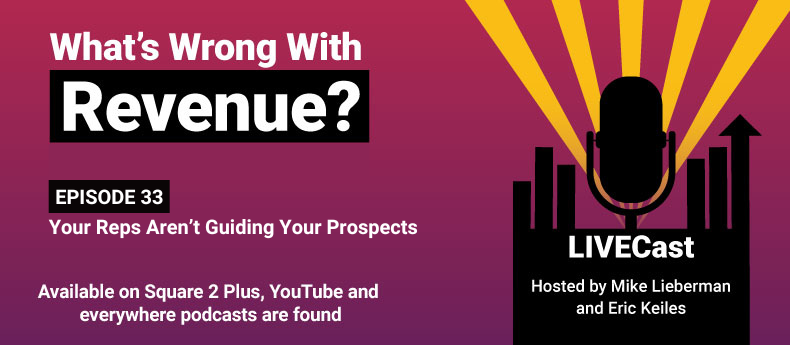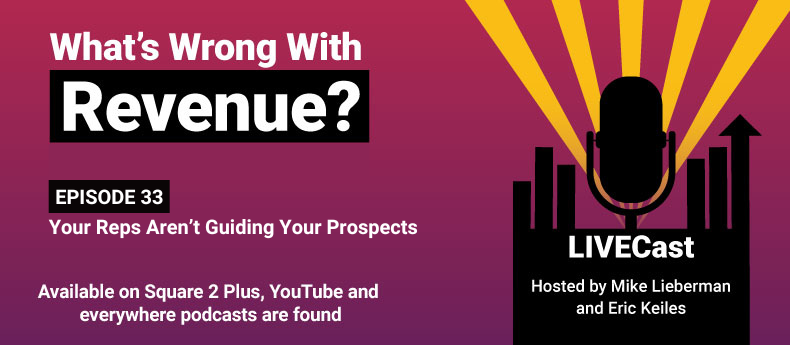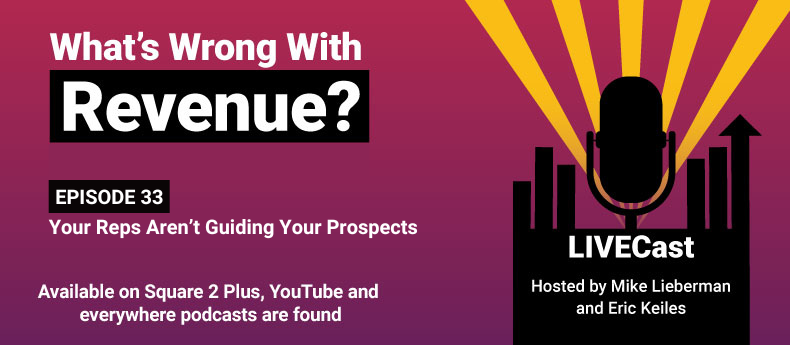 This show aired LIVE on May 4. To watch the show on demand, visit the show page here. To see all our audio and video content, check out our new free streaming service, Square 2+.
In this episode of What's Wrong With Revenue? we went back to sales and talked in detail about how important it is to have a sales process where sales reps are guiding prospects and not trying to sell them or convince them to buy.
During the show, Eric and I shared some very specific examples of what it means to guide someone through their buyer journey, as opposed to trying to convince them to do anything.
We dug deep into the psychology behind how humans think, the way our brains work and why people put up barriers when they feel like they're being sold to.
Across every industry, today's prospects don't buy like they used to. They don't need sales and don't want to talk with a salesperson until it's absolutely necessary. This change should be changing the way you sell, too.
Your sales process should be modeled after your prospects' buyer journeys and designed to position your sales reps as guides who are helping your prospects navigate their own journeys to a safe purchase decision.
Once you start thinking like this, everything unlocks, and the tools, techniques and technology shift dramatically.
Eric went through an example of a guided sales process and the steps required to work with people the way they want to be worked with.
We also shared a number of examples for the new set of tools today's sales guides should be using, including video, content in context to the conversations they're having with prospects and a reference reel.
One of the best ways to arm your sales team with the right tools is to identify all the questions prospects ask at each stage of the buyer journey and start equipping reps with content that answers these questions proactively.
Finally, we talked about the importance of marketing and sales alignment today. In fact, it's almost impossible to execute a guided sales process without having marketing on board, without having company leadership on board and without realizing that the way people buy has changed.
If you'd like to subscribe to the show, we'll send you reminders and email you a link to the show after each live show – just click here. If you'd like to submit a question to the show, we answer questions every week – just click here.
If you want to watch the show and all the other audio and video content published by Square 2, visit our new Square 2+ page. It's full of valuable content related to marketing, sales, technology, revenue growth and more.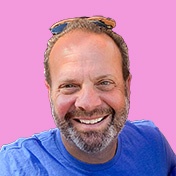 Mike Lieberman, CEO and Chief Revenue Scientist
Mike is the CEO and Chief Revenue Scientist at Square 2. He is passionate about helping people turn their ordinary businesses into businesses people talk about. For more than 25 years, Mike has been working hand-in-hand with CEOs and marketing and sales executives to help them create strategic revenue growth plans, compelling marketing strategies and remarkable sales processes that shorten the sales cycle and increase close rates.