Campaigns
B2B Marketing Campaigns
To generate results from your marketing investment, you'll need highly personalized and orchestrated marketing campaigns. Instead of one-to-many, you should be running one-to-one campaigns that focus on your company's story, campaign message and specific offers.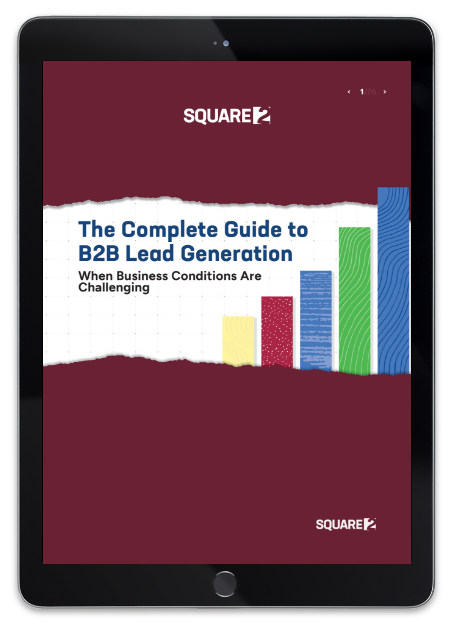 The Complete Guide to B2B Lead Generation
How to build an effective strategy, execute the right tactics, leverage data and analytics, and systematize all aspects of revenue generation.
Types of B2B Marketing Campaigns To

Consider

Here are a few of the most popular marketing campaign types.
Drive Them to You
Inbound Marketing Campaigns
Designed to earn attention from your target prospects with content that drives them to your website and then converts them into new contacts which you'll then nurture with emails, moving them proactively through their buyer journey.
Target Your Prospects
Demand Generation Campaigns
Designed to take your message out to your prospects proactively, using targeting tools to get your content in front of your prospects so they are aware of your company and your product/service.
Get Specific
Account-Based Marketing Campaigns
Designed to target specific people at specific companies with highly personalized messages that drive a new connection, get them to engage with your content and leverage the sales team to start a conversation.
Go Straight to the Customer
Customer Campaigns
Designed to get customers to increase your share of wallet – cross-sell and upsell opportunities are usually the key to this campaign type.
Create Advocates
Advocacy Campaigns
Designed to get customers to publicly advocate for your company, including online reviews, references, referrals and success stories.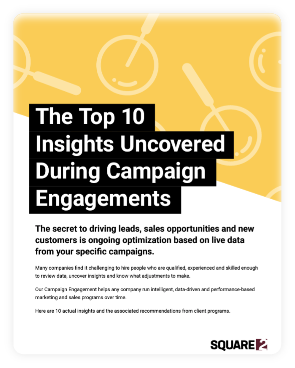 The Top 10 Campaign Improvements That Drive Results
See insights and the associated campaign recommendations from actual client programs.
Campaign Execution Is Critical
Planning Campaigns
Campaigns get a systematic planning framework, with 90-day strategic planning and 30-day campaign cycles to help keep your campaigns focused. This aligns your campaigns with business outcomes, key metrics and growth goals.
Building Campaigns
Campaigns are designed with each channel in mind (paid search, paid social, retargeting) and to support your prospects' buyer journeys. Your campaign assets (landing pages, emails, social ads) are created to support any and all channels.
Executing Campaigns
Campaigns get launched on the appropriate platform (social, search, email) and your campaign team monitors them.
Analyzing Campaigns
Campaign dashboards are set up, monitored and reported on weekly. Your campaign team uncovers insights buried in the data and uses them to drive your ongoing action plans
Optimizing Campaigns
After campaigns are running and we have baseline data on each campaign, they get regular attention, optimization, adjustments and upgrades based on performance.
Hear From Clients Like You
These business leaders worked with Square 2 to produce highly orchestrated and personalized campaigns.
Marketing Manager
Zak Schroerlucke
Crosby Hops
"We needed a lot of help getting our campaigns out the door, and then we needed a team to ensure that they produced the desired results. We were WOWed by what the team at Square 2 did for us and how it worked."
Co-President
Elyssa Barksdale
Thiel & Team
"The campaigns Square 2 planned and executed for us were fantastic. We desperately needed this to get our company to the next level, and they delivered beyond our expectations."
VP of Marketing
Ashley Dietz Gray
Campbell Property Management
"If you are looking for a company to help with inbound marketing, look no further! I have been so impressed with the knowledge we have received from Square 2. They redid our website, assisting with our overall story/messaging and helping us onboard with HubSpot, just to name a few things. The team is professional, friendly and easy to work with."
Director of Marketing
Kari Schoeffler
CDI Products
"My experience working with Square 2 has been top quality. The Square 2 team campaign team is comprised of experienced and highly skilled professionals. We have made tremendous leaps in improving our content marketing and our thought leadership. I look forward to continued work with Square 2 and great advances in the future."
Managing Director of Business Development
Ryan Tauber
Chandler Asset Management
"We partnered with Square 2 in order to take our marketing campaigns and CRM use to the next level and they have been excellent. They plan every step well in advance and have very open communication with our team. We are delighted with our choice to work with Square 2 and are excited to continue working with them in the future."
Frequently Asked Questions
How do we know what marketing campaigns we need?
After your strategy is locked down, the campaign question becomes much clearer. But the answer is different for different clients. Depending on your goals and objectives, we'll design the right type and number of campaigns to help you exceed your revenue goals.
How long do you typically run a marketing campaign before you expect to see results?
It generally depends on your sales cycle, but it also depends on the type of campaigns you're running. An email campaign might last four to six weeks, while a paid social campaign might run for three months.
How much should we plan to invest in a specific marketing campaign?
Sorry, but this also depends on your goals. More aggressive goals will require bigger budgets. Campaign investments could range from $10,000 to $50,000 or more.
Who is part of your dedicated campaign team?
As part of our dedicated campaign team, you'll work with a campaign strategist who ONLY works with clients on campaigns. You'll also have a HubSpot specialist to ensure your HubSpot is set up properly to support the campaigns. A paid search specialist, a paid social ad specialist, a copy architect and a video production specialist are available if needed. They're all experts at planning, designing, executing and optimizing campaigns for performance. We recently had a client secure a $1 million customer from their Google Search campaign. That's an ROI!
How do you report on the performance of marketing campaigns?
Usually through HubSpot. We create dashboards that provide the data we need to uncover the insights necessary to make solid go-forward action plans.
How do you continually optimize marketing campaigns?
Every one of your campaigns needs regular optimization. Some need it daily, while most need it weekly or monthly. Our team looks at all the campaigns on at least a monthly basis and almost always has optimization adjustments, updates or upgrades that we make to improve performance over time.
What if a specific marketing campaign isn't working?
This situation comes up occasionally. The goal should be to have solid data on the non-performing campaigns and make sure you've given it enough time and attention to perform. But sometimes we have to shut down campaigns because it's just not working. We have no problem doing that.
Are there any marketing campaigns you wouldn't recommend to a client?
Yes, there are. We wouldn't recommend you buy a list and start emailing people asking for an appointment.
What if we want to run additional marketing campaigns in-house?
No problem. We work with a lot of clients that have internal teams with specific expertise. If you want to handle your paid social ad campaign because you've had success with it, that works for us.
Start Developing Campaigns That Generate Results
We're here to help – choose one of the options below.
Get a Free Marketing Tactics Review Session