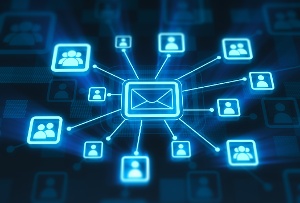 Email Marketing Can Still Drive Results If You Add Value For Your Readers
With the world ever more full of different messaging apps and ways to communicate, neglecting the daily flood of emails in your inbox can be all too easy. However, the mass email campaigns that define today's increasingly digital world make having a sound email marketing strategy all the more essential.
We all know the adage that it's easier to keep a customer than to acquire a new one, but did you know the same goes for your email subscription list? In fact, turning an inactive subscriber into a customer can cost five times less than landing a brand new customer.
To help you make the most of your email marketing efforts, this post offers best practices for email re-engagement. From striking the right tone to creatively customizing copy, the tips cover the little-known strategies our inbound marketing experts use to re-engage prospects – as well as reasons why they unsubscribe.
Why Subscribers Leave
Sometimes, relationships end. To understand how to rekindle the spark with your prospects, first you need to understand why it fizzled in the first place. Here are three of the most common reasons:
Too Many Emails
No one likes to be bombarded with excessive emails. Though staying front-of-mind for your prospects is important, there's a fine line between consistency and overkill. Keep in mind that it's also possible to send too few emails, especially in industries with a shorter sales cycle.
While no magic number exists for an optimal engagement rate, understanding the buyer journey and your target personas' preferred methods for communication is essential to ensure engagement. Make sure your strategies are closely aligned with your industry and goals.
Lack Of Engaging Content
Ever find yourself wondering why you're receiving some of the emails you do? Repetitive or irrelevant content is a result of poor content engagement – that is, failing to provide worthwhile offers or information.
Confusing design can further compound this problem, leaving prospects unable or unwilling to access information that could otherwise be valuable to them. Make sure you only send content that is relevant, clearly presented and relatively new – and if they don't bite on the first offer, simply move on.
Not Respecting Subscriber Goals
Every prospect is different, and the most successful email re-engagement strategies respect this. While it's not possible or practical to completely customize your approach to each prospect, being aware of why subscribers signed up is an important factor to consider to avoid ineffective approaches.
For instance, maybe a subscriber only signed up for a one-time or seasonal offer. Assuming the prospect will be warmed up right away for another deal or piece of content is a mistake. For these prospects in particular, clickbait subject lines and excessive emails can be unsubscribe-worthy turnoffs.
Tips To Create Effective Re-Engagement Emails
Now that you have a sense of the reasons why prospects stop engaging with you, here are several tips for turning those inactive subscribers into raving fans.
Segment Your List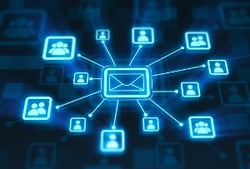 Just as subscribers may sign up for your email list for a number of different reasons, inactive subscribers may be inactive in a variety of ways. Many factors go into determining the level of user commitment, such as open rate, click-through rate and whether or not the prospect has updated their subscription preferences recently.
The success of your re-engagement efforts will largely hinge on your ability to properly segment your list and adapt your strategy to these individual factors. Be sure you're not taking a one-size-fits-all approach to your list.
Personalize Everything
Speaking of avoiding a one-size-fits-all approach, keep in mind that even mass emails still leave plenty of room for personalization. Your goal should be to create one-to-one conversations that feel tailored to each subscriber's individual preferences.
Even if you only have the name of your subscriber, add a personal feel to everything in the email, from incorporating the prospect's info into the subject line and design to making sure the choice of content is customized to their goals. As you'll see below, giving subscribers options in how to engage with you is another way to ensure you're speaking to their preferences.
Write From The Heart
The most effective re-engagement emails speak to the emotions, not just the intellect. For example, while it's common for unsubscribe emails to employ sadness (e.g., "We're sorry to see you go!"), humor, excitement, surprise and much more can also be valuable tools in your emotional arsenal. If it's appropriate for your industry, consider using emojis to add variety and more directly express these emotions.
However, be careful about using guilt to entice subscribers to re-engage. While it's helpful to make your subscribers feel they'll miss out on something if they stop receiving your emails, don't give them any reason to feel like they've dropped the ball or, worse, that they must not be interested in what you're selling.
Here are some examples of subject lines that use emotions to make an impact:
"We Miss You! Is It Just Us?"
"Allison, What Can We Do To Recapture The Old Magic?"
"Stan, Here's An Offer To Make You Say: 'Why Didn't I Think Of That?'"
If you're interested in learning more about this topic, be sure to check out our recent blog post on the importance of feeling in lead generation and growth.

Include An Incentive
Effectively reaching inactive subscribers means reminding them of what they have to gain from re-engaging. Take the opportunity to put your best foot forward by offering an incentive in your re-engagement email. This strategy helps frame the email as both a "thank you" for remaining a subscriber and a reminder of why they signed up in the first place.
Whether it's a discount, a free consultation or another type of offer, be sure to make the deal sound both exclusive and irresistible – play on the emotions to make the prospect feel special.
You can also consider sending a reminder email as a follow-up, perhaps extending their deadline to take advantage of the offer.
An Example From Our Archives
Though it isn't technically a re-engagement email, you can see a number of these strategies at work in a recent promotional email we sent to our current clients.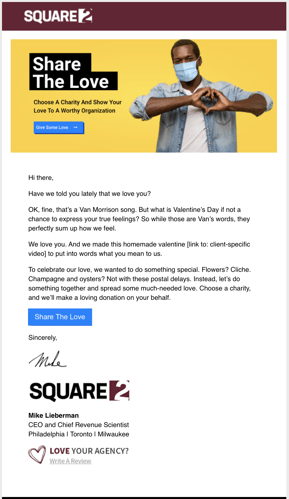 We personalized the greeting in each email to include the recipient's first name and played on the "love" idea throughout the copy and imagery. We also provided an incentive that continued to pull on the heartstrings by encouraging our clients to engage by making a holiday donation to a charity of their choice.
Provide Multiple Ways To Stay In Touch
No one likes an ultimatum. When it comes to re-engaging inactive subscribers, make sure you're offering subscribers multiple ways to receive updates. Updating email preferences is a great way to empower prospects to get the exact type of information they want, when they want it. After all, maybe they're still interested, but they're overwhelmed by the number of emails you send.
For example, instead of just a simple unsubscribe option, you can provide the option of taking a short hiatus from receiving emails. This approach not only helps prevent outright unsubscribes, it will also provide valuable information about how to adjust your cadence in the future, as you'll know to taper off your send rate once the hiatus ends. Either way, don't forget that you need to include a visible unsubscribe link.
Remind Them Why They Subscribed
When leveraged correctly, your re-engagement email can be a powerful piece of marketing in and of itself. Especially if you're unsure of why a subscriber became inactive, a re-engagement email gives you the opportunity to subtly highlight your services and reiterate how you can help them. For example, you might consider a subject line like: "Chris, Do You No Longer Need Help With Your [insert pain/or service here]?"
You can also use re-engagement emails to highlight an improvement to your services that's taken place since they subscribed. For example, if you've recently updated an app or made improvements to a web platform, be sure to remind subscribers of all the new features they may be missing out on.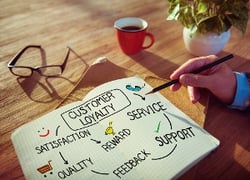 Develop A Rewards Program
Sometimes a little gamification can be just what you need to spark re-engagement. Combining a re-engagement campaign with a rewards program is a great way to get subscribers interested in your business even when you don't have new products or services to offer.
A well-considered rewards program can offer benefits well beyond subscription re-engagement, such as building brand loyalty. In fact, in a study, 75% of respondents claimed they would be willing to switch brands for a better loyalty program.
Proofread, Proofread, Proofread
From checking grammar and punctuation to conducting comprehensive quality assurance, taking care of the little things can go a long way toward rebuilding a relationship. Frequent spelling or grammar errors detract from your brand's credibility and can even lead prospects to turn to a competitor.
Whether you have a tested proofing process or you need to appeal to more old-fashioned methods like reading your work aloud, be sure the copy, design and development of your campaign are free of potentially embarrassing errors.
Be Direct
If all else fails, don't be afraid to simply ask your prospects and customers why they've stopped engaging with you. It can't hurt to ask, and you may learn something valuable – for instance, maybe you need to shift your approach to promote a new topic or a different type of content.
Though it may go without saying, be aware that you'll actually need to deliver when trying this approach – that is, by adapting to the information you gather from the subscribers' answers. For example, if a subscriber specifically states they'd like to receive fewer emails from you, you'll need to follow through on that request to avoid losing them outright.
While subscriber inactivity is an inevitable aspect of your email marketing initiative, it doesn't have to be the end of the story. Leverage these best practices to gain a better understanding of your list and start rekindling your subscriber relationships today.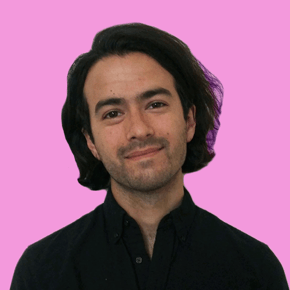 Nick Joseph, Copy Architect
Nick Joseph is a Philadelphia-based copywriter at Square 2. In his other writing life, he's a freelance writer, editor and content strategist. He earned a Ph.D. in English from the University of California, Irvine, where he taught composition and studied the history of American poetry. Before moving to Philadelphia, he lived in Long Beach, California, Sydney, Australia and various parts of the South.