Tactics
B2B Marketing Tactics
With so many marketing tactics at your disposal today, it's difficult to know which to use and when to use them – email, podcasting, content marketing, social media and organic search engine optimization, just to name a few. Breaking them into foundational tactics and then understanding what types you need is the key.

5 Marketing Tactics To Consider
There are five different types of tactics to consider when you're thinking through your B2B marketing and revenue growth strategy.

Every company needs some collection of these tactics
Foundational
List segmentation, website, email marketing and social media

If you want to lean into inbound, you'll need these tactics to earn the attention of your prospects.
Inbound
Everything above plus organic search engine optimization, heavy content marketing with a gated experience, chat, website optimization, pillar page development, blogging, video marketing, podcasting, webinars and lead nurturing emails

If you want to be more proactive and take your story to your target prospects, you'll need these tactics.
Demand Generation
Everything in foundational plus paid search, paid social, events and conferences, retargeting, ungated content on your website, chat, backlinks, influencer marketing, and public relations (many companies run both inbound and demand generation tactics simultaneously)

If you want to improve your sales team's ability to close faster and close more often, you'll want to work on these tactics.
Sales Execution
Once you get the leads coming in, you'll want your sales team to operate efficiently by providing them with automated sales nurturing emails, lead-scoring models, an upgraded sales process, sales videos for references, additional educational content for sales to share, an upgraded sales presentation and more

Optimizing revenue from current customers should be on your to-do list.
Customer Service
Email marketing for cross-sell and upsell, client satisfaction surveys, advocacy programs to drive reviews and references, videos to help provide a better service experience, a knowledge base for customers to get easy access to FAQs and more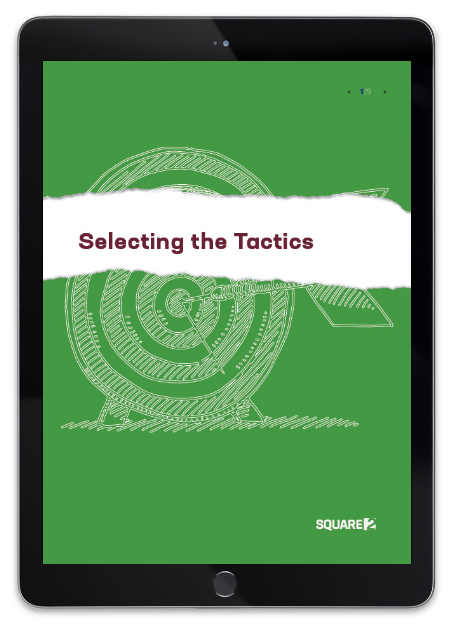 Choosing the Right Tactics To Use Throughout the Buyer's Journey
With hundreds of tactics to consider, which should you select?
B2B Marketing Tactic Services
Website Design and Development
Hear From Clients Like You
These business leaders worked with Square 2 to leverage the right tactics for their specific needs.
CEO
Gerry Miller
Cloudticity
"Square 2 helped us with our website, and a site that was expected to take six months, they finished in just 30 days – and it cost less than 20% of what other agencies quoted. Plus, the thinking and creative that went into the site was top notch. I couldn't have been happier."
President and General Manager
David Little
RE Little's
"The tactics Square 2 recommended helped generate a 24% increase in website visitors. We saw an increase in leads that was 5X our previous agency and we were able to effectively nurture our customers with email to drive cross-sell and upsell of new products."
"We worked with Square 2 on a wide variety of inbound marketing tactics for over five years. They planned, executed, tracked and optimized email marketing, website optimization, organic SEO and social media with us. The results helped us grow the company and eventually exit successfully."
Director of Marketing – Domestic Learning
Anne Craft
Gale
"This is one of the top inbound marketing agencies on the planet. They taught my team inbound, they set up our tactics and they ran our campaigns. We exceeded our goals, and I would recommend them to anyone in almost any industry."

Senior Director of Revenue
Mike Scallon
TPx Communications
"We were extremely impressed with the system Square 2 used to get our marketing tactics up and running but then equally impressed with how well the program ran. They showed us what to do and eventually we were able to bring it in house. Mission accomplished, Square 2 – and thank you!"
Frequently Asked Questions
How do we know what tactics we need?
Your Square 2 team is going to spend enough time with you crafting the appropriate go-to-market strategy to uncover exactly what tactics are needed. This is important to prevent "random acts of marketing," which is why you came to us in the first case.
How long should we expect before we see results from marketing tactics?
This depends on your company, your industry, your sales cycle and your level of investment. But generally, clients start to see results 30 days AFTER all their strategy and foundational tactics are installed.
How much should we plan to invest in marketing tactics?
Unfortunately, the answer here is "it depends." If you want to grow aggressively, you'll need to invest more. If you have more modest growth goals, you can invest less. It's entirely up to you and directly related. The more you invest, the more leads you'll get from these marketing tactics.
Who would we be working with on these marketing tactics?
We have specialists on a variety of tactics, including paid social, paid search, video and more technical areas. For general tactics like email, your website or chat, your growth consultant or strategist is more than capable of helping you.
How do you report on the performance of marketing tactics?
Usually through HubSpot. We create dashboards that provide the data we need to uncover the insights necessary to make solid go-forward action plans.
How do you continually optimize marketing tactics?
Every tactic in your program needs regular optimization. Some need it daily, while most need it weekly or monthly. Our team looks at all the tactics on at least a monthly basis and almost always has optimization adjustments, updates or upgrades that we make to improve performance.
What if a specific marketing tactic isn't working?
This situation comes up frequently. The goal should be to have solid data on the non-performing tactic and make sure you've given it enough time and attention to perform. But sometimes we have to shut off a tactic because it's just not working. We have no problem doing that.
Are there any marketing tactics you wouldn't recommend to a client?
There might be. If you're a B2B company and you're asking about advertising on TikTok, we might advise against this, or at least we would suggest a small test to see if it's viable.
What if we want to run some of the tactics in-house?
No problem. We work with a lot of clients that have internal teams with specific expertise. If you want to handle your paid social ad tactic because you've had success with it, that works for us.
Start Using the Right Tactics
We're here to help – choose one of the options below.
Is an Accelerator Right for You?