Want to generate more leads fast? One of the best ways is to turn your existing website visitors into new leads and potential sales opportunities by adding marketing tactics to your current efforts.
Many of these tactics can rely on your marketing automation and customer relationship management (CRM) tools. If you don't have integrated marketing automation and CRM, now is the time to add that to your tech stack.
It's no longer a nice-to-have – it's a must-have if you want to generate more inbound digital marketing leads for your company.
The good news is many of the ideas we're recommending here can be installed relatively quickly and produce results in a short time frame.
1. Create New Educational Offers For Each Stage Of The Buyer Journey
No one gets married after just one date, yet most websites expect new visitors to convert with an offer that is consistent with getting married. Your visitors are just getting to know you, but your offer is "talk to a sales rep," "schedule a consultation" or "get a quote."
People don't buy like they used to. They don't rely on salespeople for information. Instead, they move through eight specific stages as they work to get educated and make a safe purchase decision.
They want to date before they get married. They want to get to know your company, like your company and trust your company before they talk to sales.
With that in mind, you have to shift your approach to lead generation away from late-stage buyers and lean into early-stage buyers.
These people want education, advice, guidance and information. As they move through their buyer journey, your company becomes the one they rely on for this critical information.
The company that creates the best online experience, produces the best educational content and understands their prospects' buyer journeys the best will win the business every time.
This means you'll need content on your website for people in the Awareness Stage, Education Stage, Consideration Stage, Evaluation Stage and even the Rationalization Stage.
By strategically deploying this content, using calls-to-action (CTAs) and having forms that require visitors to provide light contact information, you can start building a list of people who are looking for the products and services you provide.
These are not sales-ready leads yet but rather marketing-qualified leads — people who are active in their buyer journey and interested in the content you are providing.
The next step is to properly nurture these people through their buyer journey.
2. Set Up Lead Nurtures For People Who Convert
Now that you have people converting and sharing their contact information in exchange for your content, you have to keep the conversation going.
Remember, the company that creates the best online experience, produces the best educational content and understands their prospects' buyer journeys the best will win the business every time.
This means the ongoing email nurture campaigns you create have to continue the educational experience.
More strategically, you should try to identify where in the buyer journey they are, then use your nurture campaigns to pull them through and have their actions signal to you how they are progressing.
Here's how you do that.
First, part of the buyer journey mapping work we do with clients includes collecting an inventory of questions prospects ask during a typical purchase cycle. You'll find prospects ask different questions at the beginning of their journey than they do at the end.
At the beginning of the journey, they might wonder, "How does a product or service like yours help us achieve our stated goals?" In the middle of the journey, they might be asking, "What are the differences between your products/services and those of your competition?" At the end, they might be asking, "What does onboarding look like?" or "Who would our team be working with at your company?"
Understanding these questions help you create content for each stage of the new buyer journey. When it comes to nurtures, you'll want to build them based on the estimated insertion point for your prospects and their buyer journey.
If they come in early, you'll want nurtures that move them through the middle and into the late stage. If they start their journey with you in the middle, you'll want nurtures that move them into the late stage.
Design nurture campaigns for each one of your offers based on the buyer journey stage those offers are designed to support.
As the nurtures launch, the prospects' click activity can signal to you if they're moving and how fast. This is going to be important when working closely with sales. They should be alerted to prospects who are signaling movement and especially fast movement. These are the best opportunities for sales to proactively engage and establish an advisory relationship with.
This is specifically how you turn marketing-qualified leads into sales opportunities.
3. Create Website Pages Based On Buyer Journey Stage
Another way to generate leads quickly from your existing visitors is to build website pages for each stage of the buyer journey. This means you'll have content offers and also have website pages.
Here are some examples from the Square 2 website:
These pages should be relatively easy to get set up, and sales can use them, too. More importantly, they should be featured in your email nurture campaigns.
Remember, the purpose of emails – even nurture emails – is to get prospects to take action, and that action is almost always clicking a link. You want to get them back on your site, get them to a specific offer and get them to a specific page.
If that is your goal, you'll need buyer journey stage-specific pages.
Finally, consider this. If you are nurturing a new contact, that means you got them to convert initially. While you're nurturing them, that nurture will expire after your nurture sequence ends. You need to get them opted into more frequent touches.
One way to do this is to promote a blog subscription or subscription to your podcast. Both offers will allow you to "touch" your prospects more frequently. Blogs are typically done a few times a week, and podcasts are typically produced weekly.
If you're emailing your database once or twice a month, you're now supplementing that contact with more frequent touches. This is all helpful for keeping them aware of you, continuing to educate them and reminding them of the pain you help solve.
4. Design New Landing Pages To Convert
Let's shift gears a little. Once you have your website pages, CTAs and educational offers strategically deployed across the site, you'll still be directing those people to specific landing pages for specific pieces of content and offers.
These landing pages have to be correctly designed for conversion or your plan will quickly fall apart.
This means limiting the navigation. Focus all your attention on getting them to convert on just this offer. Don't distract them with other links or items to be clicked on.
Make it crystal clear what they will be getting when they convert. Explain what they'll learn in simple language with three to five bullet points.
Show them an image of what they will get if possible, and make it look as appealing, robust and clear as possible.
Consider adding a testimonial on this page from someone who consumed this material and thought it was amazing. Make sure it's a testimonial about this offer and NOT about your company's products or services.
Finally, keep your form as short as possible. The highest conversion rates are on forms with fewer than three fields. Don't put any extra fields in your form unless you intend to do something with that information.
If all you need is email plus first and last name to run your nurtures, that's all you should ask for. Keep in mind you can run progressive form profiling on HubSpot, so when they come back, the information you do have is already filled in and you can ask for more as they move through your content.
5. Create A Testing And Optimization Methodology Around CTAs And Landing Pages
Last but certainly not least, everything we've been talking about and all the upgrades we recommended are going to require ongoing testing and optimization to deliver improved results month over month.
Here are just a handful of potential tests and experiments that should be run over time to optimize performance:
CTA placement
CTA copy
CTA design
Landing page design
Landing page copy
Landing page form length
Landing page graphics
Landing page headlines
Lead nurture subject lines
Lead nurture links
Lead nurture P.S. content
These and other tests should be planned and executed monthly with baseline metrics as the benchmark for performance. Work on improving performance (even a little) month over month.
Over time, you'll be contributing to a major improvement in the overall performance of your lead generation and revenue generation efforts.
Square 2 — Building The Agency You'll LOVE!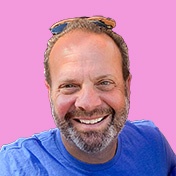 Mike Lieberman, CEO and Chief Revenue Scientist
Mike is the CEO and Chief Revenue Scientist at Square 2. He is passionate about helping people turn their ordinary businesses into businesses people talk about. For more than 25 years, Mike has been working hand-in-hand with CEOs and marketing and sales executives to help them create strategic revenue growth plans, compelling marketing strategies and remarkable sales processes that shorten the sales cycle and increase close rates.