If You Can Get Your Reps Using These Tools Today, January Will Be A Winner
By now you already know if you're going to finish the year strong or not. You already know what December is going to look like. That means the fourth quarter, along with the entire year, is almost wrapped up.
Salesforce, HubSpot, McKinsey and our own research shows that roughly 90% of businesses have trouble hitting revenue goals month over month and quarter over quarter.
It's also likely that 2021 is going to be as challenging as 2020. Perhaps the pandemic will start being less of an issue, but recessionary pressures are almost certainly going to make it an interesting year.
Your best bet is to get out ahead of the year and install sales upgrades this month, train your team this month and set the expectation that in January everyone will be on the same page.
This is the best chance you have to exceed January sales goals and get out ahead of your 2021 targets.
Here are the upgrades you can install this month to get you ready to kill it in January.
1) Qualification Scoring Model
Have you ever spoken with a sales rep and she is highly enthusiastic about a potential prospect? She's 100% confident they'll sign in the next few days for $100,000. They have the contracts and your contacts have assured you it's just a formality.
Sound familiar?
Of course, almost any senior executive and most sales leaders have heard stories like this over and over again. But then after a few days, nothing. After a few weeks, nothing. You speak with the rep and she's not sure what happened. The prospect has gone dark.
Does this also sound familiar?
Wouldn't it be amazing if you could eliminate this from all future sales conversations? You can. With a simple qualification methodology, you can eliminate all of the ambiguity from this process.
These methodologies are not new, nor are they unique. If you're looking for more information on sales qualification methodology and what it is, HubSpot has a great article that covers this at a high level.
But to look at specific methodologies, here are a handful of common ones:
BANT – Budget, Authority, Need and Timing

CHAMP – Challenges, Authority, Money and Prioritization
MEDDIC

–

Metrics, Economic Buyer, Decision Criteria, Decision Process, Identify Pain and Champion

GPCTBA/C&I

–

Goals, Plans, Challenges, Timeline, Budget, Authority, Negative Consequences and Positive Implications

PPF – Pain, Power and Fit
All of these methodologies create vocabulary and scoring mechanisms to remove the ambiguity and perspectives associated with sales reps and their optimistic approach to sharing the status of their opportunities.
Let me illustrate with the Pain, Power and Fit methodology. Pain, power and fit uses a scale from 0 to 5, with 5 being the highest. The goal is to put a numerical score on every opportunity. Here's how to apply it.
Prospects get a score of 0 to 5 based on how acute their pain is. Prospects get a score of 0 to 5 based on the level of power reps are talking with. Finally, prospects get a score of 0 to 5 on fit based on your company's ability to deliver a solution with an advantage.
It's that simple. Add up the numbers and you get a score between 0 and 15. Pain, power and fit (PPF) allows you to forecast based on the PPF score. Only those deals that score 14 or 15 are likely to close imminently (within a week or two). Depending on your sales cycle and business/prospect buyer journey, you might even be able to get those that score in this range to forecast closing in days.
Opportunities that score 11, 12 or 13 are more likely at least 30 days out, and again, based on your business could be even further out before they close. Any opportunities that score 10 and under are still in active development and not ready to be forecasted or projected at all.
Now consider that conversation with your rep.
You want to know how you're doing with that prospect opportunity. Your rep replies, "We're doing well. They're a 12 now, but I have a call later today to meet with power and review the priority of this project, and when we're done with the call, it will be a 14 and we'll be closing it this week."
That's a lot more productive conversation, right? Any of the qualification methodologies and scoring systems can deliver this level of upgrade in days, not weeks or months.
Looking to digitally transform your sales execution in 2021? Join Jeff Thull, noted sales guru, on Thursday, January 14 as part of The Butterfly Project – A Growth Week Experience. Click the butterfly below to learn more.
2) Video In Sales Emails
Today your prospects are inundated with emails. Many are wanted and some are unwanted, but even the wanted emails can be overwhelming, long, difficult to read, and even more difficult to digest and act on.
Human beings are visual people. We all have two eyes on the front of our heads, and we have become reliant on those eyes to collect and process information. As you might have heard, a picture is worth 1,000 words. Nothing could be truer today.
Embedding video in your sales emails helps you in a wide variety of areas.
First, it's never been easier. Tools like HubSpot allow you to click a video button, have a video recording tool launch, record the video on your laptop and then place the video in an email. Upon receipt your prospect opens the email and the video launches.
Now complex ideas can be easily communicated. People can share this information easily with others in their company, and no one has to read a long email to get the point of the communication.
Videos can also be canned or pre-recorded, and reps can use these in their nurture motions with prospects. This ensures that prospects get the same story at the same time in the sales process, regardless of which rep is working with a prospect.
The types of videos are only limited by your imagination, but sales reps are using videos to share customer stories, highlight product features, focus on industry solutions, help with complex concepts and eliminate the need for references.
Many of these videos can be recorded with equipment that everyone has, like a laptop, a phone and simple tools like Zoom and your phone's camera. This means video is no longer only a solution for companies with big budgets or fancy marketing teams.
Today any sales team should be using video to help tell their stories and move prospects through their buyer journeys.

3) Co-Creating Recommendations
Looking for a way to dramatically increase sales results in days? Start looking at the back end of your sales process. Specifically, what happens right before you get your recommendations or proposal together? Are you surprising your prospect with the details of your recommendations and/or proposal?
People don't want to be surprised. When you surprise people, you run the risk of making them anxious. As you know, the goal of sales is to make your prospects feel safe, not anxious.
Working with your prospect to co-create the recommendations is going to include them in the process, give them the input they want and, most importantly, pre-sell them your recommendations. If they're involved in the configuration of your recommendations, how can they possible say no?
We like to tell clients what their program is going to cost before we present the final options. We like to talk about how we're planning on delivering before we present the final options. In short, we do a lot of co-creation with clients so that when they get the final document, it's exactly what they expected and we've already dealt with anything that would slow down or prevent the final signing.
This has the potential to increase your close rate by 20% or more. If you're closing 30% of your opportunities, you could be closing half.
This also has the opportunity to shorten your sales cycle, because you shouldn't be going back and forth with your prospect after you present your final recommendations. They should look at it, recognize that it's exactly what they want and be ready to move forward.
Increasing the close rate and shortening the sales cycle are two of the more significant ways to ensure you hit or exceed your sales goals in January.
4) Advanced Diagnostics
One of the best ways to get prospects to know, like and trust your sales team is to make sure they're asking questions.
The more questions sales reps ask, the better prospects feel. Remember, it's an emotional sale first and a rationalized sale second.
Consider how you feel when you meet someone new at a party. How do you feel about the person who only talks about themselves for 30 minutes? Now consider how you feel about the person who asks questions about you during those 30 minutes. You're going to feel closer to the person who took the time to get to know you.
The same experience plays out in sales. If you take the time to get to know your prospect, including their business, their challenges, their people, their industry and so forth, they are going to feel safer with you than the person who quickly starts talking about the proposal.
You can improve the questioning (or as we say, the diagnostic) part of your sales process by arming your sales reps with an inventory of questions broken up into logical groups. Again, we have questions about a prospect's marketing, sales and customer service.
We have questions about the performance of a prospect's current program. We ask about expectations, agencies they've worked with in the past, budget and more. We have over 100 questions for this part of our sales process.
Not every question gets asked and answered in every sales situation, but arming sales reps with these questions ensures they always ask smart, relevant, well-thought-out and contextual questions.
The more questions you ask, the higher your chance of closing, the faster they'll close and they'll likely spend more money with you, too.
Teach you reps and arm your reps with questions this month. Help them understand how to use the questions, and watch your team blow right by your targets in January.
Let's face it – you and your sales team have some time available. People aren't meeting too much over the next few weeks. People are harder to get in touch with, and deals that haven't closed yet are probably not going to close before the end of the year.
You have time to learn how to use video, improve the art of questions, install a qualification methodology and add some co-creation touches into your current sales process.
Take the time to install these upgrades now, and January will be your best month ever.
Square 2 — Building The Agency You'll LOVE!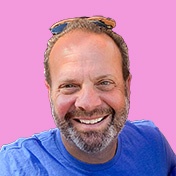 Mike Lieberman, CEO and Chief Revenue Scientist
Mike is the CEO and Chief Revenue Scientist at Square 2. He is passionate about helping people turn their ordinary businesses into businesses people talk about. For more than 25 years, Mike has been working hand-in-hand with CEOs and marketing and sales executives to help them create strategic revenue growth plans, compelling marketing strategies and remarkable sales processes that shorten the sales cycle and increase close rates.