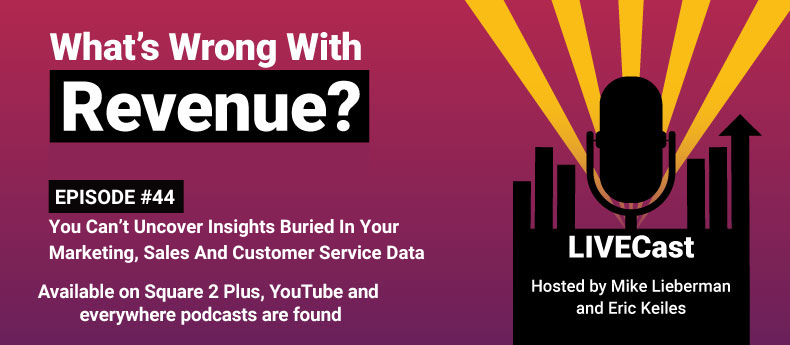 This show aired LIVE on July 20. To watch the show on demand, visit the show page here. To see all our audio and video content, check out our new free streaming service, Square 2+.
In this episode of What's Wrong With Revenue? we talked about how hard it is to actually find the insights buried in your marketing and sales data.
Yet those insights are what you need to drive results.
Everyone has dashboards that are supposed to show you how you're doing. That's exactly what dashboards show – past performance.
What they don't show is what you are supposed to be doing differently to drive better results.
That information is buried in the data, and only an experienced analyst can extract what's needed from the data and then use those insights to inform the ongoing action plans that will improve results.
The great thing about quantitative marketing is that it's never done. You are always trying to do better. Even when you kill it, you should be asking, "What can we do even better?"
Unfortunately, in 20 years, I've found only a handful of people who can quickly look at the data and uncover the insights needed to improve performance.
That's because it takes a specific skill set that is refined over time. You need 10,000 hours of analysis before you can even know where to look and what to look for.
To make this even more challenging, so much data is available that in many cases it simply swamps people in the wrong data or sends them down the wrong path.
There is a very specific methodology that's a little like peeling an onion or investigating a crime. You have to ask questions to get the answers, which almost always leads to more questions – and those answers usually lead to more questions. After a few cycles of this, you end up with a hypothesis that now needs to be tested.
If the results come back positive, then you were right. But in many cases, the results are inconclusive or actually negative, meaning you have to go back and keep looking.
It's a highly specific process that takes a highly specific person with a highly specific set of skills.
In the show, we dig into all of this and unpack it so that you can hopefully improve your ability to find these important nuggets, pull them out and use them to drive that hockey stick growth everyone is looking for.
If you'd like to subscribe to the show, we'll send you reminders and email you a link after each live show – just click here. If you'd like to submit a question to the show, we answer questions every week – just click here.
If you want to watch the show and all the other audio and video content published by Square 2, visit our new Square 2+ page. It's full of valuable content related to marketing, sales, technology, revenue growth and more.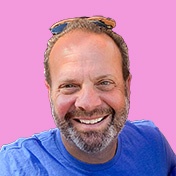 Mike Lieberman, CEO and Chief Revenue Scientist
Mike is the CEO and Chief Revenue Scientist at Square 2. He is passionate about helping people turn their ordinary businesses into businesses people talk about. For more than 25 years, Mike has been working hand-in-hand with CEOs and marketing and sales executives to help them create strategic revenue growth plans, compelling marketing strategies and remarkable sales processes that shorten the sales cycle and increase close rates.