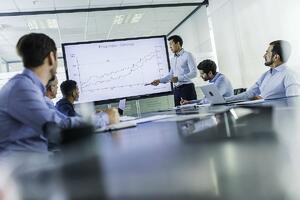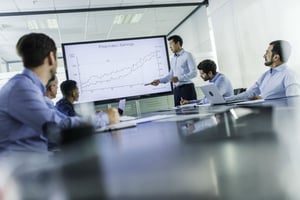 Updated: July 6, 2020 - If you're not taking advantage of the power of infographics when it comes to your content marketing strategy, you're seriously missing out! Since 2012, search volumes for infographics have increased by over 800 percent—yes, eight hundred!
Not only are infographics visually appealing and fun to look at, but they're also an extremely effective marketing tool.
It shouldn't be too surprising, infographics take the factual connection to data and marry it with the design aspects of graphics. What would typically be dry data jumps off the page with images, metaphors, and colors that bring data to life.
Here are eight benefits of infographics and why you can't afford to give them a blind eye.
1. They're Persuasive and Eye-Catching
People love information—especially statistics, numbers, and figures. Infographics are perfect for compiling a lot of data into one easy-to-follow format that's both nice to look at and persuasive.
Not only will your audience appreciate the flawless format of your information, they'll also find your information more credible and compelling.
What makes the information more compelling is its ability to be understood. Infographics are excellent at helping people synthesize the data. What that means is your visual representation helps them quickly get the insights they need, which adds a ton of value to your content.
When people can quickly gain insights, the content is more memorable. They are more likely to come back to it again or even share it across their organization and according to Hubspot, "blog articles that included infographics generated an average of 178% more inbound links and 72% more views than all other posts.."
2. They Prove You're the Expert
Most of us are impressed with numbers but put numbers and graphics together and you have a marriage made in heaven.
When you share your knowledge through an infographic, you're not only positioning yourself as the expert, you're also increasing your brand's credibility. The research required to create a compelling infographic takes time, knowledge, and experience, something your readers don't have until you give it to them.
Readers will appreciate the newfound knowledge and trust you as the expert next time the subject comes up.
Infographics allow you to combine the research you did on your own or the research you collected in a visual way. Your prospects will connect your ability to tell a story with data in a visual and this helps them get to know, like, and trust you and your company.
As we've mentioned in previous articles, when your prospects know, like, and trust you, they feel safe and are more likely to move through their sales cycle faster and close more often.
Take a look at one of our most popular infographics.
3. They Generate More Visitors to Your Website
If your infographic is beautiful and compelling, it will naturally drive more traffic to your website. Every "click" or "share" is one more person seeing your content, and these days, people are more likely to share visual content.
But like most content marketing pieces, it's more about what you do with it, how you write it, and where you socialize it that impacts its ability to generate more visitors to your website.
When you create the infographic make sure you're creating it with search in mind. Make sure you're using the right keywords.
Make sure you know in-depth details about your personas and make sure you know how you plan on getting the infographic out to the world.
Are you going to be using it on referrals sites? Are you going to be promoting it on social media? What social sites? Are you planning on emailing it to current prospects, current customers, or specific sets of prospects and customers?
If you answer these questions before you go into production, your final infographic will be ready to go once it's finished.
4. They're Easily Read, Understood, and Remembered
What's the point of great content if readers forget what they've read seconds after leaving the page? Not only are visuals processed 60,000 times faster than text, but 65 percent of people are visual learners, meaning visuals are one of the best ways to get information across to the reader.
With infographics, your readers are able to quickly scan the document, understand the message you're trying to get across, and remember it long after they leave the page.
Not to mention that infographics are especially good at taking complex ideas, filled with facts and simplifying the story, with images and or visuals to tell the story the data uncovers quickly and easily. Even the most novice reader gets the message and they get it quickly.
Creating memories is critical when it comes to developing marketing pieces that generate leads. A great infographic has a much larger chance to create those memories than a standard whitepaper, eBook, or tip guide.
We also know that the greater the memory, the more likes, shares, downloads, forward, and comments. We know that all these positive behaviors contribute to the increased socialization of your infographic and that almost always leads to more sales opportunities and more potential new customers.
5. They're Great for SEO
As mentioned before, visuals are much more "share-worthy" than traditional text content. The nature of an infographic makes people click, like, and share it, leading Google to index your website higher thanks to Google's "Page Rank" algorithm.
So, not only are people more likely to share your infographic, Google even sees it as more shareable and will more likely give your page a higher ranking.
Which makes your selection of keywords, keyword phrases, and questions even more important. You'd hate to have an asset that ranks highly but drives the wrong type of new visitor to your website.
Along with your onsite search strategy work, consider some offsite strategy work too. This means thinking about your tagging, alt tag, meta descriptions, and generating metadata behind your infographic.
This assures that when you post your content offsite, Google has no problem finding it, indexing it, and giving you full credit to drive visitors back to your website pages.
6. They're Portable and Easy to Embed
From a more technical perspective, one of the biggest benefits of an infographic is its portable and embeddable design.
When you include an embed code with your uploaded or posted infographic, other people can then easily share your content by embedding it directly into their web pages. The embedded infographic will then automatically link back to your site, bringing readers from other sites right to you.
Make sure you know what you want them to do when they arrive. Clicks on your web pages are one of the significant signals to Google that your page offers valuable content. If people are visiting your page and then leaving or bouncing, you're signaling to Google that this page is low value.
Make sure you have additional page links, additional content offers, additional conversion points that either move visitors through their buyer journey, qualify them more for sales, or convert anonymous visitors into leads for the sales team.
7. They're Easy to Track and Analyze
Last, but definitely not least, infographics are easy to track and analyze. This allows you to monitor the success of your infographic and determine whether it was effective or not. This will also help you build insights as to what type of content your readers want, helping your future infographics succeed.
Key metrics associated with infographics are similar to other forms of content.
You'll want to track clicks on the CTAs (calls to action) if the infographic is gated. You'll want to track views to the associated landing pages and then conversions on that specific landing page.
You should track shares of the content on social media and specific clicks to your landing page from a variety of off-site sources like referring pages, social sites, and any ads or remarketing you might have running.
If you're ungating the content, then consider views, downloads, and shares as the key performance metric. If you want to get fancy, you could set up some revenue attribution tracking and reporting to see how influential your infographic is in getting prospects engaged and then associating the revenue back to their experience with your infographic.
All in all, your content strategy should include a wide variety of content formats but the infographic should be at the top of the list, assuming your personas are tuned into getting and consuming information in this type of format.
Square 2 — Building The Agency You'll LOVE!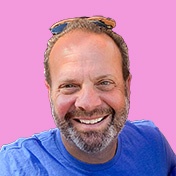 Mike Lieberman, CEO and Chief Revenue Scientist
Mike is the CEO and Chief Revenue Scientist at Square 2. He is passionate about helping people turn their ordinary businesses into businesses people talk about. For more than 25 years, Mike has been working hand-in-hand with CEOs and marketing and sales executives to help them create strategic revenue growth plans, compelling marketing strategies and remarkable sales processes that shorten the sales cycle and increase close rates.