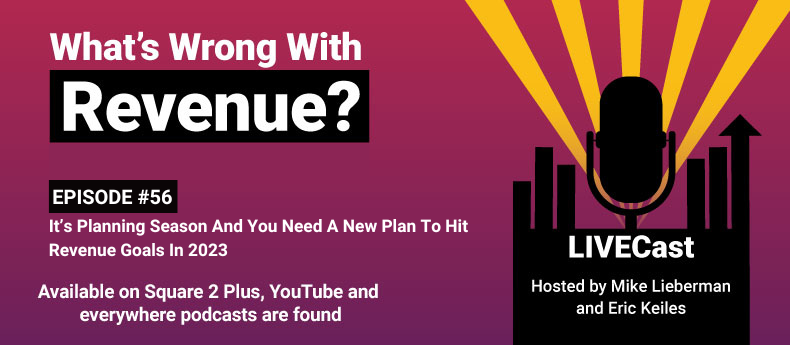 This show aired LIVE on October 19. To watch the show on demand, visit the show page here. To see all our audio and video content, check out our free streaming service, Square 2+.
In this episode of What's Wrong With Revenue?, Square 2 COO Kristin Stricker and I did a deep dive into planning around marketing, sales and customer service to get you ready for 2023. Specifically, we talked in great detail about how to set your revenue goals based on past performance and then align your investment and budget around your new 2023 goals.
You don't want to miss this show. Click here to watch it now.
The best way to ensure you hit your revenue goals is to back into them, not to pick them out of thin air or based on last year's performance.
Take a look at where you want to be with revenue in 2023, then design the marketing, sales and customer service revenue generation tactics required to get you to those goals. Next, get your budget together and get leadership to sign off.
If you want to hit specific revenue goals, you need to know what to invest in revenue generation. Too much of an investment? No worries; just reduce your revenue goals accordingly. There is a direct relationship between what you invest and how much you expect to generate.
As you go into 2023, it's critical that everyone is on the same page. The C-suite, marketing, sales and customer service all need to be clear on the revenue goals, how you're going to get there and what you're investing to deliver on those goals.
In our experience, this alignment almost never happens.
Once you get aligned, then you'll need to make sure you have the process and system to create the right tactics, design the campaigns and install the technology to make execution efficient. Finally and most importantly, you'll need to make sure you have the optimization cycles to adjust your execution on the fly.
I can guarantee that you'll have some failures. Don't worry about that. You learn the most from what doesn't work. But you still need the ability to analyze the data, uncover the insights and use them to inform your action plan going forward.
If you'd like to subscribe to the show, we'll send you reminders and email you a link after each live show – just click here. If you'd like to submit a question to the show, we answer questions every week – just click here.
If you want to watch the show and all the other audio and video content published by Square 2, visit our Square 2+ page. It's full of valuable content related to marketing, sales, technology, revenue growth and more.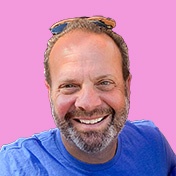 Mike Lieberman, CEO and Chief Revenue Scientist
Mike is the CEO and Chief Revenue Scientist at Square 2. He is passionate about helping people turn their ordinary businesses into businesses people talk about. For more than 25 years, Mike has been working hand-in-hand with CEOs and marketing and sales executives to help them create strategic revenue growth plans, compelling marketing strategies and remarkable sales processes that shorten the sales cycle and increase close rates.