12 Tips For Delivering A Great User Experience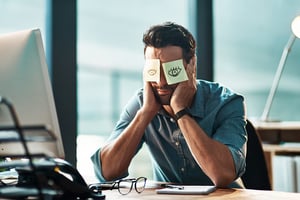 The last thing you want to do is frustrate your website visitors. Unfortunately, that might be exactly what your website design is doing if it isn't UX optimized.
UX is the user experience your visitors have while on your website. It's how they feel when they're navigating from page to page.
Ideally, visitors should be able to intuitively find what they're looking for, whether that's your contact information, your pricing page or a list of your services. Thoughtful organization, compelling content and design that matches the user intent at every interaction help to create a positive user experience.
When you create a UX-optimized website, you keep the user in mind when designing each page element. You listen to their wants and align the design with their questions and point of view.
Like most good design, UX design is invisible to the average user. That's because the user won't be distracted by superfluous design elements.
They won't have to stop to think:
"I wonder if they do _____."
"Why do you need my personal information?"
"I wish I could just find the _____."
By removing all these distractions, the user can get into the flow of the website experience and seamlessly move from page to page in control of the content most relevant to them. This (unknowingly) provides a positive experience and, in turn, develops trust with the business.
Instead of being frustrated, users will think:
"That was so easy."
"I got my question answered without having to talk to a rep."
"I didn't know the business offered this service. It's even better than what I was looking for."
Aren't UX-Optimized Websites Boring?
We know what you're thinking…
Isn't UX boring?
Isn't it predictable?
Doesn't it limit my creativity?
Good news: Beautiful design only amplifies the user experience. Of course, there is a sense of familiarity that comes with a UX-optimized website. Things are where you expect them to be.
Remember that the experience will still match your brand and be meant specifically for your audience. If a website is boring to you, you're likely not the intended audience. What is boring information to one persona is exciting detail to another.
If you have a fun and loud company, the experience on your site should be fun and loud, too. And knowing the so-called "rules" for where page elements are supposed to be located can provide an opportunity to break the rules a little and delight users with unique experiences.
UX ensures your company's brand, or the website design, doesn't impede users from finding what they're looking for. In turn, this can prevent you from frustrating potential clients before you've had a chance to interact with them in person (phew, close call).
Hot Tips To Building A Website That Looks Great And Delivers Results
1) Know Your Personas: If you're going to take away just one tip today, make sure it's this one. It's easy to get caught up in creating an innovative and fun design. Unfortunately, that could mean the intended user is neglected in the process. The site might look great, but it won't produce results because the intended user's needs were neglected.
Before you get started, make sure you know who your personas are and write the content on the page as if you were talking to them and answering their questions. Find out what design elements they might prefer, including colors, fonts and styles. This is the basis for all UX. If you don't know what your users like, dislike, want to know or already know, how can you build a website with them in mind?
If your website design doesn't match your personas, it's hurting your business.
2) Know Your Brand Voice: If you are clear about who you are, you can project it more loudly to an audience and avoid being wishy-washy. This will make a bigger impact on your visitors while making your site more memorable.
3) Have A Clear Primary Action For Each Page: Know what the user is trying to accomplish on that page and guide them toward it. Add value. Be helpful.
Of course, you're not setting out to confuse your web visitors, but this might be what happens if the webpages you design go in too many directions at once. Do you want users to contact you? Download content? Sign up for your newsletter? Make a decision and stick to it.
4) Use Microcopy: Take a step back from the flow, the content, the colors and the font, and take a moment to consider microcopy. Microcopy helps visitors use your website more effectively, which enhances UX. It can include error messages, e-commerce hints and explainers. These tiny clusters of words can add flair to form design. You don't always have to be amusing either; providing clarity and guidance is good microcopy as well.
5) Find Opportunities To Delight The User: Incorporate cool interactions or interactive elements where possible that either answer user questions or allow them to interact with your website further. Even subtle interactivity can tip the scale of experiences.
6) Be Bold With Your Choices: Just because your design elements should offer a sense of familiarity, it doesn't mean you can't be bold with your font choices, photography or patterns.
7) Be Consistent With Your Choices: Consistency can be the biggest factor that separates a positive user experience from a negative one. There should be harmonious agreement among all design elements. Use the same fonts, color palette, patterns and styles throughout your design.
8) Avoid Stock-Looking Photography: We've all seen it — the cheesy smiling businessman. Stock photography does not and cannot tell your unique story. Plus, it isn't interesting. It's boring. Any imagery used on your website should be relevant and as authentic as possible.
9) Look At Heat Maps: Use analytics platforms such as Lucky Orange, Hotjar and Crazy Egg to look at heat maps to see where users are losing interest on a page. This can give you a starting point to determine how you can start to improve the UX.
10) Use Google Analytics: This is a good way to see where your users are spending their time and how they are exploring your site to take action. You can also analyze the bounce rate, exit rate, conversion rate and site speed to uncover potential UX problems.
11) Be Original: Avoid making decisions "because everyone else is." Trends will come and go. Remember how hot animated GIFs, pop-ups and mega-menus used to be? Your business and its users are unique and deserve unique considerations. So don't rely on website design trends to drive your decision-making. You'll probably regret it a few months down the line.
12) Conduct User Testing: User testing is often overlooked, but it's critical to budget time and energy into generating ample feedback to ensure a positive user experience.
Now, that doesn't mean asking your cubicle mate or your dad to check out the site you're designing. It's not enough to assume or guess based on experience how a user will interact with your design. You need real feedback.
Several companies can help assist with user testing, such as UserTesting or UsabilityHub. One word of caution: Be careful to set up an unbiased test to get real results you can use.
Design With A Purpose
Even the coolest, most innovative and beautiful website can fail hard when it comes to UX. To ensure your website looks great but still produces results, keep the intended user top of mind.
Before you start planning a webpage, determine what your visitors will expect to see, feel, read, click on and do on the page. This will help ensure you're designing with a purpose. Soon, you'll be well on your way to designing a UX-optimized website that looks great and delivers results.