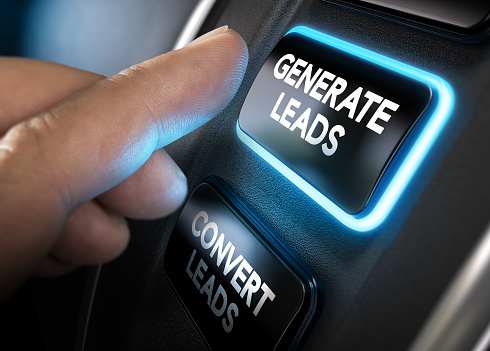 Lead Generation Is Never Going To Be The Same – How Are You Responding?
One of the major trends we've seen this year is B2B companies that traditionally relied on sales teams and distributors to drive revenue are now moving to a digital-first approach. In some cases, they are even adding e-commerce platforms.
This makes sense. Take control of your channels, optimize your channels, add a digital lead generation engine to the sales team's efforts and allow people to buy directly from you with an e-commerce option.
This is simple recognition that the world is not returning to a pre-COVID state but rather will be forever changed. Up until this year, many B2B companies looked at digital as an or strategy – direct sales or digital sales.
But today this has shifted, and it's clearly an and strategy – direct sales and digital sales as a way to be smart about revenue generation in 2021 and well beyond.
In today's article I'm sharing research from McKinsey to help tell this story. They certainly have the reputation, resources and expertise to help consider what your revenue generation efforts should look like next year.
It's Not Just Sellers Who Love Digital; Buyers Prefer It, Too
In the McKinsey research, they found that "more than three quarters of buyers say they now prefer digital self-serve and remote human engagement over face-to-face interactions — a sentiment that has steadily intensified even after lockdowns have ended.
"Only about 20% of B2B buyers say they hope to return to in-person sales, even in sectors where field sales models have traditionally dominated, such as pharma and medical products."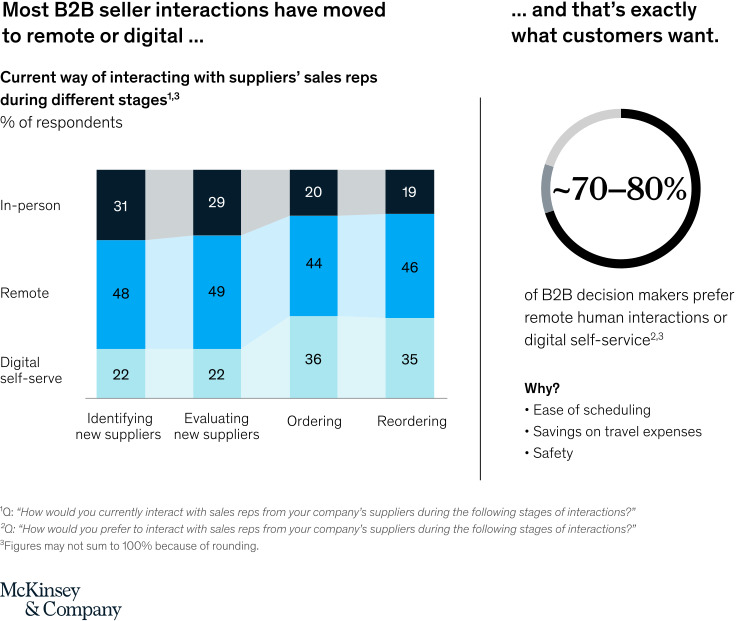 This might sound like a consumer trend, but we're seeing traditional B2B companies that have delayed their move to digital now wanting to accelerate it.
It's not surprising. For years, we've been talking about the B2B buyer journey and how it has been influenced by Amazon, Netflix and other highly leveraged online businesses.
As people, our desire to have similar experiences is moving us to demand digital and e-commerce experiences in our businesses. Why meet with a salesperson, even virtually, when I can simply log on and order what I need for the business?
Why meet with a salesperson at all? Give me the information I need to make a purchase decision. Give me access to videos, a knowledge base, product information, pricing info and your agreements or contracts.
If I have any questions, I'll let you know. It might not be how you want to sell your services, but it is how people want to buy.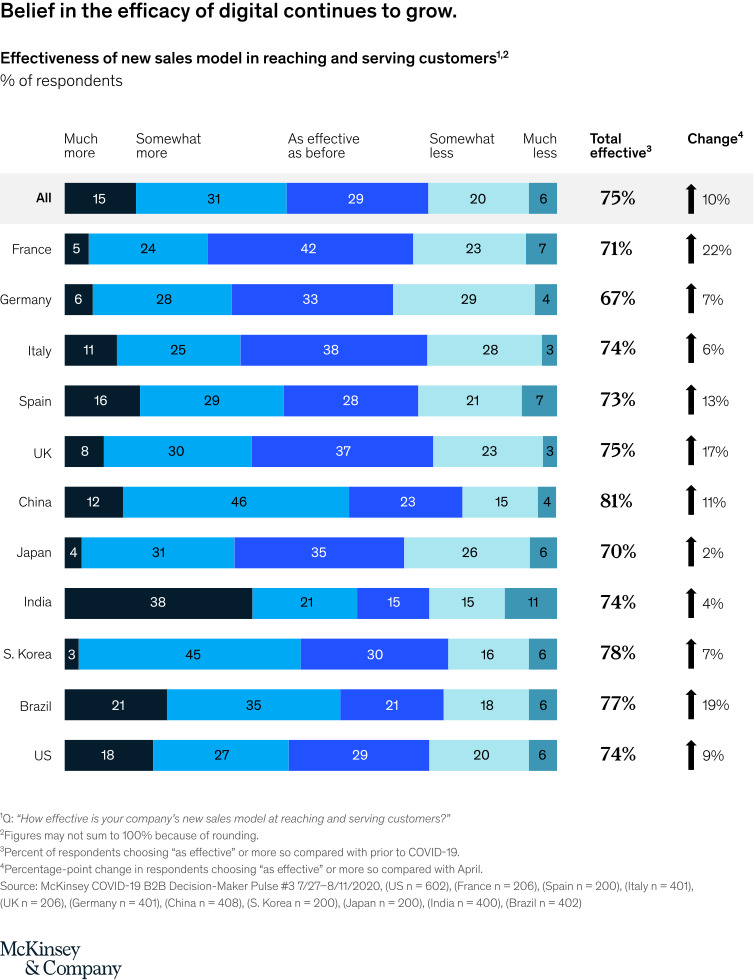 This is happening in a wide variety of traditionally "relationship" businesses. Sound familiar? Clients have been telling us for years that their business is a relationship-based business. That will remain true, but your future relationships will not be created in person, over lunch, at the club or even in their offices.
These new relationships will be built online digitally with new tools, new techniques and new processes.
The Lockdown Taught People To Buy Online
This year has shown that people are getting comfortable making large B2B purchase online and without seeing anyone in person. E-commerce purchase are no longer just for small one-time purchases. They are now common for large new purchases and reorders online.
McKinsey reports that "notably, 70% of B2B decision-makers say they are open to making new fully self-serve or remote purchase in excess of $50,000, and 27% say they would spend more than $500,000."
Research showed that 32% of the respondents said they would purchase between $50,000 and $500,000, but 12% said they would send between $500,000 and $1 million and 15% of the people said they would make a purchase over $1 million without having to see anyone in person.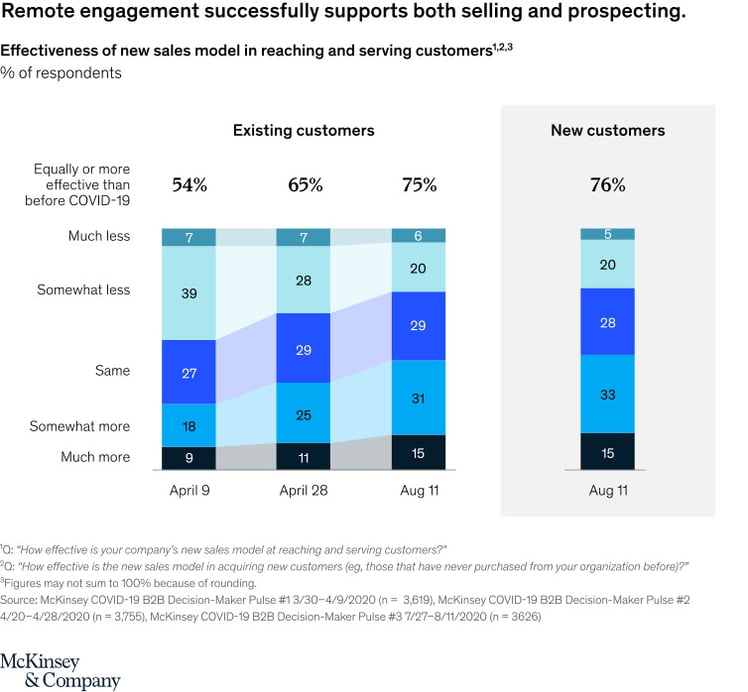 Just look at your own behavior. Did you order groceries online for the first time during the lockdown? It was easy, so you did it again and again. Why ever go back to the store?
The same pattern is running through B2B companies. Their websites, chat tools, online stores, video assets, e-commerce platforms and virtual interactions with prospects and customers are making this digital channel easier and easier for your customers to consider this the way they buy.
Once your customers purchase from you digitally, there is little reason to return to the old ways.
But this isn't just about selling digitally to customers. Prospecting is also going digital, and the research supports this is just as significant of a trend.
Digital B2B Lead Generation
B2B companies have relied on traditional sales-centric models for years. Want to grow? Add more salespeople. We still get prospects who ask us, "Why hire you guys when I could just add two more salespeople for the same investment?"
How about now? Do you still feel like that?
For decades business leaders asked salespeople to hit the phones, pound the pavement and dial for dollars. It worked relatively well – maybe. After all, if you make 100 phone calls a day for five days, it's likely you'll find someone or even a couple of people who are willing to talk to you. Even a blind squirrel finds a nut sometimes.
But the pandemic put a major roadblock up for any company that relied heavily on direct sales, big events, networking and in-person meetings. For many companies, thousands of expected leads dried up in days.
Some of those companies have adapted and switched to a digital lead generation effort where their website, content marketing, thought leadership, email marketing, social media, search and ability to earn their prospects' attention become key initiatives.
They had to learn how to nurture leads differently. They had to score leads so that sales reps got involved when appropriate. They had to learn how to create content at scale, prioritize new marketing tactics and track marketing differently.
They had to purchase new technology like marketing automation, and they had to upgrade their outdated CRM to something that was SaaS and included the features they need to sell digitally.
Perhaps most importantly, these companies had to learn that marketing and sales were no longer two different efforts but rather a single revenue generation effort.
With online-generated leads flowing into sales for the first time, marketing and sales had to learn how to follow up without degrading the experience. They had to learn how to work together, with sales feeding information back to marketing so that optimization efforts could be more effective.
Over time, it become obvious to these companies that prospects want one single digital experience that starts with their first visit to your website and ends when they become advocates for your company. It's a full-circle click-to-close and beyond experience, just as illustrated in the Cyclonic Buyer Journey™ model.
New Tools – Video And Live Chat
It shouldn't be surprising that new tools have arrived. Video and live chat are not new. We've been using both with clients for years, but today they have become mainstream out of necessity.
The McKinsey research supports this shift with dramatic numbers. The number of companies with a traditional in-person sales effort is down 52% since the start of COVID-19, while the use of video sales tactics is up 41% and the use of chat is up 23%.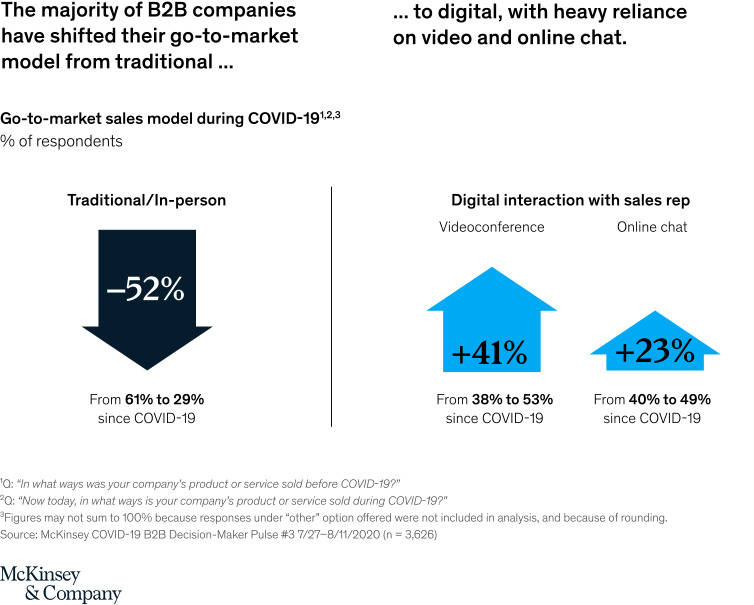 But this isn't just about execution; this story is about revenue. McKinsey reports that "the amount of revenue generated from video-related interactions has jumped by 69% since April 2020. Together, e-commerce and videoconferencing now account for 43% of all B2B revenue, more than any other channel. Customers also made it clear that, given the choice, they prefer video to phone."
This trend is even deeper than most of you know. It's not only about sales. People in general prefer a video call over a traditional phone call:
79% of people prefer video over phone when meeting with others in their same company

76% of people prefer video over phone when meeting with existing customers

76% of people prefer video over phone when meeting with prospects

77% of people prefer video over phone when with vendors or suppliers
It took a pandemic, but it looks like the traditional phone call is dead while the video call is alive and thriving.
Never before has it been more important to understand your prospects' buyer journeys and create the touch points and experiences that inform them along their journeys. You are going to need to build in multiple interactions with multiple people.
Harvard Business Review reports that the number of people involved in a single purchase process continues to increase, from 5.8 a few years ago to 6.4 last year.
This means you'll have multiple buyer journeys to consider as you map out and create a remarkable experience. Without a map, this process is exponentially more complicated.
With a map like the Cyclonic Buyer Journey you can build an experience, design it with the right tools, automate as much as possible and track everything — providing the data you need to go back and make adjustments over time based on data instead of opinions or perspectives.
These Changes Are Here To Stay
McKinsey reports that "according to survey respondents, these pandemic-induced patterns are likely to become permanent. Close to nine in 10 decision-makers say that new commercial and go-to-market sales practices will be a fixture throughout 2021 and possibly beyond.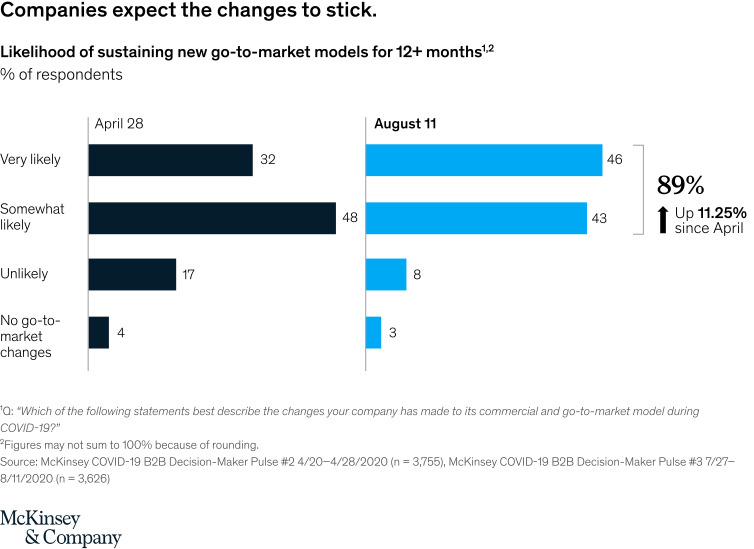 "The shift to virtual sales can help sales organizations lower their cost per visit, extend their reach and significantly improve sales effectiveness — while delighting customers who are demanding these new ways of interacting stick long term and who are likely to reward suppliers that do it well."
Our experience has shown us that this switch to digital isn't easy. Some companies will make the move successfully. Others will flounder with partial efforts, underfunded attempts, tactics without solid strategy or by selecting the wrong partner.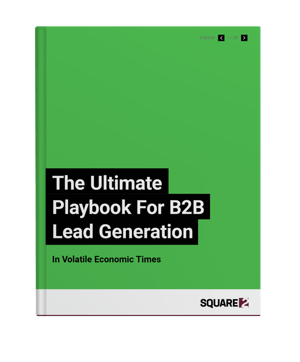 According to McKinsey, "...while the opportunity is significant, so is the pressure to capitalize on it. B2B leaders that commit to further digitizing their go-to-market models should derive competitive advantage in the form of more — and more loyal — customers than their slower-moving peers."
For more information on how to build a B2B lead generation program for your company, check out our new Ultimate Playbook For B2B Lead Generation In Volatile Economic Times. It has no forms and is completely ungated – just solid educational information to help you add a new digital lead gen channel to grow revenue.
For more information and more charts, here is the original article from McKinsey.
Square 2 — Building The Agency You'll LOVE!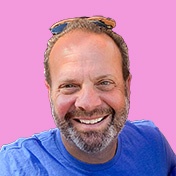 Mike Lieberman, CEO and Chief Revenue Scientist
Mike is the CEO and Chief Revenue Scientist at Square 2. He is passionate about helping people turn their ordinary businesses into businesses people talk about. For more than 25 years, Mike has been working hand-in-hand with CEOs and marketing and sales executives to help them create strategic revenue growth plans, compelling marketing strategies and remarkable sales processes that shorten the sales cycle and increase close rates.