TECHNOLOGY
Marketing and Sales Technology
The experience you create for your prospects and customers will make or break your revenue generation efforts. Marketing automation, CRM, sales automation and customer service technologies allow you to target, track and personalize your efforts across the buyer journey from click to close.
Using our deep expertise in marketing and sales solutions, we evaluate your technology needs, recommend the optimal stack and provide training to help integrate it into your business so that you get maximum effectiveness.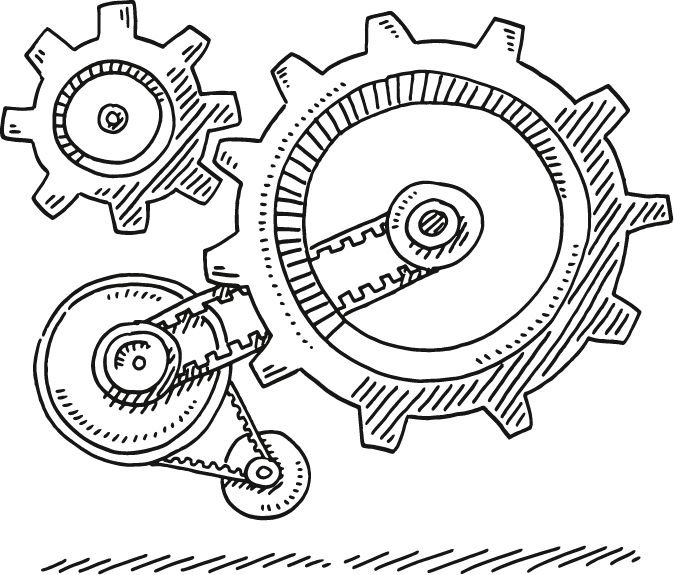 350+
Over 350 Clients Onboarded and Trained

100+
Over 100 HubSpot Certifications Across Our Team

200+
Over 200 5-Star Reviews From Clients
Whether you need help setting up your platform from scratch, optimizing what you have or cleaning up someone else's mess, we provide expert training and execution in day-to-day HubSpot operations, dashboard builds, automaton setup and data cleanup support for clients.
We'll help onboard your team, design new templates, migrate your website to the HubSpot CMS, build out workflows, ensure your data is accurate and integrate your other systems directly to HubSpot. We'll even train your team, so you become the HubSpot experts.
We have experience in HubSpot Service Hub, Marketing Hub, Sales Hub, Operations Hub and CMS Hub at Professional and Enterprise levels.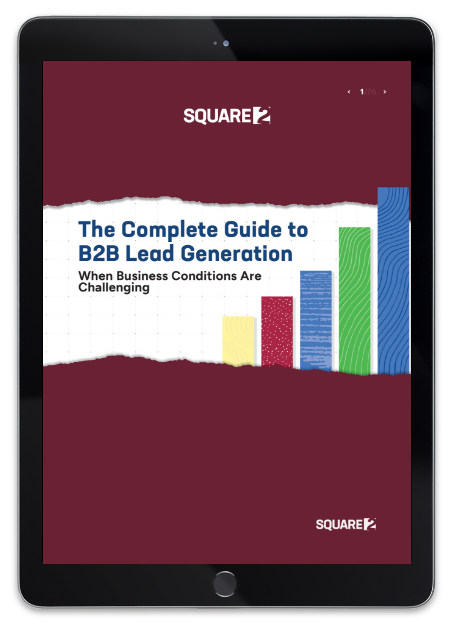 The Complete Guide to B2B Lead Generation
How to build an effective strategy, execute the right tactics, leverage data and analytics, and systematize all aspects of revenue generation.
We Help B2B Companies With Their

Sales and Marketing Technology
Onboarding and Training
How you get started with HubSpot will set the tone for whether you see positive outcomes. We'll plan custom onboarding and training for you that ensures you get your team up and running quickly, that your HubSpot instance is perfectly tuned for your company and that it's delivering value on day one.
Ongoing HubSpot Admin Support
HubSpot can be complicated. Most companies lean on Square 2 to keep their HubSpot running, do updates, add new features, tune automation and ensure data integrity. You can outsource your daily, weekly and monthly HubSpot admin work to us.
HubSpot Cleanup
We fix messy HubSpot portals. Whether it's been a while since you worked on your HubSpot or your last agency wasn't the best, we can get in, clean it up, set it up, train you and get you using HubSpot, so you gain value you intended when you first signed up.
Migrations
Want to move from something else to HubSpot for marketing automation or for your CRM? We have a set process, documentation and team specializing in defining your requirements, designing your new system, moving your data and assets out of your old system and getting your new system running flawlessly before turning it over to you.
Integrations
Need to connect another system to HubSpot? We have a set process, documentation and team specializing in defining your requirements, designing how your two systems will work together and testing it completely before turning it over to you.
Data Cleanup
Data is everything. You need clean, accurate and complete data before you do any type of marketing. We'll audit your data, create a cleanup plan, execute the plan and then make sure you know how to keep your data clean going forward.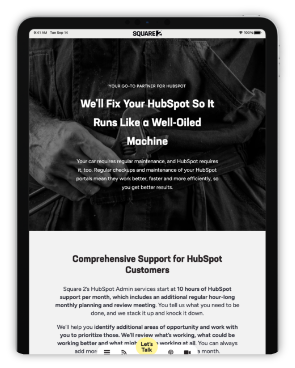 Is Your HubSpot Running Like a Well-Oiled Machine?
Get regular maintenance on your HubSpot portals so they work better, faster and more efficiently.
Working With Technology Takes an Expert Team
Audit
You'll get a deep dive into everything related to your issues with HubSpot. We'll audit data, process, workflows, setup, configuration and performance, then deliver findings along with recommendations on how to fix anything we find.
Requirements Definition and Use Cases
You'll get a full accounting of everything you want your HubSpot system to do and exactly how you want it to work, including must-haves, nice-to-haves and future requirements.
System/Technology Design
You'll get a full design document for exactly how you want HubSpot to work – think about this like an instruction manual for your system or your project.
System/Technology Build
Using the instruction manual, our team then builds out your system to the exact specs during the design phase.
Testing, Rollout and Training
We then fully test your new system or component of your system to ensure it complies 100% with the use cases and instruction manual. You get a rollout plan (which often includes a small pilot rollout) for the new technology platform or new features to your company. We'll design a training program and train the trainer or provide team training for your company.
Hear From Clients Like You
These business leaders worked with Square 2 to get the right marketing and sales technology for their company.
Digital Marketing Specialist
Karl Fauerbach
Intelligent Video Solutions
"From custom web development to strategizing on key workflows to implementing inbound leads, Square 2 has a wealth of knowledge and experience that leads to a very versatile service provider for HubSpot use cases. They helped train our staff on how to use the full feature set, down to very specific questions on our custom HubSpot CRM setup and database workflows."
Marketing Manager
Astrid Hall
Resolute HR Pros
"My experience with Square 2 was nothing short of educational and helpful. HubSpot has many aspects to what you can do to help build your business, and the best way to see the fruits of what HubSpot can do is through the many channels that my Square 2 training and basically on-call assistance showed me. Square 2 has the company's interest in mind to streamline internal processes to more effectively learn how to use HubSpot."
Director of Client Services
Doug Coombs
WorkerBee.TV
"Square 2 performed a 13-point HubSpot checkup on our HubSpot marketing module. It was an awesome experience. Amber, who performed our 13-point checkup, was incredible. She was knowledgeable, and it was obvious she invested time into her review. Within two weeks of our 13-point HubSpot checkup, we implemented automated workflows that updated all of our contacts to have accurate personas, saving us over 50 hours of work! As someone who has been in sales and marketing for over a decade, I tip my hat to Square 2."
Managing Partner
Kevin Fox
Capstone Insurance
"Our firm chose Square 2 to assist our team with implementing HubSpot. The HubSpot suite can certainly be overwhelming, especially for first-time users. From our initial kickoff call through the conclusion of our 1+ month project, the Square 2 team made it easy for us. They were patient and professional, and we never felt like we were 'on the clock.' We greatly appreciate their guidance and would highly recommend Square 2 to any firm looking to implement HubSpot."
Marketing Coordinator
Erin McAfee
South Jersey Industries
"I've worked with Square 2 on our HubSpot instance for several years now, and their communication, fresh ideas and hard work have consistently exceeded our expectations. The Square 2 team has helped our company with many different HubSpot items and worked with us to make sure that we always stay within our project budget."
Frequently Asked Questions
How do we know if we need HubSpot or not?
If your business is of any decent size and interested in growing, you will need HubSpot or some other marketing automation.
How does HubSpot compare to other marketing automation and CRM options like Salesforce?
They are similar, but HubSpot provides a platform that is superior to Salesforce. Instead of using Salesforce and Pardot for marketing and sales, you would be using HubSpot for both. Plus, the CMS, payments capabilities and Operations Hub makes the HubSpot suite the go-to platform for companies that want to grow. Gartner recently ranked HubSpot at the top of the CRM charts.
What are the limitations to HubSpot?
There are generally very few limitations for companies just getting started with their marketing initiatives.
Why do I need HubSpot when there are free tools like Google Analytics and WordPress?
You get what you pay for. While both are fine, you get a lot more analytics, features, automation and tools, and the result is better insights to inform your ongoing action plans.
How would we get our sales process into HubSpot, and how long will it take our team to get comfortable using the HubSpot CRM?
The CRM is visual – we build out your pipeline and set up the stages so that you have your sales process in HubSpot. We have experience getting teams up and running on HubSpot CRM in just 30 days.
How much does HubSpot cost?
Marketing Hub is generally around $1,000 a month, Sales Hub is around $500 a month, Service Hub is around $500 a month, CMS Hub is around $800 a month and Operations Hub (which you probably wouldn't need) is around $800 a month. This is for the Professional level, which is usually appropriate for most companies looking for growth.
HubSpot says implementation is easy – is that accurate?
It might not be quite as easy as HubSpot says, but it's usually fairly straightforward if you have someone who has done it hundreds of times leading you, supporting you and getting involved when you need an extra set of hands.
What other technologies do you work with?
We do a lot of work with Salesforce, and we also work with Pipedrive, ActiveCampaign and a handful of other marketing automation and CRM products. But most of our practice is HubSpot.
How easy is it to connect HubSpot with Salesforce?
It requires an out-of-the-box integration that HubSpot offers, but it also takes some tuning to get it right. It's a fairly straightforward project for most companies.
Start Fueling Business Growth With the Right Technology
We're here to help – choose one of the options below.
Get a Free 13-Point HubSpot Checkup