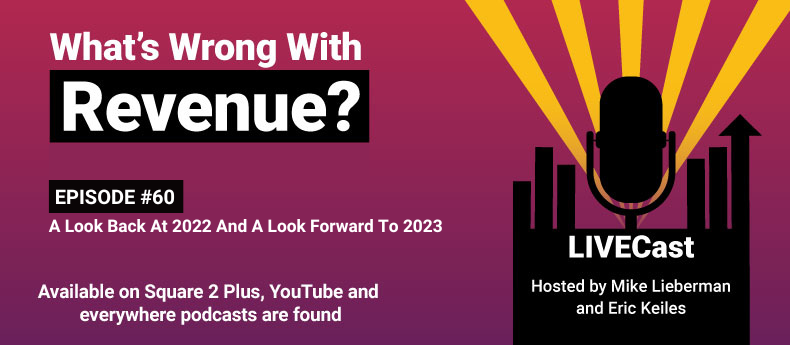 This show aired LIVE on November 16, 2022. To watch the show on demand, visit the show page here. To see all our audio and video content, check out our free streaming service, Square 2+.
In this episode of What's Wrong With Revenue?, I take a look back at 2022 and look forward to 2023.
The economy was a major story during 2022. Are we in a recession? Are we going to be in a recession? Are we going to avoid a recession? Is the economy still growing? Does anyone know?
Every day it seems like there is conflicting data being shared publicly, and it seems like most people are cautious as to what the future holds. When it comes to marketing and sales, does it really matter?
Yes, the first expense cut back on during a recession is marketing, but one of the most important moves you can make during a recession is continuing to market. A ton of data shows companies that market through a recession come out the other end way ahead of those that don't.
Regardless of the economy, you should be planning on investing in marketing in 2023. You might not want to hire and incur fixed costs, but if that's your position, look to outsource and make your costs variable.
The next major headline in 2022 was the admission that most of our digital strategies are not working. Almost everyone is exhausted from the amount of digital marketing and advertising coming our way. Our inboxes, social feeds and web experiences are cluttered with crap.
The old playbook is broken, and people are NOT innovating or trying anything new. Instead, they just keep working with the old playbook and hoping things improve. Hope is not a strategy.
In 2023, we're going to need to lean into the idea of community building and bringing real value to the people we want to get engaged with. The more we offer them, the more they'll know, like and trust our companies, and the easier it will be to get those people engaged with sales and committed as future customers.
Data is becoming a bigger and bigger issue. Privacy and regulatory laws are making it impossible to continue to use third-party data in our marketing and sales efforts. This means a return to earning attention and building out your first-party data, which is data you collect on your own when people opt in to hear from you.
In 2023, you should be planning on doing more, investing more and focusing more on getting people to proactively connect with your company because what you're offering them is remarkable, helpful and critical to their issues. This goes back to the idea of community building – it's going to be core moving into the future.
Last but not least, technology is going to continue to be increasingly important. We've seen an explosion of sales and marketing technologies. You're going to need these tools to run the kinds of orchestrated, personal and community-based marketing motions in 2023.
In addition, sales processes are going to need to be contextual, highly personalized and remarkable if you want to beat your competitors. You won't be able to do anything close to what you need to do without a single platform for marketing, sales and customer service technology that allows you to automate, analyze and personalize each prospect's experience with your company.
I hope everyone had a happy and healthy holiday season!
To watch the show, click here.
If you'd like to subscribe to the show, we'll send you reminders and email you a link after each show – just click here. If you'd like to submit a question to the show, we answer questions every week – just click here.
If you want to watch the show and all the other audio and video content published by Square 2, visit our Square 2+ page. It's full of valuable content related to marketing, sales, technology, revenue growth and more.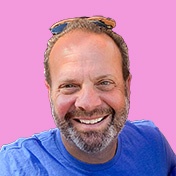 Mike Lieberman, CEO and Chief Revenue Scientist
Mike is the CEO and Chief Revenue Scientist at Square 2. He is passionate about helping people turn their ordinary businesses into businesses people talk about. For more than 25 years, Mike has been working hand-in-hand with CEOs and marketing and sales executives to help them create strategic revenue growth plans, compelling marketing strategies and remarkable sales processes that shorten the sales cycle and increase close rates.