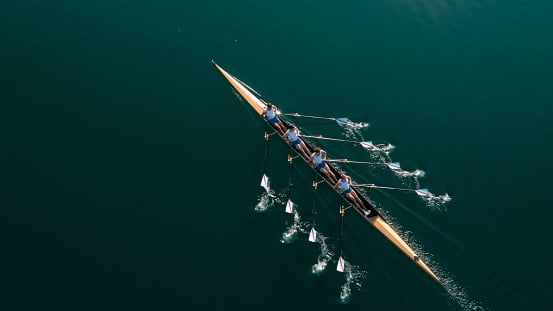 03/30/2021 |
Mike Lieberman, CEO and Chief Revenue Scientist
Sales And Marketing Alignment: When Is The Right Time To Reach Out To Inbound Leads?
Call Too Early And Scare Your Prospect, Call Too Late And Lose Them To Your Competitor
A ton of statistics point out the importance of speed when it comes to lead follow-up. We all know we feel better when the companies we want to do business with are responsive to our requests.
Here are a couple of statistics to support the need for speed:
The speed to lead statistics from LeadSimple show that calling within five minutes is 21 times more effective than calling after half an hour has elapsed.
One of the biggest dangers of waiting too long to respond is that a competitor might respond before you do. That usually spells doom for your lead.
You know the saying "if you're not first, you're last." That applies here because 50% of leads will choose the first vendor that responds to them.
A Harvard Business Review study produced revealing insights. They crunched data from 1.25 million leads and found that the first hour is crucial. From the data, response time within the first 60 minutes gave those sales teams a 7x advantage over the latecomers. Waiting until hour two greatly decreases the odds of closing.
However, the secret is NOT simply being fast. The secret to turning leads into sales opportunities and then customers is knowing what activities or behaviors should trigger that fast response.
In this article, we'll break down and go deep on the behaviors prospects are exhibiting and how you should build your sales attack program accordingly.
Conversion For Early Buyer Journey Content (E-book Download)
This scenario is one of the most common. When you look at data, many of our clients get most of their conversions at this stage. Some people refer to this type of lead as a marketing-qualified lead (MQL). This might represent 90% or more of your conversions.
These people are in the Education Stage or even the Awareness Stage of their buyer journey. They're looking for education, content and information to get their questions answered.
Whether a sales rep should contact these people is a tough question for me to answer.
Many companies feel this is the perfect time to contact the prospect. HubSpot starts a series of phone call and email outreach sequences that is relentless. When I last checked, they had seven touches on both email and phone. Other companies run similar playbooks.
My challenge with this approach is simple: This person hasn't asked to be contacted. They're looking for education. They had the opportunity to chat or request a call, but they chose to not engage at that level. Is calling them appropriate?
It's definitely a gray area for marketing and sales teams.
What I know for sure is that every company is different. What you should consider doing is running a test. Take one rep for one month and have her call your MQLs. Create a series of calls or voicemail messages and couple that with one-to-one email outreach.
Make sure the calls and emails are based on being helpful and not salesy.
Here's an example:
"Hi Mike, I'm Eric from Square 2. I noticed you downloaded our e-book, Lead Generation In Tough Economic Times, and I just wanted to call and see if there was anything I could do to be helpful. If you need additional information, have any questions or want to talk about lead generation programs or how Square 2 might be able to help you, I'm at your disposal. Here's my contact info."
That's it. My follow-up would be contextual to their onsite behavior, meaning I'd offer additional information and insight around lead generation in this example, such as inviting them to an upcoming webinar or sharing a relevant blog article.
Three calls and three emails are plenty for me. Any more seems excessive. Remember, emails, nurture campaigns and other campaigns are also touching this prospect.
Run this effort for a month, track it religiously and then assess the performance. Did you get through? How many times? Were sales opportunities uncovered? How many? Set some expected metrics going into the test. If you contact 100 people, how many would need to engage to make this tactic a keeper? 50? 20? 10?
Set your metrics in advance and then compare the performance to your goals. You'll know for sure if this is working for you in just 30 days.
Conversion For Middle Buyer Journey Content (Webinar Registration Or Attendance)
People who sign up for webinars, register for events or attend sessions (live or in-person) are generally further along in their buyer journey. They are willing to invest an hour or so to hear your story. While they are worried you'll try to sell them, they're willing to risk the 60 minutes with you. This alone makes them more qualified and perhaps a better candidate for a phone call or rep outreach.
Having sales reps follow up with attendees to your webinars? Definitely yes. Having them follow up with people who register for your webinars or online events but don't actually attend? Maybe yes.
There is a big difference in interest between someone who registers but doesn't attend and someone who actually attends. Registration is one behavior signal. Registration and attendance is a better signal.
Following up on attendees might also mean you need another potential event to signal purchase intent. What I mean by that is creating another potential meeting. People who attended a content marketing workshop online might be interested in a content audit of their website or complimentary content calendar.
Both of these offers could align with potential sales conversations. Of course, this is what we want to do with outreach – move people through their buyer journey at your pace and with your guidance, as opposed to letting them meander on their journey unattended.
If you're planning on following up with attendees, keep the topical context of your follow-up aligned with the content in the webinar or virtual event. Consider bringing additional detail to the outreach.
For example, if the webinar is on content marketing, offering a content marketing checklist when you do your outreach offers a compelling reason for the prospect to connect with your reps.
If you're planning on reaching out to registrants, you can remind them there is a recording, offer them the follow-up content and even direct them via a link to the recorded session on your website.
Keep tabs on their behavior during your outreach. If this includes a few phone calls and a few emails (if they visit the on-demand webinar), you should consider adjusting your outreach strategy.
Conversion For Late Buyer Journey Content (Demo Or Assessment)
We covered early and middle buyer journey stages, now let's talk about the late-stage buyer journey. If you're running a software company, the go-to late-stage offer is a demo or free trial.
We've worked with many software companies that feel getting them demos is the key to getting them new paying customers. Again, every company (even software companies) is different in this way.
I'm not always sure demos are an indicator of future sales. I like using other late-stage buyer journey offers in addition to demos and trials.
Regardless of the offers, these definitely require outreach to be built into the experiences. But there are a number of different ways to handle this.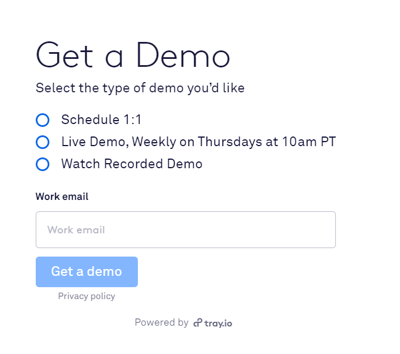 We recently set it up this way for a client. (See the image to the right)
In addition to a personal one-on-one demo, we suggested offering a one-to-many option where prospects log in and watch the demo with a group of people at a predetermined time and offering a recorded video option for people to watch on their own time.
In addition, you can provide people your meeting link for them to set their own time to meet with your reps or see a demo.
You can have people convert and then have the reps follow up to schedule the time. The meeting link does shorten the time frame and makes it very convenient for the prospect.
In advance of the meeting, make sure there are appropriate reminders and that some contextual content goes out in advance. You want to set up the prospect for that meeting so they're excited and prepared to have a remarkable experience with your reps.
This is a good time to talk about why every touch point, every email and every interaction should be designed, crafted and tuned to make sure the prospect's experience is memorable and remarkable. The better you do at creating this experience, the more new customers you'll close, the more efficient your reps will be and the faster you'll grow.
Offsite Intent Data Signals (Visits To Top Three Competitors' Sites)
We talked a lot about conversions from your website. These are onsite behavior-triggered conversions, but there are also offsite behaviors that can trigger rep outreach.
For example, would you like to know which people have visited your competitors' websites? Of course you would. Would you like to know who visited certain product or industry event pages, searched for specific keywords, watched specific videos or connected with industry thought leaders? I know you would.
This is possible today. We can tell you who visited your top competitors' websites and key product pages. We can even show you who did specific searches and then give you those people's contact info. But what should your reps do with this information?
First, emailing them is suspect, mostly because it violates a number of CAN-SPAM rules. You are not to email anyone unless they give you consent or you have a specific business relationship with them.
However, you can call them and you can connect with those people on social media. Both of these options are solid tactics for reps to execute if they see these signals. Both give you the opportunity to gain consent, and then email campaigns and lead nurtures can begin.
Keep in mind that this is cold outreach. Despite their signals, they haven't asked for anything from your company. Response rates could be low, additional outreach might be necessary and some people might be put off. Remember that as you design these campaigns.
Onsite Intent Data Signals (Visits To Your Pricing Page)
There are additional onsite signals beyond defined conversions for consideration. For example, if people are visiting your pricing page but not converting on a form, should that trigger outreach from a rep? The answer is maybe.
The first data point I'd look at is whether people who DO convert also visit the pricing page. If the answer is yes (your marketing automation software should be able to uncover this insight), having outreach for people visiting your pricing page might make a lot of sense.
If the answer is no, visits to your pricing page might not be an indicator of interest or an indicator of qualification. There may be a number of site pages that could potentially signal intent to buy or be an indicator of qualification.
As with most scenarios like this, your best bet is to do testing. Run experiments with one or two of your business development reps (BDRs). Give them the prospect info as soon as the visits occur. Arm them with content in context to those pages and let them launch highly contextual outreach either via phone or via email.
Timing is important here. The faster you respond (like the data highlights at the beginning of the article), the better your response rates. After a month or so, you should have enough data to know whether these tactics are working or not and whether to expand them or shutter them.
Conversational Marketing And Chat
There is one other tactic that can be deployed here, and it's one that in the scheme of things might make the most sense.
We already talked about the challenges of compliance with CAN-SPAM rules. We covered the challenges associated with reaching out to people who haven't asked to be contacted. We talked about the speed associated with this type of outreach. But chat on your website specifically makes it easy to quickly engage with prospects.
Chat also allows you to align your sales reps with prospects directly. All of your onsite triggers can be supported by chat. All of your conversion points can be supported by chat. Your offsite triggers can be logged in the CRM, and if any of those people show up on your website, reps can be proactively alerted and follow up immediately.
This does enhance the experience your prospects have with your marketing content (website and content marketing offers) and your sales reps. This will enhance your conversion rates, shorten your sales cycle, push up the best qualified prospects to sales reps for follow-up, prioritize your reps' focus on people who are taking action and improve your close rates.
It goes without saying that these improvements can have a major impact on your ability to not only hit but exceed your sales targets and have a major impact on your company's overall revenue growth.
Better yet, most of these upgrades can be installed in weeks, not months, and start having an impact immediately. You'll look like a hero in no time and your reps will love getting better-qualified leads to follow up on.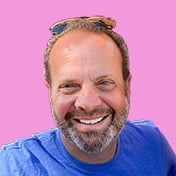 CEO and Chief Revenue Scientist
Mike Lieberman, CEO and Chief Revenue Scientist
Mike is the CEO and Chief Revenue Scientist at Square 2. He is passionate about helping people turn their ordinary businesses into businesses people talk about. For more than 25 years, Mike has been working hand-in-hand with CEOs and marketing and sales executives to help them create strategic revenue growth plans, compelling marketing strategies and remarkable sales processes that shorten the sales cycle and increase close rates.
Get With the Program
Whether you want to stay in touch, go deeper into RGS or start a conversation, here are three easy ways to take the next step.