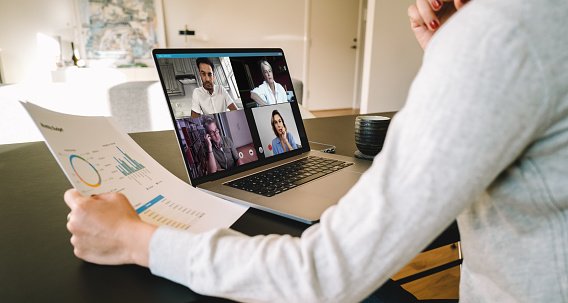 08/06/2020 |
Mike Lieberman, CEO and Chief Revenue Scientist
10 Proven Tips And Techniques For Winning The Virtual Selling Game
Taking Sales Virtual Is Easier Than You Think, And Once You Go, You'll Never Go Back
Over the past six months, many of our clients have been asking for more help on the sales enablement, sales execution and sales operations side of their businesses. This is a very positive signal, as companies start realizing sales needs as much help as marketing does and the prospect is expecting an amazing experience from click to close.
COVID-19 is contributing to a lot of the sales transformation, and for many of you, selling virtually has become a mandatory part of your business. Some have taken to it like a fish takes to water, but most are struggling to get good at it and waiting for the time when things go back to the way they were.
Almost all of the data shows that companies are still struggling, and not even all have embraced this new way to sell.
Stop waiting. You shouldn't be thinking about going back. Instead, you should be honing your skills, training your team and making the experience remarkable so that you thrive in this new normal.
Here's some interesting data from a blog post by the RAIN Group:
The vast majority of sellers (greater than 62%) rated 18 challenges as at least somewhat challenging. It's surprising just how challenging sellers find the new virtual sales environment.
Bubbling to the top of the challenges list:
Gaining buyers' attention and keeping them engaged virtually: 91%
Changing buyers' points of view on what's possible or how to solve a problem: 89%
Developing relationships with buyers virtually: 88%
While many factors influence purchase decisions, [they] asked buyers: When interacting with sellers virtually, what factors have the greatest influence on your purchase decisions?
The top four factors include:
Leading a thorough discovery of concerns, wants and needs: 71%
Showing what's possible or how to solve a problem: 68%
Listening: 68%
Making the return on investment (ROI) case clear: 66%
And how are sellers doing in these areas? Not well.
Consider this:
Only 26% of buyers believe sellers are skilled at leading a thorough needs discovery virtually.
Only 34% of buyers report that sellers are skilled at showing them what's possible or how to solve a problem.
Shocking, but only 26% of buyers say sellers are competent listeners.
Incredibly, a mere 16% of buyers say sellers are very effective at making the ROI case when selling virtually.
Houston, we have a problem.
Let's work on fixing this now, so we can use these new tools, techniques and processes through the end of the year and into 2021. There is no reason to think virtual selling won't be the ONLY way you work with prospects going forward.
1) Pick Your Tools Carefully
We've all had our experiences with the video conferencing software out there today. Zoom, Skype, Microsoft Teams, GoToMeeting, WebEx and a host of new players have all made serious inroads over the past few months.
Want to compare them side by side? Check out this report on the top players in the video conferencing space.
I have personal experience with Zoom at Square 2. My other company, Agencies 2 Inbound, which does coaching for agency owners, uses GoToMeeting. And I recently started working with a client that requires we use Microsoft Teams to work with them.
All of these three options are legit, and it comes down to personal preferences.
The costs for all of these options are in the same ballpark. The features are similar, they work on almost all types of equipment and they are easy to get used to.
Based on my experience, it comes down to picking one, using it and getting very comfortable with it.
In our case, we use Zoom and have used Zoom for years, primarily because it's our internal video and chat tool as well.
Having run a remote business with team members all over the world for the past seven years, we've been using Zoom to keep us together, work collaboratively and chat outside of email about internal and client projects.
We like having one tool for video and chat collaboration. But these are very personal decisions, in my experience. Any of these tools will arm your sales team with the video tools they need to do virtual selling.
2) Set The Stage With Video
Speaking of video, let's start with that. If you've made in-person sales calls, then you and your team are comfortable "in the room." But now you have to take that experience and deliver it with video. It's possible if you follow a few key rules.
When it comes to a video sales meeting, treat it like an in-person sales meeting. Would you show up in a T-shirt and baseball hat? Would you sit in a dark room? Would you want the prospect to only see part of your face? Of course not.
Apply the same simple common sense here, too.
Make sure your room is presentable. Look at your background. Is it distracting? Is it messy? Does it present the image you and your company want to present?
You can consider using a virtual background or the blurry background that Microsoft Teams allows. These virtual backgrounds can be interesting. For a while I used one that highlighted the prospect's website to show we do our homework.
Look at your lighting. Do you look like you're in the witness protection plan? You want light in front of you, not behind you. Today you can buy a simple ring light for $35 that lights up your face and provides ample light to run a sales meeting virtually.
Everyone on your team should be aware of the requirements for virtual sales calls, including dress code, lighting, backgrounds and technology checks prior to signing on with prospects. Set these up in advance, run every sales rep through the paces and make sure the experience is what you'd expect if you were on the other end of the call.
3) Remember That Sound Matters
Video is one thing, sound is another. If people can't hear you, then you can't be effective. It's also very hard to know what you sound like. Since everyone's system is a little different, asking one person if they can hear you might be fine, but there could be six other people who can't hear you well.
One tip is to record yourself and then play it back. How does it sound to you? If you're a sales leader, get your entire team on a call and go around the team checking the audio with everyone. How does each person sound to ALL of you?
Audio is one of the easiest variables to fix. If your laptop or PC audio is bad, pick up a headset with a microphone. This is the one I use. They are cheap and easy to set up, so you'll always have great audio on your calls.
Then rerun the tests and see the differences.
4) Ensure Fast Internet Speeds
According to Zoom's website, these are the internet bandwidth requirements for different kinds of Zoom calls:
For 1:1 video calling:
600kbps (up/down) for high-quality video
1.2 Mbps (up/down) for 720p HD video
Receiving 1080p HD video requires 1.8 Mbps (up/down)
Sending 1080p HD video requires 1.8 Mbps (up/down)
For group video calling:
800kbps/1.0Mbps (up/down) for high-quality video
For gallery view and/or 720p HD video: 1.5Mbps/1.5Mbps (up/down)
Receiving 1080p HD video requires 2.5mbps (up/down)
Sending 1080p HD video requires 3.0 Mbps (up/down)
For screen-sharing only (no video thumbnail): 50-75kbps
For screen-sharing with video thumbnail: 50-150kbps
For audio VoIP: 60-80kbps
Make sure that your sales reps, sales engineers, sales leadership and anyone who might be on a call with a prospect has these speeds at a minimum.
Want to be sure? Move some of that travel budget (which is now useless) over to technology and get internet speed upgrades for your entire sales team. Give them a stipend for internet and make sure they upgrade accordingly. Ask them to send you the configuration screen from their internet service provider as a condition for the stipend.
Now you'll be sure that no speed issues will be from your team's end. You'll never be certain that connection problems won't stem from the prospect's side, but this ensures that 50% of the issues are dealt with.
5) Remember That Sales Process Matters
We ask all our prospects to show us their sales process. Yep, on paper. Did you know that 84% of the companies we ask are unable to show us their sales process? They have one, but it is not documented.
News flash! If your sales process is not documented, shared, trained and reinforced as a requirement, you probably don't have a sales process at all.
Once you go to virtual sales, your sales process is going to be like a map. It's the map that gets you from point A (first contact with a prospect) to point B (a closed new customer). Without a map, you and your sales team are going to get lost time and time again.
You might find your way from time to time, but it's going to take longer, you'll make more mistakes and you'll miss out on a lot of potential business.
Eric Keiles, Chief Marketing Officer at Square 2, says: "Your sales process is going to be the difference between success and failure. If you don't have one, you're going to struggle month over month and wonder why. If you have one, you'll know exactly where it needs to be upgraded, make the changes and find yourself wondering why you didn't work like this sooner."
When you go to virtual selling, your team is going to need to know what to tell the prospect. They're going to need to know what you expect from them at each stage in the sales process. Every touch point needs to be mapped out and defined with crystal clear communication.
What do we send here? What do we say at this stage? How do we explain our process? What story is best suited for this type of prospect at this stage in their buyer journey?
The more you think this out in advance, the shorter your sales cycle, the higher your close rates and the better chance you have of exceeding your sales goals, whether you're virtual or not.
But being virtual is a change, and change requires clear direction and solid expectation-setting. These new motions are important for sales to understand, practice and get good at using the new tools, new process and new stories.
Not to mention that your goal remains the same: Help the prospect feel safe. Getting on a video call might not make them feel safe. Having your reps clearly explain your process, why you do it like that and exactly what they can expect will definitely help them feel safe.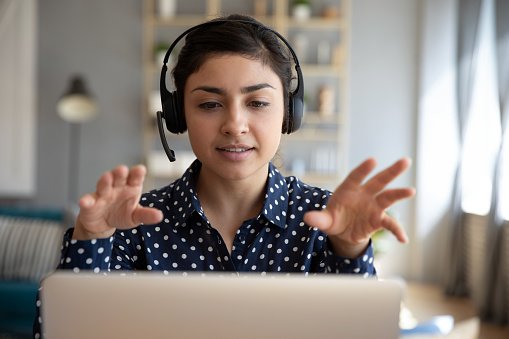 6) Don't Forget That Questions Remain Key
One of the best ways to get a prospect to feel safe is by asking them questions. You've probably heard this before, but it bears repeating: When you go to a party and you see someone interesting who you want to get to know, you don't roll up on them and start talking about yourself.
Instead, you ask them questions (sincere questions) designed to help you get to know them.
The same situation plays out with prospects. You need a genuine interest in getting to know them as a person, their company, their challenges, their issues and their pains. There is no way you can help them without this basic understanding. The only way to get this is to ask them smart, thoughtful and insightful questions.
The answers to your questions will likely create other follow-up questions, and this path will uncover areas where you can help.
In addition, people like when you show an interest in them. People like it when you make them think. People like it when you ask them questions. It shows you care about them, and during that process, it helps them feel safe with you. It helps them get to trust you.
Like any good "get-to-know-you" session, your prospects will likely have questions for you, too. Make sure you have solid answers to these questions, and having additional content to answer those questions in an even deeper way is also something you should be considering.
If you want to prepare your sales team, run a questions workshop as part of understanding your prospects' buyer journeys. Work through each stage of their buyer journey and create an inventory of questions prospects typically ask.
Then prepare a set of answers so that each sales rep can respond in a similar fashion. Double down and create educational content that allows the rep to answer the question and then offer additional information and insight in the form of a whitepaper, e-book, tip guide, checklist, video or podcast episode.
Now your sales process is coming to life and your reps will be able to respond dynamically via video anytime these questions come up. At the same time, your team will be armed with smart and insightful questions to ask the prospect to qualify them and to make sure your team knows everything they need to know to help them execute a safe and successful buyer journey on their part.
7) Make Sales Highly Educational
We briefly touched on this in the previous section, but to drive it home, your sales process (and especially a virtual one) needs to be highly educational for your prospects. This means arming your sales team with a ton of educational material.
On a call a few days ago, we talked about the prospect's decision around HubSpot or Pardot. They were very quickly coming to a decision point. They would have to choose one over the other. While we talked about their requirements and we shared our experiences with both, when the call was over I sent the prospect two documents with in-depth comparisons of HubSpot vs. Pardot.
In a day or two, I'll follow up and see if there are any additional questions. And I used HubSpot to track the email, so I know it was delivered and opened by our prospect.
The more educational resources you provide and the more educational you can make your sales process, the more prospects will get to know, like and trust your sales reps. Given that everything is virtual, the faster they get to know, like and trust you, the better.
8) Wrap Touch Points Around Meetings
With your sales process locked down, your questions documented and your educational resources overflowing, the next step is to map out every single touch point within your sales process that wraps around your meetings.
Touch points include sales-generated emails, text messages, phone calls, video calls, follow-up emails, nurture emails and any documents you're using with your prospects.
In short, you want to stay top of mind, even after your meetings are over. You want to continue the conversation with prospects even when you're not talking to them. If you do this effectively, you can proactively move prospects along in their buyer journey.
Without this extra layer of designed communication, you're leaving your prospects to be influenced by competitors, outside influences and even people inside their company who might want to derail their project.
But by crafting these wraparound touch points and making them remarkable in the communication, you can differentiate your company from all your competitors.
This simple exercise (which can be automated by technology) can help you shorten your sales cycle and increase your close rates – guaranteed.
9) Track Metrics
Now that you're on board, let's spend some time talking about data, metrics and tracking the business outcomes and sales results from going all-in on virtual selling.
There are a set of metrics that you should be tracking anyway, but let's go through them so you can set them up, create a dashboard and watch these improve week over week and month over month.
First, the obvious ones. These should be looked at organizationally and by rep. These should be tracked in real time but reviewed weekly at best and monthly at a minimum:
Actual sales vs. quota or goal

Close rate

Sales cycle in days

Average revenue per new client

The percentage of sales opportunities that close
The percentage of sales-qualified leads (SQLs) that turn into sales opportunities is probably more of a marketing metric (is the quality of leads good?), but you also want to know how reps are doing moving SQLs to sales opportunities.
To learn more about pipeline velocity, there is an entire article on it here.
If you want to get fancy, you can look at the performance of the emails sales is sending. You can look at the stage-by-stage conversion rate for your sales process. You can also look at revenue post-sale, but again that might have more to do with ongoing customer service than sales rep performance.
All in all, these metrics are important, and it has never been easier to track these in real time.
10) Ensure Alignment With Marketing
Finally, it's worth talking about the importance of aligning marketing and sales when you start virtual selling. We talked a lot about how tools, content, emails, educational materials and even videos are key parts of virtual selling today.
In most companies, marketing is a key player in creating these tools. Marketing typically creates the educational content, the emails, the videos, the nurture emails and, in a lot of cases, the dashboards and reporting.
Sales also needs to provide marketing feedback on all these tools. This allows marketing to get real-world feedback and make the adjustments necessary to improve performance over time.
Aligning marketing and sales isn't easy in every company. If you need some extra advice, guidance and techniques to bring these two organizations together in your company, we have more information in this article.
But today, you can't afford to run two separate teams with two separate agendas. To drive revenue, you need a single revenue team made up of people from both marketing and sales.
Selling virtually isn't going away. Even when the world gets back to normal, most companies are going to realize that traveling to see prospects is inefficient and much less productive than working on a virtual sales process. The more success you have selling this way, the more likely you'll be to lean into this instead of pining for the good ol' days.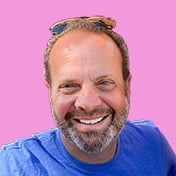 CEO and Chief Revenue Scientist
Mike Lieberman, CEO and Chief Revenue Scientist
Mike is the CEO and Chief Revenue Scientist at Square 2. He is passionate about helping people turn their ordinary businesses into businesses people talk about. For more than 25 years, Mike has been working hand-in-hand with CEOs and marketing and sales executives to help them create strategic revenue growth plans, compelling marketing strategies and remarkable sales processes that shorten the sales cycle and increase close rates.
Eliminate Hit-or-Miss Marketing Moves
Get advice, tips, tools and guidance to generate more leads for your company in this weekly email newsletter.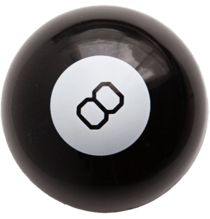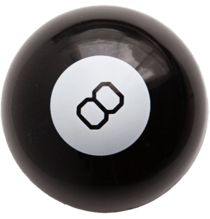 Eliminate Hit-or-Miss Marketing Moves
Get advice, tips, tools and guidance to generate more leads for your company in this weekly email newsletter.
Get With the Program
Whether you want to stay in touch, go deeper into RGS or start a conversation, here are three easy ways to take the next step.