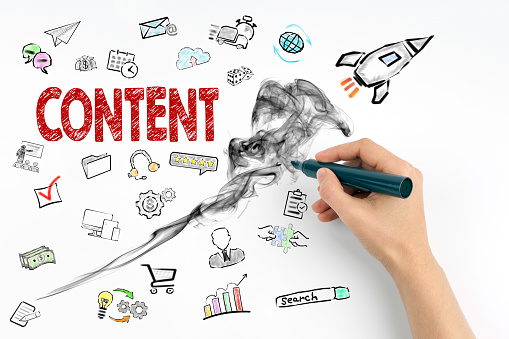 With So Much Content Marketing Being Used, What Makes For Great Content Marketing?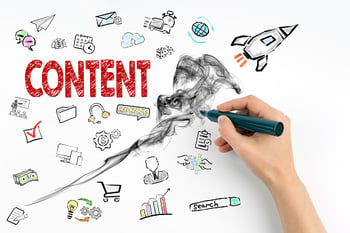 It's estimated that by 2021, 27% of internet users in the U.S. will be using ad blockers, which means that about one quarter of all ads won't reach their target.
Because of ad blockers, the loss of ad revenue is projected to increase from about $3.89 billion in 2016 to $12.12 billion by 2020 in the U.S. alone.
So how can you future-proof your business from experiencing a loss? The answer isn't content marketing, it's great content marketing.
According to HubSpot's State of Inbound Marketing study, simply increasing the amount of content you produce leads to greater customer acquisition.
55% of marketers say blog content creation is their top marketing priority
Marketers who prioritize blogging efforts are 13x more likely to see positive ROI
Content marketing gets 3X more leads than paid search advertising
70-80% of search engine users are only focusing on the organic results
But what is good, results-generating content marketing, and what's just content for content's sake?
As you start to tackle content marketing on your own, work with an agency for content marketing help or think about upgrading your current content marketing, here are some of the best campaigns from 2019.
Let's start with a few thoughts on how we selected these examples. Thousands of great examples of content marketing are out there today. We wanted to give you a mostly B2B perspective with a cross-section of content marketing examples, and we were primarily looking for content marketing examples that had produced legitimate results.
1) Blendtec – Video
Video is huge and has been for the last few years. Going into 2020, innovative companies are using video in their content marketing strategy.
As an article from OptinMonster shares, Blendtec is a blender manufacturer with viral videos that "prove there's no such thing as a boring industry – if you can tap into what hooks your audience. Blenders might not sound that interesting, but they become a heck of a lot more interesting when you put weird stuff in them.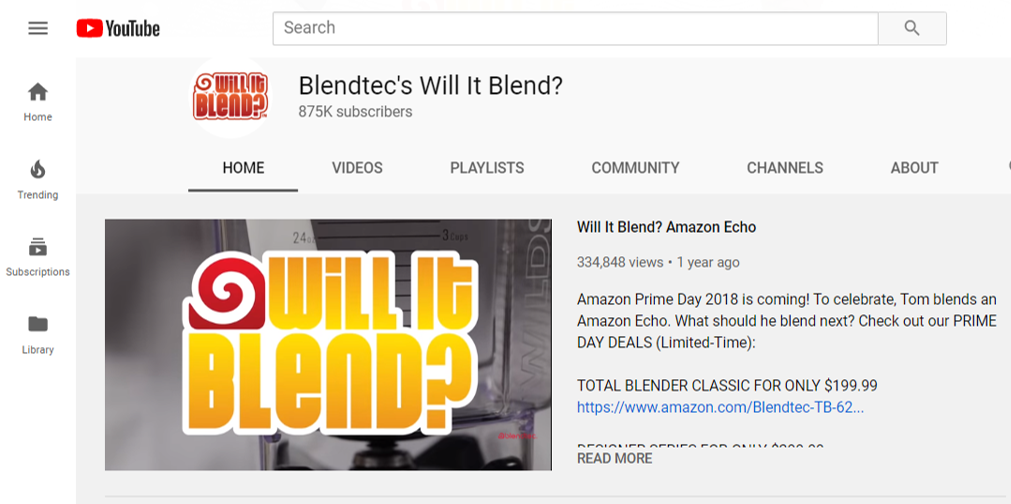 "The Will It Blend? video series put the company on the map and resulted in a 700% increase in sales during a three-year period."
What worked about this video series is it went viral because Blendtec put outrageous items in its blenders. There is a big lesson here: You have to step out of your comfort zone to drive results with content. If Blendtec had stuck to bananas, ice, yogurt and sauces, the company never would have seen the huge increase in sales this video series helped generate.
Whatever videos you plan on doing in 2020, make sure they tell your story, but also make sure they help you tell your story in a remarkable way, in a way that people will want to share and even in a way that might make the media take notice.
2) LinkedIn – E-book
This example features a traditional offer (an e-book) but with a twist that anyone can also deliver.
As the OptinMonster article explains, "If you want to know how to use LinkedIn effectively, nobody's going to be more of an expert than LinkedIn. That's why the company's e-book on its own approach to marketing with LinkedIn is such a winner.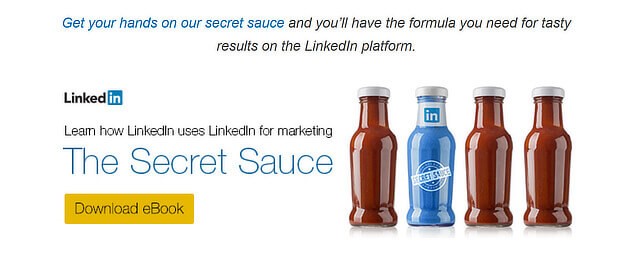 "The landing page whets customers' appetites with a series of tips and stats, and most LinkedIn users will want to opt in immediately.
"LinkedIn has continued to use this strategy by producing more marketing guides, so it's a sure bet it's working."
If you're considering a similar strategy, take a look at what your company does remarkably well and leverage that for your own content marketing offers.
If you're a professional services firm that handles tax and accounting services, how do you handle your own taxes? If you're a law firm, how would you go about planning your own lawsuit? If you're a manufacturer, how do you manage inventory or work closely with your materials suppliers?
These are all excellent insights into your business that you could share to drive interest in your own content, thought leadership and lead-generating offers on your website.
3) Wistia – Documentary
Video is one thing, but doing an entire documentary is another. It's not so surprising when you see it's from a video company. Wistia did what it calls its One, Ten, One Hundred Documentary.
As an article from CoSchedule shows, "Producing quality video content is always a challenge for time- and budget-strapped marketers. Wistia aimed to explore this challenge with its first-ever episodic documentary.
"The four-part series explores what video marketers can do with a $1,000, $10,000 and $100,000 budget.
"As a video software company, the episodic documentary is an exciting way to highlight how budgets affect the creative process – a common hardship for many marketers and Wistia customers.
"It's transparent. One of the coolest things about this content is that it gives watchers a behind-the-scenes look at video marketing – the good, the bad and the ugly."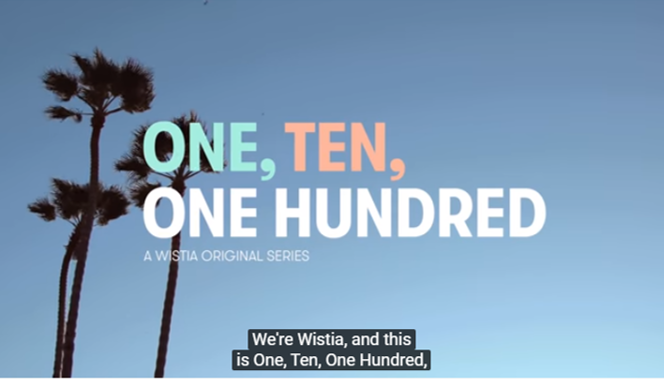 What's great about this content is the story it tells. It shows potential customers that you can produce a video on Wistia for $1,000, for $10,000 and for $100,000. The video platform is for small, medium and big companies with small, medium and big budgets. However, the quality of the video is amazing at each level.
It shows (instead of tells) the Wistia story, and that is what great content should be designed to do, and of course what great video should be designed to do.
Finally, the documentary format is one that takes advantage of trends in video today. It stands out in a crowded field of talking-head, explainer and animated videos. It's a top example of content marketing for a number of really important reasons.
4) NerdWallet – Tools
The CoSchedule article notes that "to most folks, the thought of financial management and investing is overwhelming. The learning curve is steep – so much so that people don't even know where to start. Couple that with a little debt and it's enough to make someone want to stick their head in the sand for good.
"NerdWallet and their crash course in all things financial aims to help solve these problems.
"From creating a budget and managing debt, to setting up your financial future, Nerd Wallet's video series explains important basics about money and investing.
"They also have a library of supporting tools like a budget calculator, free budgeting spreadsheets and a retirement planner, to name a few.
"It's comprehensive, yet approachable. Complicated topics require a careful strategy to make sure people aren't scared away. Nerd Wallet does a great job of making visitors feel like they have the skills to tackle their financial woes.
"They didn't cut corners. The video and content quality on Nerd Wallet's site are second to none. They've invested in quality videos and supporting tools that address a visitor's pain points from top to bottom."
The reason we like NerdWallet is they did content marketing that was designed to attract people at the back end of the buyer journey. They didn't just publish whitepapers, research, e-books, videos and the rest of the early-buyer-journey educational content.
Instead, they invested time, money and energy to create a tool kit for people who are beyond the education stage and deep into the decision-making stage. Tools almost always appeal to people who are further along in their buyer journey.
One of the great aspects of tools like the ones NerdWallet offers is you get all the information prospects provide when using the tools. For example, the free budget worksheets give Nerd Wallet an idea of how much budget their prospects are working with. Their retirement planner uncovers age, income level and marital status information about prospects.
Now their nurture and follow-up can be hyper-personalized to these individuals' specific needs, wants, concerns and questions. Tools take a little longer to build but almost always generate high-quality sales-ready leads, a major objective for content marketing.
5) Neil Patel – Thought Leadership And Content Strategy
An article from Single Grain points out that "Neil Patel is the king of content marketing. Search for anything related to SEO, social media strategy or content, and one of his articles is likely to be at the top of the SERPs.
"Neil's blog consistently pumps out high-quality material that actually gets social shares and ranks high in search results.
"He executes a hub-and-spoke strategy [similar to how Square 2 creates content marketing strategy for clients] where you publish one main piece of content as the "hub" and then include several "spokes," or various types of content on the same subject, that connect back to it.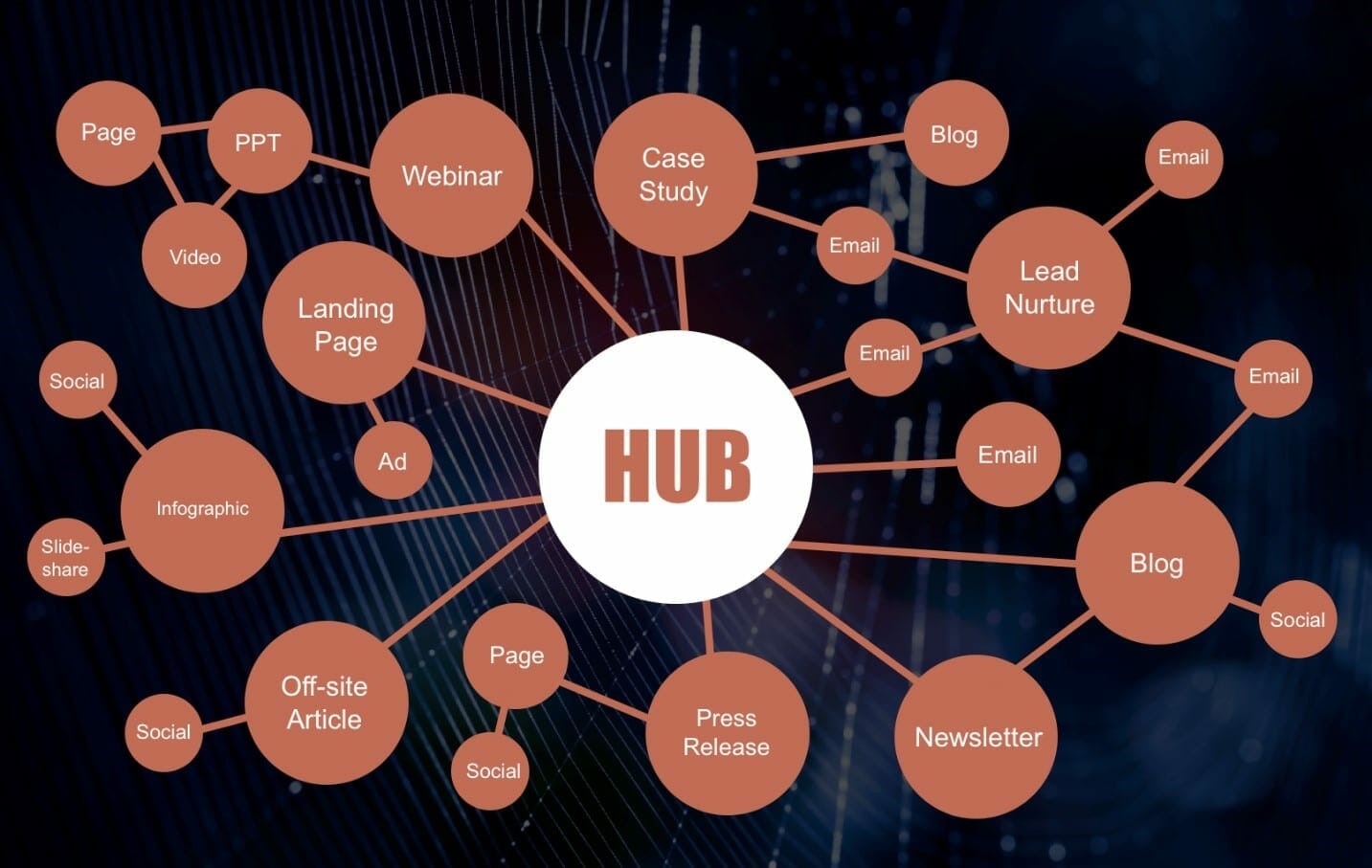 "By the way, sometimes this is called a topic cluster. In short, this method focuses on choosing one core piece of content, which is usually more general in focus – for example cold outreach emails.
"The spokes, or cluster content, drill down into the longer-tail keyword topics associated with the core, [such as] cold outreach email follow-up timings, tools for cold emails and cold email templates.
"You then link the core content to the cluster articles and use the same keyword.
"Using the hub method means that if someone searches for "Facebook marketing guide," Neil Patel's blog comes up first. Then if they need to dive deep into a specific area of the topic, they will find the links within the core content piece, increasing their time on site and thus showing Google that the content is relevant.
"By consistently putting out high-quality guides with good design and 10x content, Neil not only ranks high in terms of SEO, but generates more leads by positioning his brand as the "go-to" resource for different topics in their space."
If you want to deploy something similar for your content marketing effort, start with your long-form content as the hub (perhaps a video series, e-book or infographic). Then create a series of related blog articles. You can even take bits and pieces of the long-form content to make up the blog articles. Each blog article should connect back to the landing page of the long-form content.
Typically, this is done with links and a CTA button inside the blog article.
Then connect your social medial, micro-posts or conversation starters with your blog articles. Now you have a path from social media to blog to long-form content offer. It's contextual, too, because all of the content is related and it all pulls back to your long-form content, landing page and website.
6) Intercom – Podcasting
The Single Grain article notes that "Intercom helps companies communicate with their customers more efficiently. One of the things that they do particularly well is repurpose content.
"For example, they have a podcast that addresses key marketing and business topics. Once an episode is recorded, they repurpose everything they can. Take this piece for example.
"On that one page you have:
A recording of the podcast itself

A number of quick takeaways that address the main points

A full transcript of the piece that has been nicely designed to include standout quotes and relevant images
"They basically turn a single piece of content into a multi-use asset. Using your core content to create spin-off pieces gives you a much better chance to rank on page one of the SERPs.
"Intercom also does a good job of using images and graphics in the right places within a blog post to add more value, or certainly more quality. For example, in this piece on chatbots, they offer a GIF to see how it works."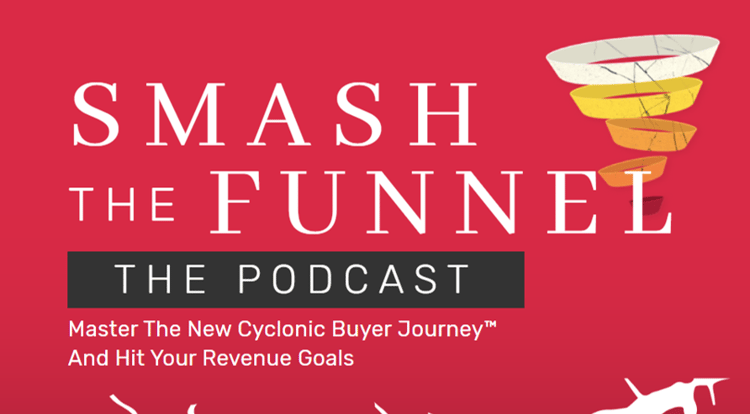 Content in a variety of formats is important, and podcasting is one of the most important formats. People are spending more time listening to content, and the best way to get in their ears is with a podcast.
You can run a single podcast on a topic, run multiple podcasts on a variety of one-off topics or you can consider what we did at Square 2, which is publish a full season of podcast content Netflix style.
Either way, connect your podcast content to your hub-and-spoke system. Make sure it's contextually relevant and cross-promotes long-form written content, video and shorter form content like blogs. This will ensure you get to new audiences and that your content marketing strategy is tight.
In 2020, content marketing is going to continue to be important for rankings, conversions, website visitors, generating demand, generating leads, fueling paid campaigns, fast-tracking sales opportunities through the sales process and improving close rates.
Don't start underfunding your content marketing initiatives. Feed your content marketing additional budget, and you'll see a major lift to marketing ROI in no time.
Square 2 — Building The Agency You'll LOVE!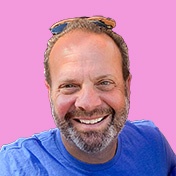 Mike Lieberman, CEO and Chief Revenue Scientist
Mike is the CEO and Chief Revenue Scientist at Square 2. He is passionate about helping people turn their ordinary businesses into businesses people talk about. For more than 25 years, Mike has been working hand-in-hand with CEOs and marketing and sales executives to help them create strategic revenue growth plans, compelling marketing strategies and remarkable sales processes that shorten the sales cycle and increase close rates.