You Created Content, But Now What? Content Syndication Allows You To Share That Content With The World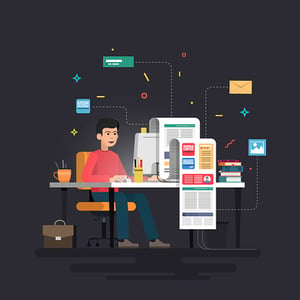 Now the size of your brain is more important than the size of your wallet. You have to be smart to leverage every asset in your marketing campaign bag of tricks.
Content syndication is one of those tricks that gets very little attention but can pull a lot of leads without you having to create new content marketing assets.
Content syndication means republishing the same piece of content, like an article, a video, an infographic or an e-book, on one or more different websites.
Publications, community websites and even industry associations like to syndicate content because it helps them give fresh information to their readers and members. You can benefit from this demand generation tactic since it gets your brand and your content in front of prospective customers.
There are two basic approaches to content syndication that you should be considering as part of your demand generation strategy: Content syndication that you do on your own for no additional investment and content syndication that you pay for as part of your paid media budget.
But you should also be thinking about content syndication in the context of your company's content marketing effort.
Before we get into that, let's go over how content syndication and SEO work together, because if done properly, content syndication can also increase your rankings on Google.
Content Syndication And SEO
I'm sure you know that Google frowns upon publishing the same content on different websites (also known as duplicate content). This would be like sending the same blog article to six different sites and asking them to publish it as original content.
No one knows exactly how Google would respond, but everyone knows that it won't help your site and site page rank, and it could hurt your rankings directly.
Content syndication is different, and Google approves of it, as long as you do it properly. The key is to make it obvious to search engines and readers that your content is syndicated and not original. To do that, all you need is a link to the original article and a canonical link.
This kind of link shows Google that you're not trying to game the system by republishing original content but instead referencing original content on another relevant site.
For more on getting this practice right, you can read Google's own instructions on canonical linking practices here.

Free Content Syndication
Getting your content syndicated for free is a lot about legwork and perseverance. First, you should identify the sites you want your content syndicated on. Typically, you're looking for bigger sites with larger audiences and more domain authority than your site.
You can identify these sites with tools like BuzzSumo, Ahrefs and SEMrush. Keep in mind that the bigger the site, the harder it's going to be to get your content on that site. Large sites receive a ton of requests and have very rigid republishing guidelines.
This means you might not get to have a backlink and you probably won't get to include your CTA offer button or link, but you might get to have a reference link as the original author or publisher.
You can downshift to less popular sites with smaller audiences and less domain authority, and you'll have a better chance to get on these sites. Such sites are likely to have less rigid requirements, and you might be able to convince them to allow you more backlinks and even your call-to-action button.
We didn't really talk about guest blogging, and since guest blogging is usually original content, it's not technically content syndication. But if you wrote an original guest blog article for a bigger site, you could potentially syndicate that content after it was published on that site.
Writing for content syndication is a skill like writing for conversion, writing for search and writing in general. This means you want to make sure your content is optimized if you're planning on syndicating it.
Since a lot of content is syndicated with tools and technology, you need it to include the right signals. You should set up the right connections for automated syndication.
Some examples of this include connections to sitemaps and feeds or through developing API connections to various syndication sites. Setting up automation for cross-posting your content to sites like Flipboard saves time in the long run.
Just like pitching a story to an editor, you want your content to be high quality, visual and interesting. This is going to encourage people to syndicate your content. Include charts, infographics, statistics and tips, and make sure your information is highly visual.
The more attractive and interesting, the easier it's going to be to get your content out there and in people's hands.
Paid Content Syndication
You've likely seen paid content syndication before. Take a look at the image below from CNN. Outbrain, one of the top paid content syndication platforms, served up these ads for me based on some algorithm that thought I might be interested in these products and services.

The way platforms like Outbrain, Taboola and Scoop.it work is almost identical to pay per click. You set a budget for clicks or impressions, you identify the audience, you create your ad, you select your link back to a landing page (preferably) and off you go. You're running a content syndication campaign.
This is important — don't send people to your homepage. Instead, create a dedicated landing page that is directly related to your ad copy, audience and offer. This is going to increase your conversion rate on ad spend dramatically and give you much better analytics on the performance of the ad, your offer and your landing page.
Also, these are not backlinks that are going to help you with SEO. Since these are paid ads, they carry no SEO value with Google or any of the search engines.
Finally, every time someone clicks on one of these ads, you pay for that click. That cost is going to vary based on the placement of those ads. Higher-trafficked sites like CNN are going to be more expensive than sites like our blog (if we allowed syndicated content, which we don't).
This is where content syndication as a tactic gets tricky. You don't turn it on and leave it on. Like paid advertising on Google or social sites, optimizing the spend based on results must be part of your effort. This optimization should be looked at weekly, and probably daily in the beginning.
A lot of adjustments can be made, like audience selection, budget caps and even ad testing.
Even with the technical requirements and experience needed to bring high ROI to content syndication, this remains one of the best ways to get your content out in front of your potential prospects, and certainly one of the fastest ways to drive prospects back to your website.
With more and more people spending time online, you should be considering content syndication in your demand generation plans.
Square 2 — Building The Agency You'll LOVE!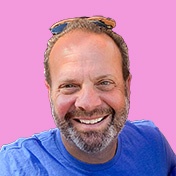 Mike Lieberman, CEO and Chief Revenue Scientist
Mike is the CEO and Chief Revenue Scientist at Square 2. He is passionate about helping people turn their ordinary businesses into businesses people talk about. For more than 25 years, Mike has been working hand-in-hand with CEOs and marketing and sales executives to help them create strategic revenue growth plans, compelling marketing strategies and remarkable sales processes that shorten the sales cycle and increase close rates.