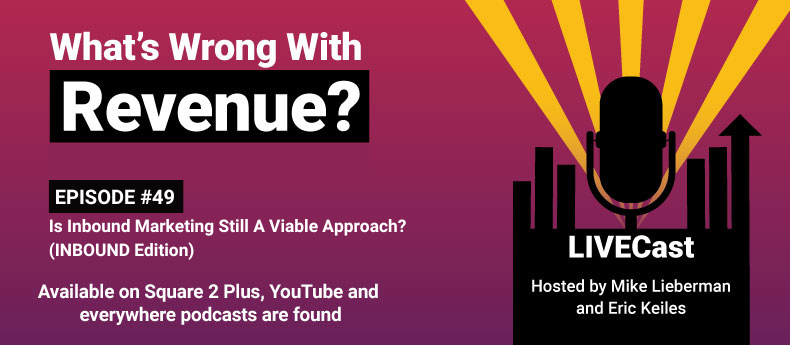 This show aired LIVE on September 7, LIVE on the floor of INBOUND 22. To watch the show on demand, visit the show page here. To see all our audio and video content, check out our new free streaming service, Square 2+.
In this episode of What's Wrong With Revenue? we met with Guillaume Delloue, Strategic Consultant for Partners at HubSpot, at INBOUND 22 to talk about everything inbound, HubSpot and the changing nature of marketing, sales, revenue and business growth.
Right out of the gate we discussed some of the comments from Dharmesh Shah, CTO and co-founder at HubSpot, and Yamini Rangan, CEO at HubSpot.
Both were incredibly transparent and open when they talked about how the world has been and continues to change for marketers. The pace of change is even accelerating, making it harder and harder for marketing and sales leaders to know exactly how to engage prospects in today's world.
The old playbooks aren't working anymore. No one knows exactly what to do anymore. Two quotes from these two HubSpot executives led Guillaume and me to share some thoughts on the topic.
The complexity of the buyer journey, changing regulations around privacy, the over-digitalization of communication and social media, and an over-reliance on third-party data were at the root of our conversation.
We both felt like it was inspiring for these two leaders to openly admit the challenges facing business leaders today. This led us to look at some of the major HubSpot product announcements. Interestingly enough, they were all closely connected to the challenges outlined in the opening remarks, so there was a great deal to cover.
The new data tool in HubSpot is going to make it easier for companies to rely more on first-party data rather than the recent trend to try and buy attention with third-party data.
The customer journey tool is also a major new innovation that will help marketers (primarily) get new insights into the details of the new more complex buyer journey. They can see specifically which areas of the customer journey are experiencing the most friction and then respond with insightful action based on data.
There is also a campaign management tool that should allow people to manage more omnichannel, orchestrated and personalized campaigns. We talked about how it's no longer enough to run a single campaign through a single channel or simply brush the surface with personalization.
Instead, we talked about the importance of deep personalization and using one-to-one campaigns instead of one-to-many campaigns.
Guillaume and I chatted about some of the vendors at INBOUND, what happens behind the scenes for HubSpotters during the event and what the people at HubSpot do throughout the conference. It was great to get back to INBOUND in person.
Generally, the vibe was upbeat and very positive — although maybe a touch uncomfortable to see people you haven't seen in years who you should remember but you're not sure you do. Overall, it was a good time and an educational experience.
To watch the full interview and hear our comments at INBOUND 22, click here.
If you'd like to subscribe to the show, we'll send you reminders and email you a link after each live show – just click here. If you'd like to submit a question to the show, we answer questions every week – just click here.
If you want to watch the show and all the other audio and video content published by Square 2, visit our new Square 2+ page. It's full of valuable content related to marketing, sales, technology, revenue growth and more.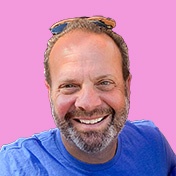 Mike Lieberman, CEO and Chief Revenue Scientist
Mike is the CEO and Chief Revenue Scientist at Square 2. He is passionate about helping people turn their ordinary businesses into businesses people talk about. For more than 25 years, Mike has been working hand-in-hand with CEOs and marketing and sales executives to help them create strategic revenue growth plans, compelling marketing strategies and remarkable sales processes that shorten the sales cycle and increase close rates.