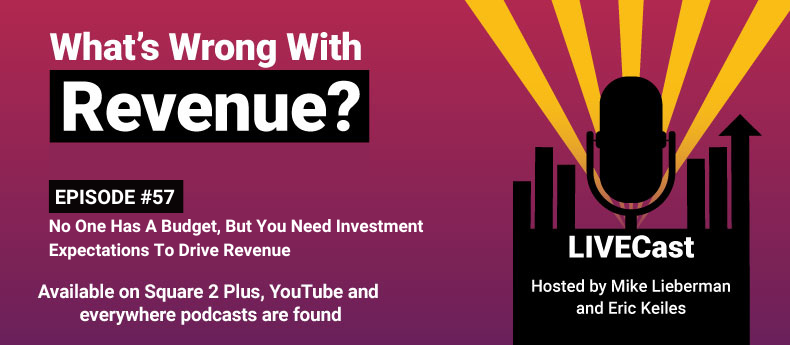 This show aired LIVE on October 26. To watch the show on demand, visit the show page here. To see all our audio and video content, check out our free streaming service, Square 2+.
In this episode of What's Wrong With Revenue?, we answer the age-old questions: Why do you need a budget for marketing? Why don't you have a budget for marketing investments? How should sales be part of the budget-setting process?
I share a budgeting methodology that helps companies back into their budget requirements. This methodology is specific to defining where you are today and where you want to be by the end of the year.
Once you have these two quantitative models created, you'll clearly see the delta between where you are now and where you need to be.
Now design the programs that fill in the gap, estimate how much each of those programs is going to cost to execute and, voilà, you have a budget for marketing.
If you go through this effort, you'll also have individual program budgets and program expectations, so you can attribute program performance with investment to show your leadership team and/or finance people exactly what money was spent and what was produced.
Let's not forget about sales and customer service. If you're successful with your marketing programs, it's going to impact sales and customer service.
For example, you might have to look at the number of reps, their tools and their efficiency. You might need a lead-scoring model to focus their attention on your best opportunities.
In the customer service area, if you're working harder on cross-sell and upsell revenue, you might need additional people, follow-up and automation. You might need different tools in this department too.
All these expectations should be part of your budgeting exercises.
Finally, we talked about the nature of budgeting and making guesstimates. It's highly likely that your numbers are off, even if only by a little bit.
For this reason, you'll want an opportunity to adjust the budget, evaluate the budget and regularly assess the performance of the budget.
This show is a definite don't miss if you're in the middle of your budget-setting process or don't have any money allocated to helping your company grow revenue. To watch the show, click here.
If you'd like to subscribe to the show, we'll send you reminders and email you a link after each live show – just click here. If you'd like to submit a question to the show, we answer questions every week – just click here.
If you want to watch the show and all the other audio and video content published by Square 2, visit our Square 2+ page. It's full of valuable content related to marketing, sales, technology, revenue growth and more.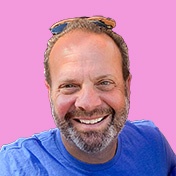 Mike Lieberman, CEO and Chief Revenue Scientist
Mike is the CEO and Chief Revenue Scientist at Square 2. He is passionate about helping people turn their ordinary businesses into businesses people talk about. For more than 25 years, Mike has been working hand-in-hand with CEOs and marketing and sales executives to help them create strategic revenue growth plans, compelling marketing strategies and remarkable sales processes that shorten the sales cycle and increase close rates.