You Should Be Planning For These Today To Drive Revenue At Your Company Tomorrow
Before we jump into what I expect for 2019, let's look back at my predictions for 2018.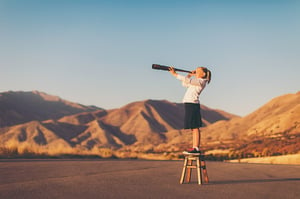 Here's the link to the post with those predictions.
Overall, my predictions were on point.
My first prediction talked about the importance of creating an experience for both prospects and clients. Not a controversial prediction, but it's one that has come true.
"Digital transformation" is the buzzword that consulting companies use to sell engagements that create amazing experiences for big brands' customers and prospects.
Here's how I did on the other four predictions.
Number two was that revenue departments are coming. I should have known better. This is a prediction that is going to take years to materialize. Too many sales teams and marketing execs are interested in keeping their fiefdoms protected.
We have seen more marketing and sales teams working closely together, but the elimination of these traditional departments in exchange for a new revenue department is still in the works.
Number three was that more technology would create more confusion. Nailed it. With over 7,000 marketing and sales technology options today, who wouldn't be confused about what to buy, how to integrate them, how to train people, what to do with the tools and how to get full value?
Today, prospects are more confused than ever before, and that's why offering a technology practice that helps clients figure this all out is so important
Number four had to do with your customers and the hidden revenue opportunity within. My prediction focused on activating your customer base to extract the advocacy your marketing and sales teams need to help your prospects feel safe. This too is quickly coming true with the sheer number of review sites. Advocacy marketing programs are helping companies turn happy customers into revenue growth.
Number five was about consolidation in the agency community. We've see some of this, but the economy is going to drive this — one stretch of challenging economic times and you'll see a slew of smaller agencies headed for safety by selling to larger agencies. Not sure if that's a 2019 or 2020 prediction, but the positive economy in 2018 made this prediction a nonstarter.
Looking forward to 2019, here's what I'm predicting.
Prediction #1: Sales And Marketing Will No Longer Operate Independently
As I mentioned above, I'm done predicting the formation of revenue departments. Instead, 2019 is the year that sales and marketing alignment will become a consistently realized objective across companies big and small.
It's not as if people will be doing this proactively, but marketing and sales are going to need to work together on more initiatives than ever before, and this requirement will pull them much closer.
Even today, we have a number of client engagements where we're working with both marketing and sales to create this consistent educational and advisory experience for their prospects. This work comes with defined deliverables, metrics to measure effectiveness and back-end support of the technology required to deliver.
At this point, alignment is better than nothing, and while it's not the formation of a revenue department, having sales and marketing aligned, working together and collaborating on content, video, lead definition and the prospect experience is producing amazing results.
Prediction #2: Video Assets In Sales And Marketing Will Overtake Written Assets
People love watching and just like reading. Video has always been the preferred medium (just ask Facebook and YouTube). Over the next year, making videos is going to be easier than writing, and it's going to become more prominent in both marketing and sales.
The technology is finally allowing us to sit down in front of our devices and create sharp, compelling and easy-to-view videos. Salespeople are using these to tell stories to prospects. Marketers are using these to highlight their company's differentiation.
In fact, you can look at every single stage of Cyclonic Buyer Journey™ and apply video at each stage to produce content that cuts through the clutter, tells an emotional story, disrupts as needed and engages the prospects far more effectively than having them read.
Video is going to be the preferred tool for communication across the entire buyer journey.
Prediction #3: Insights And Recommendations Will Replace Dashboards
First there was data (and tons of it). Then there were dashboards that allowed you to organize the data and attempt to make heads or tails of the data. But with so much data, deriving insights from dashboard data is a highly specialized skill.
Almost every client has more data than they know what to do with, and even those clients with in-house marketing teams are challenged to derive insights from that data.
Over the next year, dashboards will be replaced with tools that skip the dashboard stage. These tools will analyze your data, present insights uncovered and then offer a prioritized list of actions you need to take to improve your results.
You won't need to analyze the data. You'll have tools that do this for you, and that means you won't need a fancy, customized dashboard to present data. You'll skip right past this to get the insights and recommendations, which is what you really need to move the needle.
Dashboards might help in the presentation of data and in the explanation of the insights uncovered, but after a bit of time, that too will become irrelevant. You don't need dashboards to track the basic measurements of successful marketing and sales. New customers and new revenue — those are the magic numbers.
Prediction #4: AI Tools Will Continue To Push Their Way Into Your Tech Stacks
Again, honestly, not much of a prediction. AI (artificial intelligence) tools are already making their way into prime time and becoming part of big business tech stacks. However, technology is quickly becoming a complicated and confusing collection of tools.
Going into 2019, expect more add-on AI tools that for very small investments provide a big impact to their users. Take MAXG, for example. On Monday, January 7, we'll be releasing a free trial version of MAXG to anyone interested in being part of our early release program.
MAXG analyzes all of your Google and HubSpot data, but instead of presenting a dashboard, it skips the dashboard step and gives you the insights and recommendations you need to take action.
You'll find tons of tactical AI tools for marketing — AI tools that help you improve your content, improve your email, improve your sales follow-up, etc. But MAXG is the only AI tool that gives you a holistic and comprehensive set of insights and recommendations you can take action on today.
Prediction #5: GDPR-Like Regulation Will Come To America
California has already passed sweeping regulation that goes into effect in 2020. Click here to read all about it. The law is mostly geared toward data privacy, but it's going to impact how marketers collect data and then use that data for marketing purposes.
In addition, Facebook and Google are facing increased scrutiny from Congress. The wild, wild west of the internet is over. These companies haven't been proactive with how they've protected their users' security, and they've allowed advertisers to take private data and use it to their benefit.
For marketers, it's going to become increasingly difficult to use these ad platforms the way we've been using them. Inbound marketing might very well make a comeback at some point in the future.
Prediction #6: Social Media Tactics Will Become More Sales Focused And Less Marketing Focused
Most marketers don't know what to do with social media, so it has become a super highway for publication of content and an ad platform for marketers who have budget but don't know how to spend it.
B2C marketers are clearly doing better with social media advertising, driving purchases that skip the form and go right to the shopping cart. But for B2B, turning social media marketing into revenue has been much more challenging.
As the social platforms revise their algorithms, my prediction is that sales will be the predominant beneficiary of smart social media execution.
Account-based marketing (ABM) tactics and execution are becoming much more refined, and social media does provide connect and engage opportunities for proactive sales teams when looking to make connections with targeted companies and targeted contacts.
Armed with the right content and the right outreach playbooks, sales teams can use social media to make new and constructive connections with prospective customers.
Prediction #7: Sales And Marketing Teams Will Be Exposed To More Buyer Intent Data
Would you like to know who's looking for products and services before they reach out to you? Would you like to know who's talking to your competitors? Would you like to know who is signaling interest before they even start an active buyer journey?
Any marketing person or salesperson worth anything would kill for information and insight like this. (Well, maybe not kill, but they would pay a pretty penny.)
Buyer intent data is coming, and it's going to be a game changer. Today, tools can help you profile your best customers while also scanning the web for people involved in early stage buyer journeys and people who have already started to look for products and services like yours.
Now we can serve up those names, titles, phone numbers and email addresses for proactive marketing and sales campaigns laser focused and highly targeted by industry, product or stage of the buyer journey. This is where marketing becomes the best it can be and where sales becomes 10x more efficient.
Stay tuned: Square 2 is working on a set of services that include this buyer intent data, pay-per-lead services and account-based marketing to provide clients a true revenue growth engine for their businesses. More on that later in January.
Prediction #8: Revenue Growth Will Be Harder To Come By In 2019
There are so many revenue-related tactics, even more marketing and sales technology options, and more content than anyone can ever digest in a single year. This isn't making it easier for CEOs to hit their revenue goals. In fact, it's making it harder.
With more conflicting opinions, more perspectives, more attitudes and more data, it's becoming increasingly difficult to create a strategy, align your tactics, define key metrics and leverage technology to grow your companies.
This is going to continue in 2019, and without a methodology, a team of experts and a clear vision focused on execution, measurement and optimization, it's likely to be just as challenging as 2018.
These predictions are fun, and it's even more fun looking back and seeing what came to reality and what flamed out. As you're getting ramped up in 2019, make sure you're considering these trends, predictions and forecasts in your strategy, tactics and technology plans.
The main reason companies miss their goals remains a lack of strategy, no alignment of tactics across the strategy, little or no quantitative tracking and a lack of software to make execution and tracking easier.
All of this is fixable, and for 2019 to be your best year ever, make sure you're looking proactively at your strategy, tactics, analytics and technology. Make sure you have an innovative approach to revenue generation, and make sure you have the team you need to guarantee you can reach (or exceed) your goals.
From the entire team at Square 2, have a wonderful 2019!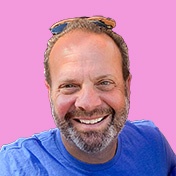 Mike Lieberman, CEO and Chief Revenue Scientist
Mike is the CEO and Chief Revenue Scientist at Square 2. He is passionate about helping people turn their ordinary businesses into businesses people talk about. For more than 25 years, Mike has been working hand-in-hand with CEOs and marketing and sales executives to help them create strategic revenue growth plans, compelling marketing strategies and remarkable sales processes that shorten the sales cycle and increase close rates.