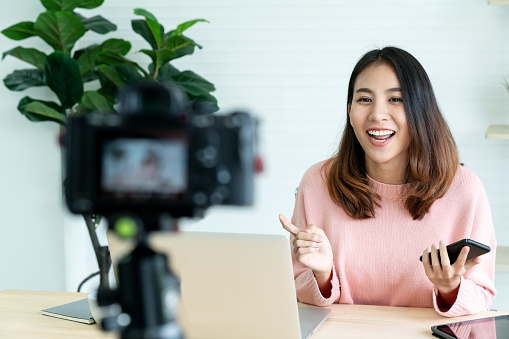 Video Must Be A Core Component To Your Content Marketing Strategy In 2020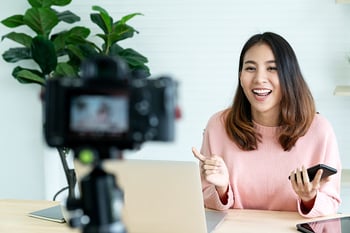 In case you missed it, video is exploding, and it's now a requirement for any revenue generation program.
If you're not producing and publishing at least one video a month, you're not executing a complete content marketing strategy. Video is what people want, and you have to include it in your plans.
There are some keys to having an active video marketing strategy. You have to know what to talk about, how to produce the videos in-house and how to use the videos to capture new leads as well as nurture leads through your sales process and your prospects' buyer journeys.
Here's the new playbook for video marketing and how to leverage it to improve results.
Video Marketing Strategy – Orchestrating It With Content, Web And Email
It won't take much effort to find people using video in the wrong way.
A one-off video on LinkedIn of you walking your dog or sitting at your desk, in the car or in your conference room talking about a single concept is fine.
It might get a handful of likes and some shares, and maybe a comment or two, but is that your goal? Or is your goal to drive leads, sales opportunities and new customer revenue? No need to answer that.
If you're looking for the latter, then you need to build a more orchestrated video marketing program, one that looks at video more strategically.
What questions do your prospects have? Where in their buyer journeys are they asking those questions? And how can video help you answer those questions?
What story do you want to tell and where in the buyer journey are these stories relevant?
Here are a couple of examples using Square 2 and our prospects:
Buyer Journey Stage – Pre-awareness (Prospects who might not even know working with an agency can help them hit their revenue goals more consistently.)
Pain – Consistently missing revenue goals, or inconsistently hitting revenue goals. Limited insight into revenue forecasting. Lack of visibility into marketing investment return and sales performance.
Video Title – Never Miss A Monthly Revenue Goal Again! How Creating A Revenue Generation Machine Can Transform The Trajectory Of Your Business
Use Case – As part of an account-based marketing (ABM) campaign, the video will be emailed or shared via LinkedIn with targeted CEO, CMO and CRO contacts at targeted companies.
Additional Use Cases – It will be posted on our YouTube and Vimeo channels for SEO purposes. It will also be used in the sales process when we're talking to executive contacts about consistent revenue goal attainment. We'll use it on social media for general posting and sharing, as well as on our website (specifically on the page for people who are just starting their buyer journey). We'll also add it to high-performing blog articles related to this topic and have those blogs updated and resubmitted to Google.
Here is one more:
Buyer Journey Stage – Evaluation (Prospects who have decided to hire an agency and are now evaluating three to five different agencies to make their final decision.)
Pain – It's hard to evaluate agencies. They all sound great on the surface. They all have similar services, similar pricing and similar teams. What do you use to make your decision and how do you know you're making the right one?
Video #1 Title – How To Get 6 Months Of Work In Just 30 Days. All Agencies Are Not Created Equally. (See video on our Accelerated Engagement page.)
Video #2 Title – How Scoop Used Square 2's Accelerated Engagement To Launch An ABM Campaign (See video on our homepage.)
Use Case – These videos are used in the sales process and posted on the appropriate pages of our website to help our agency stand out when compared to others.
Additional Use Cases – These videos will be posted on our YouTube and Vimeo channels for SEO purposes. We are planning on using them in active campaigns launching in the fall. They will be on Facebook, LinkedIn and Twitter. They will be part of an orchestrated email marketing campaign. They are also going to be featured at an industry conference as an asset at the booth.
Video marketing assets almost always have multiple uses, and as long as the strategy is mapped out in advance, the videos can be created with all the use cases in mind.
Try Not To Do One-Offs
One-offs — you know what I'm talking about. They're the kinds of videos you see on LinkedIn or in your email box that are on random topics. I'm not saying they're bad. Some video is usually better than no video, but with so many of these, they're starting to become background noise.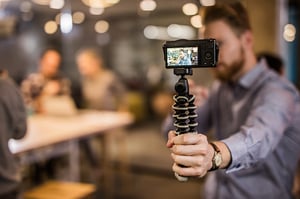 That means you have to work harder to stand out, add value and differentiate your videos from these videos.
The best way to do this is to think a little more strategically. Come up with 12 video ideas, wrap them up in a theme and create a short series that you can tie together.
Make sure these all support your go-to-market strategy, tell your company's story and engage your prospects.
This means you might have to be disruptive, emotional and compelling in the story you're telling. This takes some thought. Simply jumping on the video and talking about your products, services or even your company might not be the best approach.
What are your prospects' challenges? How can you educate, advise and guide them toward solutions to those challenges? This is always one of the best places to start with video. Don't be afraid to express a controversial perspective or opinion.
Be bold and mighty forces will follow. The bolder you are, the better your results. Don't be afraid to offend anyone.
Video For Marketing
We talked a lot about where and how to use video in marketing. You can use video anywhere you were planning on using written content. You can use video in ABM campaigns, in email campaigns, on your website, as part of paid media campaigns and in social ad campaigns. It does wonders for SEO results.
You can use it at events, and just like you make sure you have content for each stage of the buyer journey, you should have videos for each stage of the buyer journey too. Then you'll have the assets you need regardless of the campaign type you're working on.
Video For Sales
Using video in sales is new for most people. That's because sales has always been a very one-to-one effort. Today, the best and most successful salespeople are leveraging video to deliver an even more personalized sales experience for their prospects, and the applications are numerous.
One of the best applications is shortening the sales cycle by removing the weeks of reference checking. You know how it works when prospects request references. You check with your clients, you give out their contact info and then they go back and forth for days trying to coordinate schedules. By the time they finally talk, weeks have gone by.
Instead, give prospects a reference reel filled with the same people they'd be talking to anyway. Now you cut weeks off the back end of the sales process and you can stop bothering your best customers with reference requests.
Sometimes sales has complicated information to share. Emails don't always cut it. Today we're empowering sales teams with video tools that allow them to shoot a quick, personal video from their laptop or device, embed it into their email and send it along.
This is highly personal and makes it easier to tell their story to prospects. Those videos can also be shared across the prospect's organization, helping to get buy-in with today's committee-based decision-making processes.
Marketing can also arm sales with important video content for key places in the sales process and to help with value-oriented aspects of the product or service you're selling. These assets are easy for sales to get and simple to track, so you get data on views, engagement and clicks associated with the video. These are excellent signals to sales on buying intent.
Video For Customer Engagement
The applications here are endless. You can create an entire service channel on YouTube where customer service reps drive customers to get access to helpful videos. Depending on your business, you can have screen-capture videos, how-to videos, instructional videos and feature videos for your products.
As long as these videos are aligned with the questions customer service fields on a regular basis, you might even quickly see your call volume going down. The reason is these videos, when done properly, should rank on search engines, driving even more leads and also answering customer questions before they call.
Now your customer service team can spend more time with customers who really need the help, while other customers simply find what they need on their own. Or perhaps you can transfer some of your customer service budget back to marketing to drive even more new opportunities and revenue for the business.
Investment In Video
What do videos cost? What should you be investing in video? Now you're thinking. The answer is video has come down in cost dramatically. What used to cost tens of thousands of dollars for a few short videos now costs 10x less. In some cases, you can get a single video for around $1,000.
A video like this would look a lot like the ones we linked to earlier in this blog post. It includes closed captions (a must-have because so many people watch videos on their devices with the sound off), light animation, intro music, editing, graphics, B-roll and a call-to-action at the end.
Of course, you can do your own videos for much less, if you're OK limiting the editing, graphics and captioning. Make sure you have high-quality audio, and don't forget the guidance from above – be sure you have something interesting and disruptive to say, or don't spend any time doing any video at all.
Square 2 — Building The Agency You'll LOVE!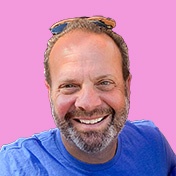 Mike Lieberman, CEO and Chief Revenue Scientist
Mike is the CEO and Chief Revenue Scientist at Square 2. He is passionate about helping people turn their ordinary businesses into businesses people talk about. For more than 25 years, Mike has been working hand-in-hand with CEOs and marketing and sales executives to help them create strategic revenue growth plans, compelling marketing strategies and remarkable sales processes that shorten the sales cycle and increase close rates.