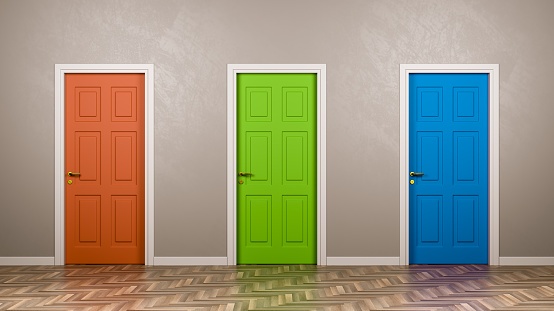 It's Down To Three: You're In The Running, And It's Up To Sales To Keep Them Moving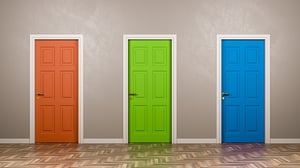 Your marketing performed as well as expected. You interrupted your prospect's status quo, you got them to be aware of new solutions, you helped them consider all of their options and they agreed to do something different.
Now, after careful consideration, they have decided to go with you or one of your two biggest competitors.
Welcome to the Evaluation Stage!
This is a big step, and it's even bigger because it means your marketing produced a sales-ready lead, while your prospect has agreed to jump out of the shadows and engage in a live conversation with your sales team.
The lead is handed over from marketing to sales, and the experience has to continue to be just as advisory, just as guided and just as educational as it has been to date.
Next step? Turn the lead into a sales opportunity.
The Secrets To Turning Prospects Over To Sales In The Evaluation Stage
We're doing massive amounts of research into why buyers do what they do. When we ask them why they chose company A over company B, 80% of the time the answer is that company A had a better sales process.
This means the Evaluation Stage is the make-or-break stage for your company. Not only is it the stage where sales enter the process, but it's the stage where your prospects get to know you and your people in a much more intimate way.
The secret to successful execution in the Evaluation Stage of the Cyclonic Buyer Journey™ is to make sure you're helping your prospects get to know, like and trust you, your company, your salespeople and your products or services.
Since sales is now carrying the ball, creating a remarkable sales process and supporting that sales experience from a marketing perspective is the key to the tactical execution.
The sales team has to guide, advise and educate — not sell.
They have to listen more than they talk. They should be actively questioning to gain a deep understanding of the prospect's specific situation.
They need to provide content in context to the prospect's challenges, issues or concerns. They should provide valuable and actionable insight that the prospect finds helpful.
Prospects should get an experience that includes both written and visual content. Video is an excellent way to enhance the sales experience for prospects in the Evaluation Stage.
Because of these requirements, the tactics, analytics and technologies that go into planning the Evaluation Stage execution is a blend of both marketing and sales-related deployments.
Sales and marketing alignment is key here to manage the handoff, use the assets effectively and provide feedback to marketing on the effectiveness of the tools.
Most Common Mistakes To Avoid In The Evaluation Stage
Believe it or not, you can botch revenue generation in a lot of ways, and this stage is one of the places most companies get it wrong.
One of the biggest is salespeople start selling. Marketing created an excellent educational experience that moved the prospect into Evaluation, but now sales has the full-court press on: Always be closing. That's a big mistake, and it's the fast track to getting a prospect who felt safe to start feeling anxious.
Another mistake is having a big disconnect between marketing and sales. Now that the lead is turned over to sales, marketing has no idea what sales is doing or saying, has no clue what materials they're providing and no feedback is flowing back into marketing.
When the leads die, sales will blame marketing and marketing will blame sales. It's 1990 all over again. This can't happen.
A mistake we see often is when companies execute a bland and uninspiring sales experience. Your prospects are looking for a reason to buy. They're begging you to inspire them to do something different.
The more you can "edutain" them (educate and entertain), the more you can inspire them to attain greatness and the more you can paint a picture of what their future will look like with your solution, the faster they'll close, the more frequently they'll close and the more they'll buy.
The last big mistake we see companies make is they have a general lack of urgency around potential leads. Either companies don't know how to handle inbound leads, they don't think those leads are important or they don't realize timing is key when people express interest.
The Harvard Business Review found that 37% of leads are followed up with within one hour, while the average response time for all leads is 42 hours. It's no secret that about half of all sales go to the vendor that responds first, so if buyers are contacting you when they are ready to talk, why wouldn't you make every effort to speak with them immediately?
Make sure you're highly responsive to people who want to talk to you. It's a great way to make a remarkable first impression and it's easy to do. It's shocking so few companies take the time to figure out this important first touch in advance.
Tactics To Consider For The Evaluation Stage
Since this is where marketing hands the lead off to sales, there's a cross section of marketing and sales-related tactics described here. We also have some tactics covered in other stages of the buyer journey mentioned here but in a different context.
For example, the content marketing execution here is going to be different than the content marketing execution for prospects in the Pre-Awareness or Awareness Stages. This is important to understand. The content you need here is different than the content you needed in these earlier stages.
Here you go:
Website design: This might be the third or fourth time your prospect has visited your site. You want your site to give your visitors easy access to connect with you. It should be easy for them to navigate around, find your contact information and convert on CTAs and forms. You'll want your site filled with back-end-of-the-buyer-journey offers that add value to your prospects' buyer journey.

"

Contact Us

"

is weak, but

"

Learn 3 Ways To Improve Your Website To Drive More Leads In A 30-Minute Consultation

"

is very strong.
Content marketing: You'll need different content here than you needed earlier in the buyer journey. Toward the end of the buyer journey, you'll need more case studies, success stories, testimonial videos and reference reels. You might also want to consider content that helps your prospect analyze their three options, such as questions to ask competitors, insights to consider during proposal review or interview tips to pick the right partner.
Advocacy: It might be a touch early for advocacy in the Evaluation Stage, but it

'

s only a matter of time before your prospect asks for references. To be proactive, create the advocacy assets you need and stage them proactively. Give prospects your reference reel before they ask for references and you'll cut down the need to bother your customers and shorten the sales cycle.
Sales process design: Since this is where the traditional sales process usually starts, it

'

s critical that the entire process is designed in detail. Every step, every email, every call, every piece of content and every experience should be meticulously mapped out and planned.
Content for the sales team: Mapping out your sales process means arming your sales team with content for contextual use with prospects. Knowing what challenges your prospects are facing, what questions they're asking and what issues they're dealing with will help you know what content to provide to your sales team.
Email templates for the sales team: This stage usually comes with its fair share of logistics work, like setting up meetings, calls or video sessions, providing agendas, setting expectations and simply following up professionally but persistently. This means giving reps email templates that makes all of this logistical work consistent and easy to execute.
Sales training: You can't teach an old dog new tricks without some training. (No, sales reps are not dogs; it

'

s just a metaphor.) You need to make sure that all of your salespeople are clear on the process, the tools, the content and the technology. You will need a CRM to help manage this more scripted and designed process. The training is key to make sure everyone is executing in the same way.
Sales coaching: Once everyone is trained, some of the reps might need some individual or team-based coaching to help them learn and apply the nuances of the new story, new process and new content. This coaching allows you to see where the reps need extra guidance, provide it quickly and model the conversations required to help today's prospects know, like and trust you.
Lead scoring: Scoring your leads can provide reps with valuable insight on how to manage their prospects, how to prioritize their prospects and how to tailor that initial contact accordingly.
If you've been following along in the series, you should be starting to see a pattern. A ton of tactics could be deployed all along the buyer journey. The key is selecting the right tactics, setting them up correctly, optimizing them over time and then prioritizing them against other tactics that might enhance or improve overall performance.
All in all, not an easy thing to do.
Metrics To Measure During The Evaluation Stage
The metrics in this stage have almost everything to do with the conversion of leads into sales opportunities. Prospects in the Evaluation Stage should be high-value leads, if not sales opportunities.
You might also start looking at some sales metrics, too. One of the advantages to the buyer journey stage dashboard is you get to see marketing and sales metrics next to each other and measure the effectiveness of your aligned program during this stage, instead of separated marketing and sales metrics.
Here's what you could be looking at to measure the effectiveness of your Evaluation Stage revenue growth tactics:
Percentage of highly qualified leads of total leads based on lead score
Number of sales-qualified leads
Number of sales opportunities
Conversion rate on CTAs (offers) on the website that produce initial sales calls/meetings
Conversion rate on CTAs (offers) on the website designed for people in the Evaluation Stage
Conversion rate on marketing-qualified leads to sales-qualified leads
Conversion rate on sales-qualified leads to sales opportunities
Email click-through and email open rates (response rates to initial outreach emails)
Open rate on content sent by the sales team to prospects in the Evaluation Stage
Lead nurturing click-through and open rates
You should set up some specific Evaluation Stage dashboards to keep real-time track of these metrics. If you're reviewing these weekly and rolling them up monthly to look for gains month over month, you'll be well on your way to having a good handle on the performance of the tactics in your Evaluation Stage.
Technology To Make Execution In The Evaluation Stage Easier
Here are the stage-specific software tools we've looked at, tested and recommend to clients building a rich tech stack around the Evaluation Stage.
Remember, these are all built on top of platform software like HubSpot, Marketo or Salesforce.
Here's your Evaluation tech stack:
LinkedIn: LinkedIn remains a valuable tool for salespeople, especially at this stage. You're talking to one person at your prospect's company, but three or four others could be involved in the decision-making process. Use LinkedIn to connect with your prospect and show up at that first meeting asking about the others who might need to be included going forward.
Conversica: This tool lets you automate the emails and messages associated with contacting, engaging, nurturing and qualifying prospects. You'll get an assistant who never takes a vacation, never makes a mistake and is obsessed about following up with all of your leads.
Drift: The latest and greatest in chat tools, this allows people who have questions to engage directly and meter their own buyer journey pace. If you do a good job educating them, they can accelerate that pace directly with your sales team.
Vidyard: This video platform is now embedded directly into the HubSpot platform, but if you need an enhanced feature set, you'll need to buy it separately. Vidyard also gives you a quick app on your laptop to create sales videos that enhance the communication inside the sales process.
Journey Sales: This firm offers Smart Rooms, which are private digital collaboration spaces where a sales team and a customer team work together, engage key decision-makers, invite colleagues, quickly reach consensus and more.
SalesLoft: SalesLoft is the leading sales engagement platform, helping sales organizations to deliver a better sales experience for their customers.
By smashing the funnel and applying a new map (the Cyclonic Buyer Journey map), we're encouraging people to start building more buyer-centric marketing and sales strategies, executing tactics more thoughtfully, tracking the performance of everything and using technology to automate and analyze your results.
The business outcomes? Month-over-month revenue growth and consistent, scalable, repeatable and predictable revenue generation machines. Give it a try, it works! That's why we guarantee results for our clients.
Square 2 — Building The Agency You'll LOVE!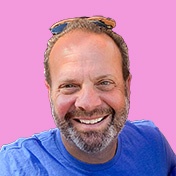 Mike Lieberman, CEO and Chief Revenue Scientist
Mike is the CEO and Chief Revenue Scientist at Square 2. He is passionate about helping people turn their ordinary businesses into businesses people talk about. For more than 25 years, Mike has been working hand-in-hand with CEOs and marketing and sales executives to help them create strategic revenue growth plans, compelling marketing strategies and remarkable sales processes that shorten the sales cycle and increase close rates.