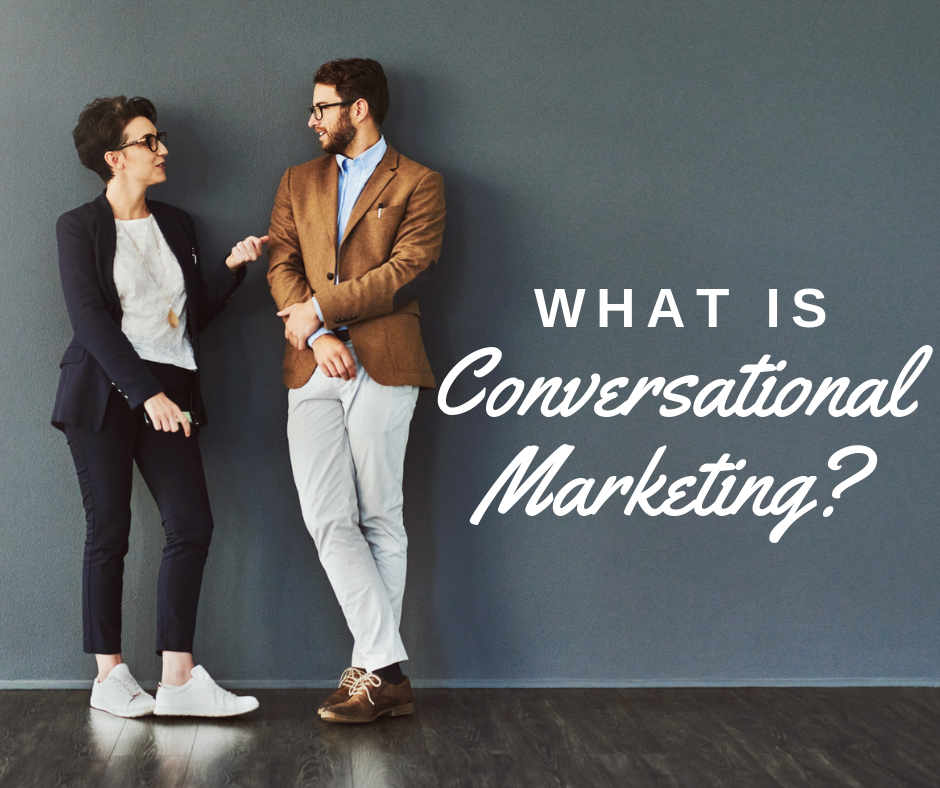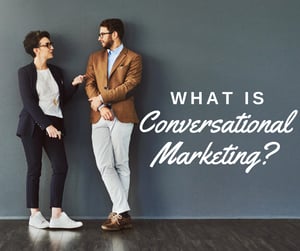 The latest buzzword in the sales and marketing world is conversational marketing. Unless you're living off the grid, you are likely seeing the term on your LinkedIn feed, in your favorite blogs and anywhere else you get your sales and marketing content fix.
But what is conversational marketing and why should you care? Our friends at Drift define conversational marketing as:
"A one-to-one approach to marketing that companies use to shorten their sales cycle, learn about their customers and create a more human buying experience."
Looking at this definition, one might think that creating a more personalized approach would actually take more time, money and effort. Therefore, how could it possibly shorten your sales cycle?
To answer that question, I'll share with you the who, what, when, where and why for implementing conversational marketing based our own implementation this year.
Who Should Your Target Audience Be?
Personas are a key part of conversational marketing, because if you don't know who you are talking to and what they are interested in, you'll be setting yourself up for failure.
Think of it this way: If the secret ingredient to launching a winning website is persona development, then it also is the secret ingredient for conversational marketing.
The great news is your target audience and personas are based on your business, not the marketing medium. If you already have your target market and personas mapped out, you're in good shape. However, if you're not sure who your ideal customer is, here are some questions to ask yourself:
What is their demographic information (age, gender, income, etc.)?
What is their background (title, years of experience, what they do for fun, etc.)?
What are their goals (short-term and long-term)?
Where do they get their information (social media, websites, referrals, etc.)?
What are their pains?
How does your business solve those pains?
What questions do they ask through each stage of the buyer's journey?
You can ask (and answer) many other questions, but this is a good starting point. Remember, you might have more than one persona, so make sure you're thinking about both the influencers and the final decision-makers when mapping these out.
What Tools Should You Use?
The tools you use are almost as important as your personas. You want to find the right tool based on your business, sales and marketing goals. For example, if your goal is to book 50% more meetings next month but the tool you selected doesn't offer meeting booking capabilities, you're off to a bad start.
G2 Crowd shares their recommendations for the best conversational marketing tools . Below is an overview of each of these platforms:
HubSpot Conversations
Built as part of HubSpot CRM, HubSpot Conversations provides live chat, a meetings booking tool and chatbot functionality, allowing you to automate conversations during and after business hours.
Drift
Launched in 2015 as a way to simplify marketing and sales communications, Drift continues to add new features, including chatbots, a meetings booking tool, account-based marketing functionality, and the ability to quickly create landing pages with chatbots from their library, as well as an automated help center to answer FAQs about your business.
Conversica
Unlike Drift and HubSpot Conversations, Conversica provides you with an automated sales assistant that can identify sales opportunities and respond quickly. Built on AI, your virtual assistant collects details like the best phone number to use, the best time to connect and purchase criteria to better arm your sales team.
Saleswhale
Not a chatbot but rather an AI sales assistant, Saleswhale provides personalized email messages with a human tone to prospects, nurturing them until they are ready to buy. If that isn't enough, self-learning is built in, so if your AI sales assistant isn't able to respond at a 92% confidence threshold, communication is marked as "human review" for you to handle. Based on your response, your AI sales assistant will learn for the next time.
Intercom
Intercom launched in 2011 with a suite of messaging-first products to help accelerate growth from lead to acquisition to support. You can target visitors based on their interactions on your website and Clearbit data. You can also select where, when and to whom your messenger is shown. And with the option to A/B test, you can continually improve the performance of your messenger.
As you can tell, each tool offers something different when it comes to conversational marketing. You might even consider stacking two or more of these as part of your larger tech stack to have a more robust offering.
For example, we are using Drift for our chatbot, live chat and meeting scheduling. We have also recently partnered with Conversica to explore the use of AI technology for our sales nurturing process. This combination of tools will give us a more robust conversational offering for our prospects.
When Should You Implement It?
What are you waiting for? Conversational marketing, chatbots, live chats and AI technology are not going away. The time is now if you want to get ahead of your competition.
While the strategic development and actual implementation of conversational marketing can take some time (and varies based on your business, persona and selected tool), the overall time savings and ROI could be huge for your organization. But you don't have to take my word for it:
HubSpot generated a 20% increase in qualified leads by merely adding live chat as a communication channel.
Aventri, a global events management software company, booked $1.7 million in new business in their first five months using Drift.
Conversica boasts a 35% average lead engagement, meaning that over one-third of all leads respond to their outreach.
Now those are some stats I can get behind! How about you?
Where Should You Implement It?
The answer to this question depends on what tool(s) you select and their functionalities. But here are some of the core places you could implement different types of conversational marketing for your business:
Website
Landing page
Blog
Meeting book
Email marketing (including marketing and sales communications)
Social media (leveraging tools like Facebook Messenger)
It's important that you take into consideration where you want to implement conversational marketing when selecting your tool. For example, if you definitely want to give visitors the ability to book a meeting on your site or from your email signature but a meeting booking tool is not part of your tool's functionality, you might be back to square one.
Why Should You Implement it?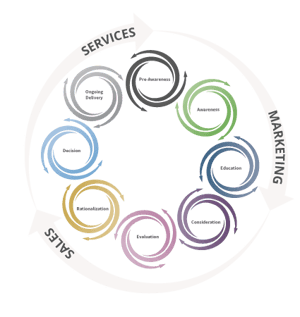 Buyer behavior has changed, and sales and marketing are no longer in control of the sales process.
The old sales funnel is no longer relevant, as buyers don't gracefully flow from awareness to consideration and down to decision-making, popping out as customers. The process is much more chaotic today, as prospects bounce around between eight different stages until (and if) they make their decision to buy.
So as marketers, it's our responsibility to arm them with the information that is most relevant based on their interests and then to be there when they're ready to talk to us. We need to flip the script and take a more prospect-centric approach to sales and marketing, building relationships that inspire growth.
This idea of growth built on relationships takes us full circle back to the definition of conversational marketing. Businesses need to create one-to-one relationships at scale if they want to grow, and what better way to do that than with conversational marketing?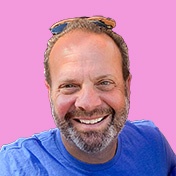 Mike Lieberman, CEO and Chief Revenue Scientist
Mike is the CEO and Chief Revenue Scientist at Square 2. He is passionate about helping people turn their ordinary businesses into businesses people talk about. For more than 25 years, Mike has been working hand-in-hand with CEOs and marketing and sales executives to help them create strategic revenue growth plans, compelling marketing strategies and remarkable sales processes that shorten the sales cycle and increase close rates.