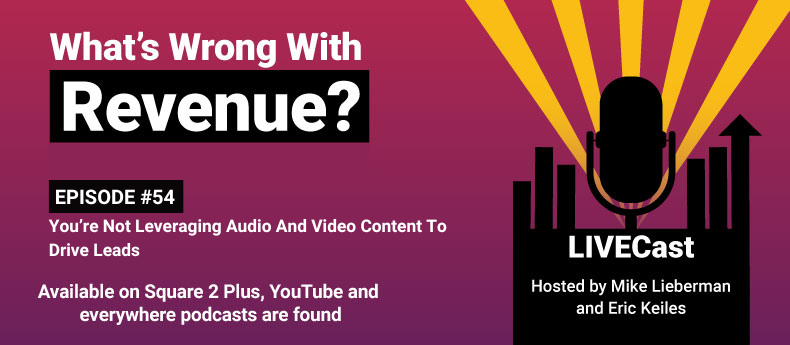 This show aired LIVE on October 5th. To watch the show on demand, visit the show page here. To see all our audio and video content, check out our new free streaming service, Square 2+.
In this episode of What's Wrong With Revenue? we go deep on a tactic that remains widely underutilized in most B2B marketing campaigns — audio and video content.
One of the biggest takeaways from this show is that company leaders are still wondering if video and audio content is right for their audiences, and the answer is 100% yes!
Podcasts and videos continue to be the number one way that people get their information.
It's predicted that the number of podcast listeners globally will hit 424 million by the end of 2022.
Get in the game now, or else your competitors will beat you out eventually. Today, it's easier than ever to shoot a video, record a podcast and then use that content in demand generation, inbound and sales execution campaigns.
Perhaps equally important is how easy this type of content is to create, allowing you to scale your content creation efforts. In a single hour you could produce a video or a podcast, host a live show, create a new blog post, get shorter snippets for social media and arm your sales team with a new piece of content.
All of that can cost around $500 if you do some postproduction, use posting automation and consider the time it takes to prep for the show.
When compared with the cost to create an e-book, you might be looking at one-tenth of the cost. Nothing matches it.
We talked about what typically holds people back from starting this type of initiative, and it came down to two reasons — either they're not comfortable on screen or they don't know what to talk about.
Both of those are easy to remedy. Several tools today allow you to write out what you want to talk about. Simply recording a casual conversation on Zoom makes doing shows like this much easier.
If you're not sure what to talk about, start with issues trending in your industry, challenges your prospects and customers are facing or questions your prospects continue to ask you during the sales process.
By taking an interesting position or sharing a thought-provoking perspective on any or all of these topics, you'll quickly find you have enough to talk about for at least 20 to 30 minutes. Before you know it, you'll have new audio and video content on a regular basis.
This might have been one of our best shows — click here to watch the show.
If you'd like to subscribe to the show, we'll send you reminders and email you a link after each live show – just click here. If you'd like to submit a question to the show, we answer questions every week – just click here.
If you want to watch the show and all the other audio and video content published by Square 2, visit our Square 2+ page. It's full of valuable content related to marketing, sales, technology, revenue growth and more.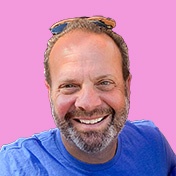 Mike Lieberman, CEO and Chief Revenue Scientist
Mike is the CEO and Chief Revenue Scientist at Square 2. He is passionate about helping people turn their ordinary businesses into businesses people talk about. For more than 25 years, Mike has been working hand-in-hand with CEOs and marketing and sales executives to help them create strategic revenue growth plans, compelling marketing strategies and remarkable sales processes that shorten the sales cycle and increase close rates.