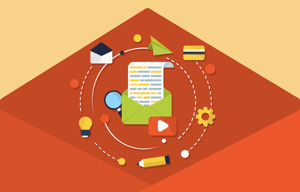 Email marketing. Is it a marketing tool that pays real dividends? Is it worth spending time on? You could ask ten different marketers and get ten different responses to that question. Is it still a useful tactic? According to 99firms, 96% of companies in the USA in 2017 opted to either maintain their email marketing budget or increase it.
If you want more statistics about this very issue, check out this infographic that 99firms was kind enough to provide. The infographic breaks down everything you could possibly want to know about the subject.
So, is it dead? Not by a long shot. Of course, that doesn't mean that we can carry on as we always have with email marketing. We need to take a far more targeted approach to ensure that the emails we send out are most relevant for our audience.
Before you fire off your next email, we have a couple of exercises for you to complete.
Clean up Your Email List
So, how do you ensure that your mail gets read instead of being relegated to the spam folder? It's simple. Before you even think about trying to send out an email, take some time to go through your email list.
Put everything into an Excel spreadsheet and then sort the data by email address first. If you are like most other businesses out there, you are probably going to find a few duplications.
Say, for example, the accounts clerk named Sam leaves and Gill takes his place. Not a problem – the email is a generic accounts@company.com. But what happens if the person updates the list without removing the previous listing?
That means that when you send a marketing message out, you send one to Sam and one to Gill. The catch – both messages are going to the exact same place. It's not ideal, is it?
You will also find areas where you have duplicate listings for a client, or clients that have more than one email address. If this happens, go back to the last email campaign and see which email was opened. If more than one was opened, call the client and ask them where you should send emails to.
Every client should only have one email address associated with them, and every email address on the list should be unique. If you leave in duplications, you run the risk of irritating clients at best or spamming them at worst.
Segment Your List
The way you segment your list is going to depend on what criteria you want to focus on. You could, for example, segment the list in terms of address, age group, goods they purchase, etc.
The reason you segment your list is so that you can personalize your emails even more. Say, for example, you have just come up with a great, "Beat the Summer Heat" product, and you have a global database of potential clients to send the email to. Hold off on hitting that send button.
Sure, where you are located, it's the middle of summer, so it's hot. Is this the same for all your subscribers, though? What about readers in the Southern Hemisphere, like those in Australia or South Africa? Considering that they are in the middle of their winter, are they really going to be interested in the info?
By segmenting your list, you are better able to provide content that those on the list want. That means less spammy emails, fewer unsubscribes, etc.
Check out this infographic to learn more.