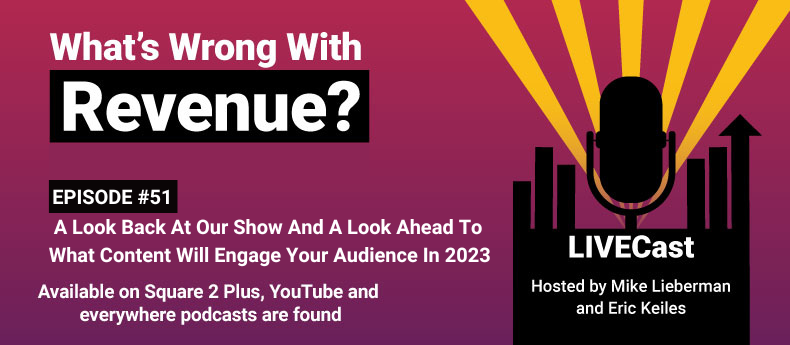 This show aired LIVE on September 21. To watch the show on demand, visit the show page here. To see all our audio and video content, check out our new free streaming service, Square 2+.
In this episode of What's Wrong With Revenue? my guest host, Bob McCarthy, Content Director at Square 2, unpacked a new and emerging challenge relating to content, content creation and content marketing.
Over the past couple of months, we've been observing an interesting trend. People are less interested in the standard e-books, infographics, whitepapers and tip guides. We also heard at INBOUND 22 last month that blog articles and pillar pages are less effective than ever.
So, what does content look like today and how should you be thinking about it in 2023 so that you continue to produce content that generates leads, sales opportunities and new customers?
We talked about a couple of solid strategies in detail during the show.
The first involves starting to think about content like the streaming services do. That means more video content, more audio content and more content that looks and feels like a show, instead of simply talking heads or interview-style content.
The second is looking at your prospects and customers as a community that needs to be nurtured, cultivated, invited, engaged and educated while providing members with access to each other.
This puts an entirely new spin on content creation. For example, you can engage your community to create content, activating them to participate in the content creation process and encouraging them to tell you what content they want and in what formats. The people who watch and listen to this show are a community.
We also talked about how data has shown that people are much more interested in tools than educational materials. They want templates, frameworks, workbooks and modularized guides that they can use in their businesses as opposed to items they simply read.
Content in 2023 is going to start changing much more quickly, and your ability to create the right content is key to reaching your revenue goals.
Now is the time to start planning your content marketing strategy for 2023. Let us know if you want to talk with us about your plans – we're happy to provide guidance and support.
If you'd like to subscribe to the show, we'll send you reminders and email you a link after each live show – just click here. If you'd like to submit a question to the show, we answer questions every week – just click here.
If you want to watch the show and all the other audio and video content published by Square 2, visit our new Square 2+ page. It's full of valuable content related to marketing, sales, technology, revenue growth and more.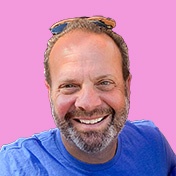 Mike Lieberman, CEO and Chief Revenue Scientist
Mike is the CEO and Chief Revenue Scientist at Square 2. He is passionate about helping people turn their ordinary businesses into businesses people talk about. For more than 25 years, Mike has been working hand-in-hand with CEOs and marketing and sales executives to help them create strategic revenue growth plans, compelling marketing strategies and remarkable sales processes that shorten the sales cycle and increase close rates.