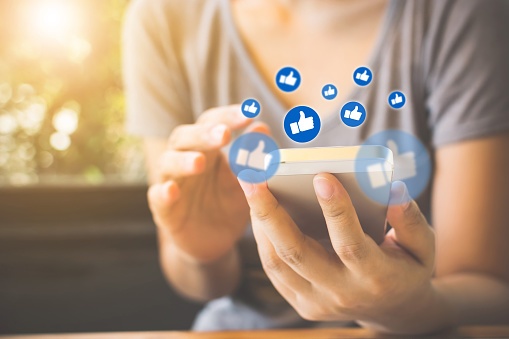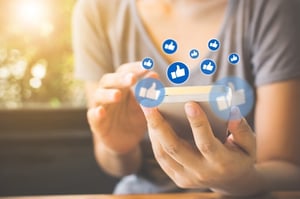 Earlier this year, the public's perception of Facebook shifted after a historic data-harvesting scandal. According to an article in Business Insider, the platform's user growth is showing signs of a plateau for the first time in its history.
Still, Facebook remains the most popular social media platform in the world, with 241 million monthly active users in the U.S. and Canada.
Facebook Still Matters For B2B Audiences
Consider these social media statistics from the Pew Research Center:
78% of internet users between the ages of 30 and 49 use Facebook, while only 33% of internet users in that age group use LinkedIn.
65% of internet users between the ages of 50 and 64 use Facebook, while only 24% of internet users in that age group use LinkedIn.
It's not time (yet) for B2B companies to completely abandon Facebook, but they must start pulling back time and resources spent on the platform. The key to optimizing your Facebook strategy in 2018 is to maintain a respectable presence while minimizing the platform's role in your overall social media and marketing strategy.
Here are three ways to optimize your Facebook strategy.
1. Adapt To Facebook's Content Policies
Over the last few years, Facebook has been changing its algorithm to prioritize organic content shared by family and friends. Earlier this year, Facebook announced it was deprioritizing "engagement bait": posts that "goad users into interacting with likes, shares, comments and other actions."
Keep up with Facebook's algorithm changes so you can adapt your copy guidelines accordingly. Thinking about your company page as a trust element for your business, and share content that Facebook's algorithm may identify as organic.
Use Facebook to target potential employee talent and prospective clients within your network on the platform. Avoid overt calls-to-action, and instead post about company events, awards and milestones, and team member highlights.
2. Understand The State Of Organic Reach
According to HubSpot, in 2012, Facebook posts reached an average of 16% of a page's fans. By 2016, this number dropped to 6.5%. It has become increasingly difficult to reach users on Facebook without paid content – but not impossible.
Even if your organic posts reach 1% of your page followers, you still have an opportunity to nurture that small handful of prospects, whether they're potential clients or potential employees.
3. Post Less Frequently Compared To Other Platforms
Keeping the state of organic reach in mind, it's important to prioritize social media channels by their potential value to your business. In 2018, Facebook can still help you reach prospects, but not nearly as much as LinkedIn and Twitter. Allocate your resources accordingly.
Save time for higher-potential platforms. You should post on LinkedIn and Twitter once or twice per weekday, and on Facebook just once or twice per week. The key to optimizing your Facebook strategy in 2018 is maintaining a respectable presence to ensure you don't miss out on the quality prospects who are still engaged with the platform.
Facebook's value for B2B companies is shifting, and the future of B2B social media strategy almost certainly lies in adopting a multi-channel approach. But for now, Facebook should remain an important aspect of any B2B company's social media presence.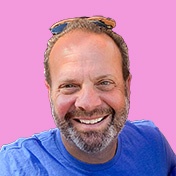 Mike Lieberman, CEO and Chief Revenue Scientist
Mike is the CEO and Chief Revenue Scientist at Square 2. He is passionate about helping people turn their ordinary businesses into businesses people talk about. For more than 25 years, Mike has been working hand-in-hand with CEOs and marketing and sales executives to help them create strategic revenue growth plans, compelling marketing strategies and remarkable sales processes that shorten the sales cycle and increase close rates.