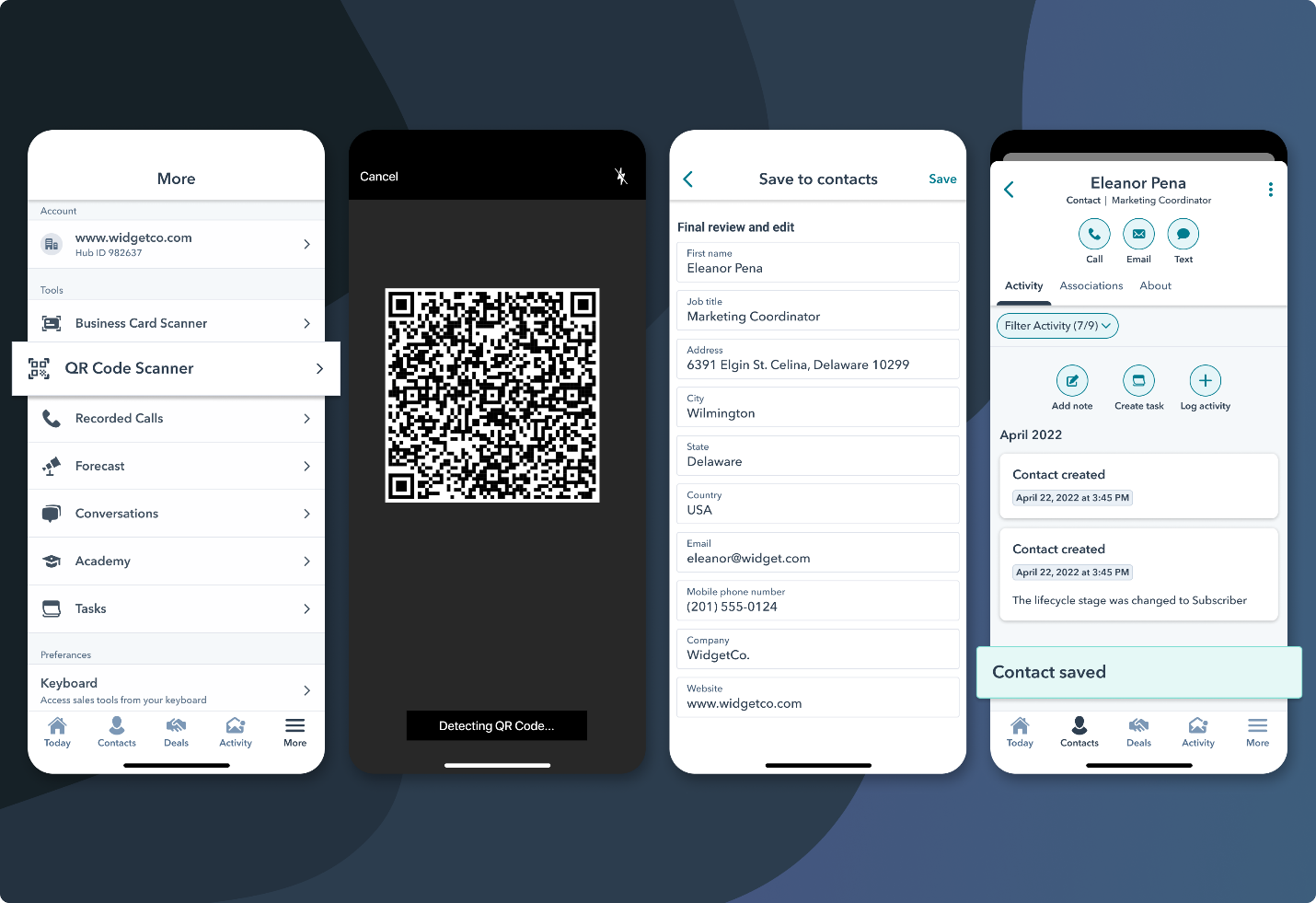 HubSpot just finished another month that included a massive amount of product updates. We take the time to sort through all the updates and highlight those that are relevant to the most people.
As one of HubSpot's largest and most experienced partners, many of these updates are already being used at our clients, but by sharing these here publicly, you have the chance to keep up to date on the latest and greatest at HubSpot.
If any of these new updates get you thinking about your own installation of HubSpot or using HubSpot for your business, let us know. We're here to help.
We also send a monthly email with these updates. If you'd prefer that method of delivery, click here to subscribe.
Product Peek 1 – Mobile QR Code Scanner Is Now Live
In May, HubSpot relaunched its QR code scanner, which enables sales reps to quickly create and save new contacts in their CRM through a simple two-step process associated with easily reading a QR code.
This is interesting to me. As a former app user (I used the app religiously a few years ago, but today I rarely use the app), I'm encouraged to see features being put back into the app. This is especially cool as people get back to trade shows, conferences and networking.
I recently shared this with a client who was headed to a big show. They were talking about renting the show scanner but ended up using the HubSpot app and their smartphone because of the QR code scan feature discussed here.
Sales reps can access the QR code scanner by navigating to the "more" tab within the mobile HubSpot app when creating a new contact on the mobile CRM page or by long-tapping the HubSpot app icon and accessing it through the home screen shortcut.
The QR code scanner is available to all HubSpot customers. Just head over to your app store for either Android or Apple and download the HubSpot app to start scanning.
Product Peek 2 – Playbooks, Call Transcription And Coaching Now Available In Sales And Service Professional
Customer conversations are the richest source of actionable insights for both sales and service leaders and reps. Until today, Sales and Service Hub Professional customers were expected to lead engaging, meaningful calls with prospects and customers while also scribbling down notes of the most important information.
This can be distracting and result in unfocused conversations, not to mention countless hours of lost customer data.
Now with playbooks, reps can have focused conversations with customers, and managers can rest assured that reps hit all the key points. Playbooks make it easy to take notes as you go, keeping the customer responses in the context of the questions they answer.
With call transcription and coaching, you never have to worry about losing data you don't write down.
The added ability to search within a transcript or across all your transcribed calls makes it easier than ever to find exactly the information you need. Managers can use transcripts and search to provide focused feedback for reps without having to listen to an entire call.
Sales Hub Professional customers can create up to five playbooks (vs. 5,000 in Enterprise) and do not have the ability to add embedded properties.
Call transcription and coaching in Professional gives you access to 750 hours of transcription. Recordings made by users with an assigned Sales or Service Hub Professional seat will be transcribed.
Getting started with transcription is easy and starts with capturing recorded calls in HubSpot.
Use HubSpot calling? Navigate to Settings > Calling and check "Allow Call Recording."
If you use a third-party for calling, like Zoom or another supported provider, install the integration and then follow individual steps to add recordings to HubSpot.
Next, turn on transcription (you'll need to be an admin of your HubSpot portal). Go to Settings > Calling > Transcription and Analysis, then turn on Transcription and Analysis. Once the transcription is turned on, HubSpot will transcribe the last seven days of recordings if they are present. You will be notified when the recordings are transcribed.
Users can click into Contacts > Calls > filter by Transcript Available is True and click into any call recording to review and search the transcript.
This is critical to see improvements in both sales and service call performance. Shorter sales cycles, higher close rates, more effective customer service issue resolution and better cross-sell and upsell service calls all come from more data-driven coaching with reps using live call records and live conversations.
It might sound like the next level to some of you, but it's how you'll grow your company on the new customer revenue and current customer revenue sides of the business.
Product Peek 3 – Step Up Calls With Conversational Intelligence
Here's an excerpt from a blog post at Quantified:
According to G2: "Conversation intelligence is software that uses artificial intelligence (AI) to analyze speech or text in order to derive data-driven insights from conversations between sales agents and customers."
Conversational intelligence for coaches and managers uses science and AI to evaluate and measure sales conversations and provide detailed, personalized reports on performance across dozens of measured behaviors.
Sales managers and coaches use these metrics and insights to shape their strategies based on science and numbers. The most sophisticated software uses sophisticated technology to detect communicational cues and information that would otherwise go unnoticed, like subtle verbal signals or body language.
The HubSpot App Marketplace now has several third-party calling apps that help you gain valuable insights from your customer calls. Built on HubSpot's Conversation Intelligence platform, these apps support playable recordings and, depending on your HubSpot plan, transcriptions and call analysis.
These apps include Aloware, Callingly, CallRail, Fusion, JustCall, Kixie and Zoom.
Now, you can use these Conversation Intelligence apps to send authenticated recording URLs for playback inside of HubSpot, so all your call recording data is securely stored in one place.
Navigate to the Apps for Conversation Intelligence collection in the left sidebar of the HubSpot App Marketplace. Select an app and follow the prompts to install it.
Next time you use the app to place calls via HubSpot with call recording turned on, the app will send authenticated recording URLs for playback inside of HubSpot, which allows for recordings to be linked securely alongside the logged call object. Once a recording URL is added to the call object, it will be playable with call controls and commenting.
If you have access to HubSpot's Conversation Intelligence, you can automatically record, transcribe and review calls made in HubSpot, including calls made with third-party calling apps.
Now your sales and service reps can learn from the hidden meaning, cues and subtle references prospects and customers make that could go unnoticed during the course of the call. It's the next step in call improvement tools that drive business growth.
Product Peek 4 – Forms Now Included When Cloning A Marketing Campaign
Cloning is a feature many marketing operations and campaign managers use to be efficient when creating new campaigns. Today, you can not only clone individual assets but also the whole campaign, including all associated assets.
However, campaign asset cloning is not yet available for all asset types, and this launch focuses on the ability to include forms as part of a campaign cloning process.
When cloning a whole campaign that contains multiple assets, it makes sense to not only clone the broad campaign structure and settings but also the associated assets. In the future, HubSpot will give you the choice to select the associated assets that need to be cloned as part of the campaign.
With this update, forms are now included when cloning whole campaigns.
Let's show you how it works:
As you can see in the screenshot below, Campaign A has two different asset types: one email and one form.
You now want to clone the whole campaign, so you select Clone in the top right: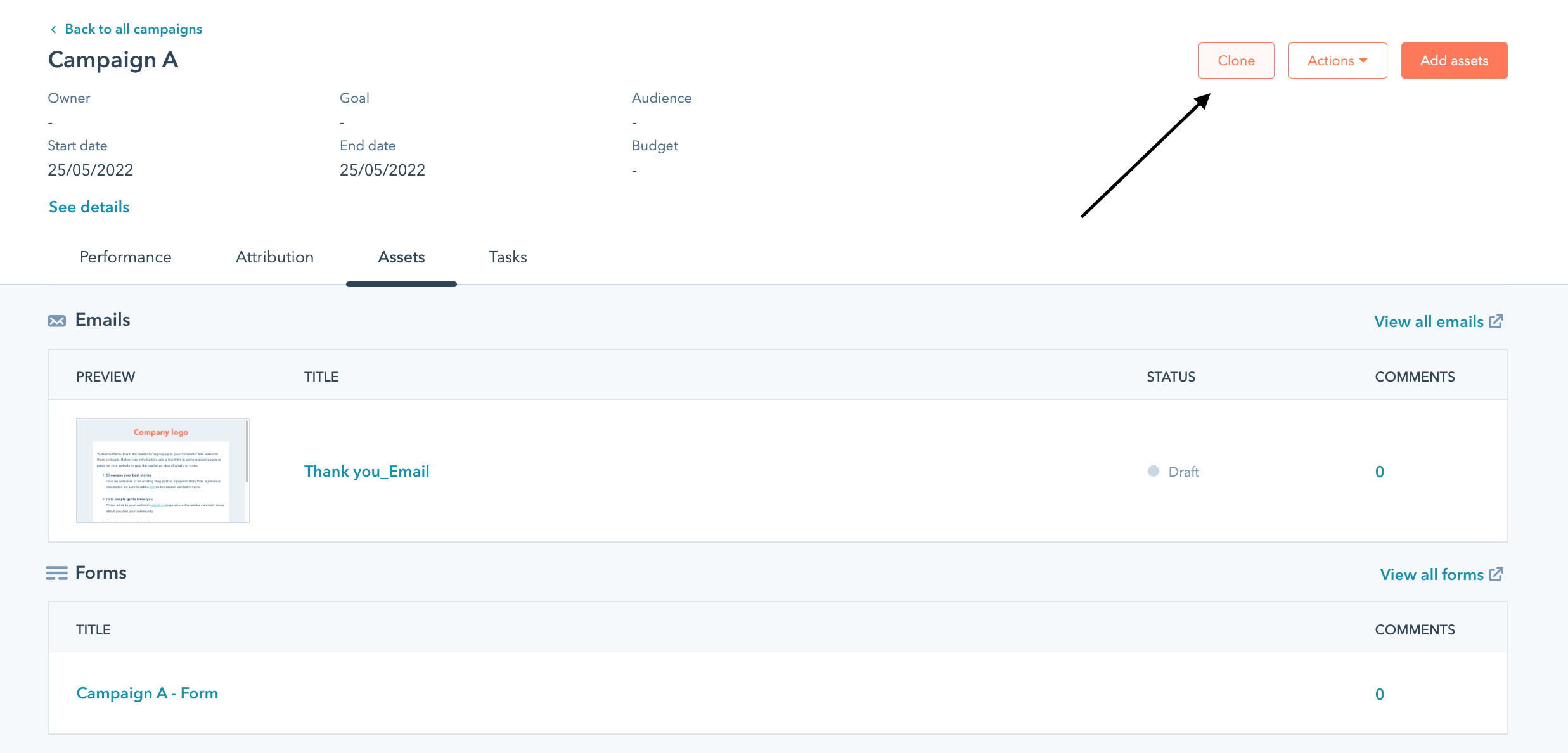 After you clicked on Clone and have filled in all relevant new campaign details (the name of the cloned campaign is Campaign B), you'll see a Cloning progress bar.
When clicking on View Campaign and selecting the Assets tab, you can now see both cloned assets – before, you would only see the email associated to it.
See below: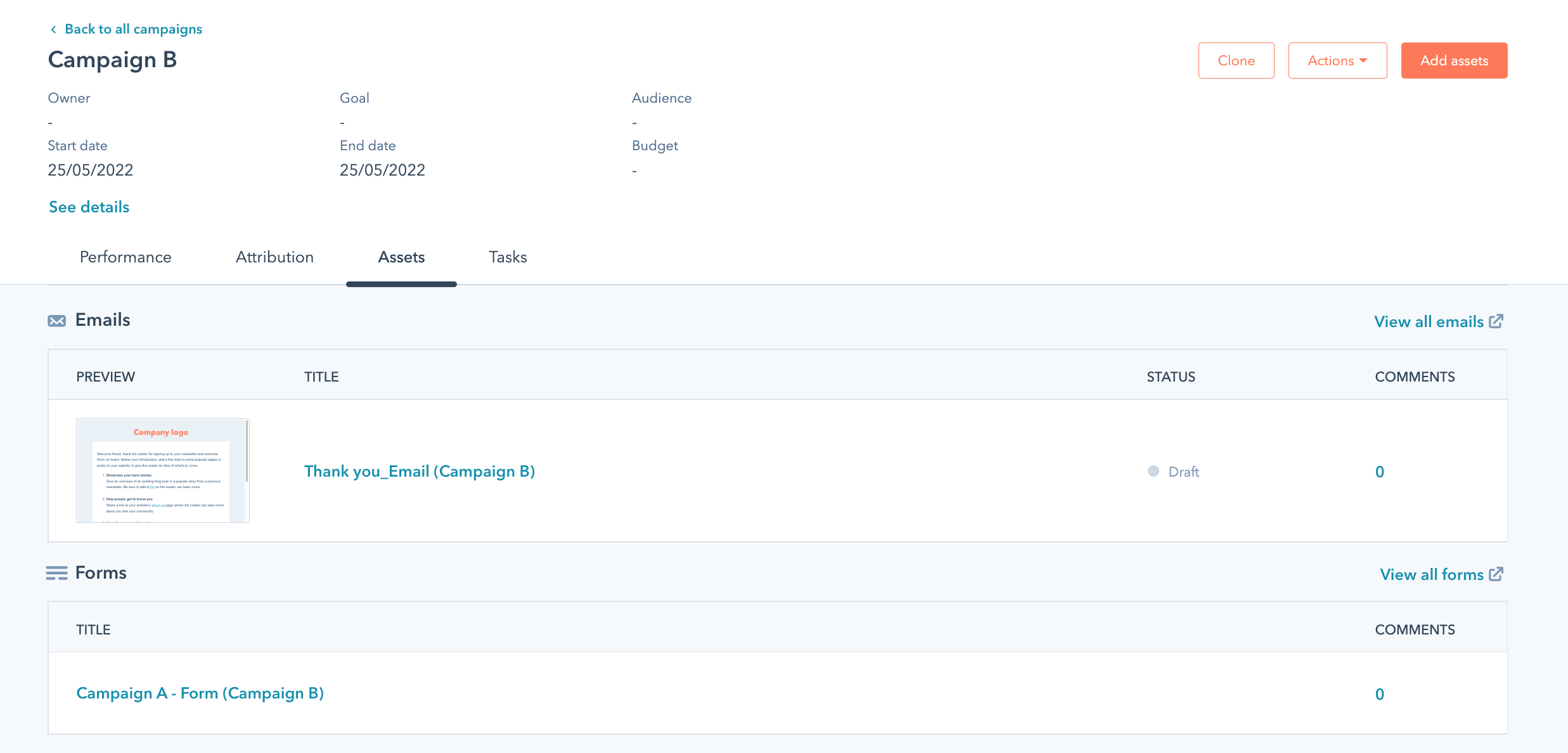 HubSpot is continuously working on the cloning features for campaigns, so stay tuned for more updates in the future.
Product Peek 5
–

Users And Teams Partitioning For Social Accounts

Social accounts can now be assigned to teams and users. In your HubSpot social tools, you can filter on the Manage and Analyze tabs by teams or users to see the social account data that matters most to your teams.

Marketing teams often run multiple social accounts within HubSpot. However, not every team should have access to publish or see data from every connected social account. In the past, a super admin could only restrict accounts on a single-user basis.

Super admins only have the ability to assign users and/or teams to social accounts.

To assign a social account to teams and users, navigate to Settings > Marketing > Social. You can then click under the Account Access column to assign the social account to everyone, specific teams and users or a specific person.

As a super admin, you will have a filter to see all users and teams on the manage and analyze tab. A non-super admin user will only see the data assigned to them or their team.

Here is a video to walk you through the new experience.

This functionality is live for all Marketing Hub Enterprise customers.

Keeping up with the rapid change and new features being rolled out by HubSpot should be someone's responsibility at your company. If you don't want the role in-house, consider an agency to support the ongoing upgrades and updates associated with HubSpot that you'll need for your business.

Marketing operations, sales operations and revenue operations roles are more important today for companies that want to grow. Ongoing operations of HubSpot, optimization of your processes around HubSpot and the general growth of your company are aligned perfectly to these new RevOps roles.

For more information on how RevOps helps you grow, click here to schedule a time to talk with us about adding RevOps to your growth plans.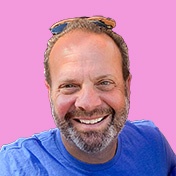 Mike Lieberman, CEO and Chief Revenue Scientist
Mike is the CEO and Chief Revenue Scientist at Square 2. He is passionate about helping people turn their ordinary businesses into businesses people talk about. For more than 25 years, Mike has been working hand-in-hand with CEOs and marketing and sales executives to help them create strategic revenue growth plans, compelling marketing strategies and remarkable sales processes that shorten the sales cycle and increase close rates.