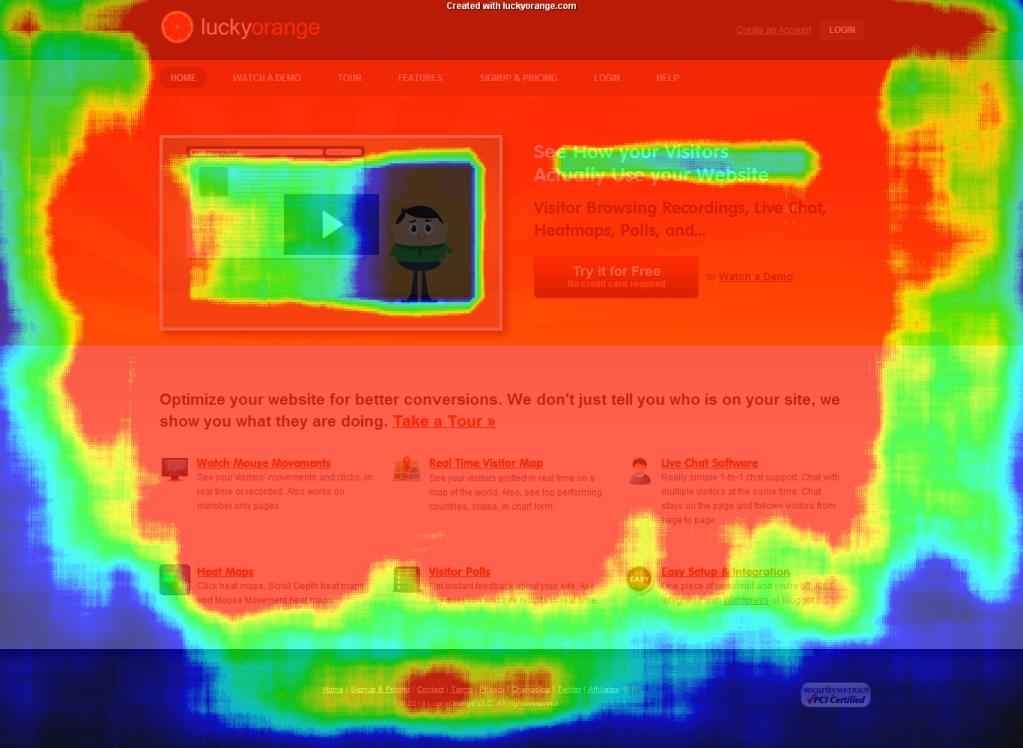 Heat Map Data Provides Real Action-Oriented Feedback To Help You Drive More Leads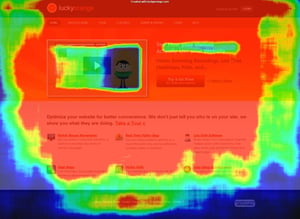 Using heat maps on your website is like being James Bond on the web.
In practice, you get to spy on your target audience. However, like James Bond, you're not trying to be evil. You're just trying to see what your visitors and your potential customers are doing, looking for and valuing.
You want to take a similar approach to search engine optimization and ensure your prospects are finding your website.
You want to find out which keywords people are using to find businesses like yours and take advantage of that intelligence. Fortunately, using heat mapping analytics helps you streamline your SEO efforts and improve the main source of sales leads for your business — your website.
Here's how you use heat mapping analytics and software like Lucky Orange to augment your website's performance.
1. Use Heat Mapping Analytics To Determine Ideal Content Length
Creating valuable content is the crux of online marketing. Without it, it's impossible to influence your website's online ranking. However, producing content can be a bit paradoxical.
Several studies prove that long-form content (content over 1,500 words) results in increased rankings, and then marketing experts like Neil Patel (and countless others) preach that increased content length doesn't explicitly lead to success.
So what gives?
Sometimes really long content that answers a lot of questions is the answer, and sometimes concise content that gets to the point is what your audience wants.
Heat mapping analytics helps you determine the ideal content length for your content marketing campaigns. By putting these analytics to work, you see just where your site's visitors are engaging with content and where they're leaving your content — and you get to see this on each web page.
Then comes the easy part. Are a majority of your web users leaving on the 1,000th word? Are they reading the entire page but not converting?
Using heat mapping analytics helps you determine if your content is too long or short and make necessary adjustments to improve your bottom line.
Keep in mind that some visitors on some pages might want short content, while other visitors on other pages might want longer content. Make sure you have the right offers on the right pages.
2. Use Heat Mapping Analytics To Test Web Page Structure
Content isn't the only factor that determines the rankability of a web page. According to one study, the average top-ranking article has at least nine images.
Successful online articles also have a table of contents to give readers fast access to the vital information they're looking for.
Does this mean that you should include a table of contents in your articles and 11 images? No.
By the way, images tend to slow down the performance of your site pages if they're not optimized correctly. Slowly loading website pages signal to Google that the experience is not optimal. Images are great, but they have to be used properly.
All audiences are different, and you can't expect to use what works for someone else to generate positive results on your end. Instead, heat mapping analytics help you determine the issues that might be hidden with your web page's structure.
Do you notice a high heat concentration near your navigation bar? If so, adding a table of contents may be helpful. Are you also noticing that your images have a high heat concentration? If so, add more.
Heat mapping analytics, unlike research, can provide you with unique insights for your website that will help you create a more optimal experience for your visitors, which should increase conversions and page rankings.
3. Use Heat Mapping Analytics To Improve Internal Links
Regardless of how you feel about Wikipedia, one thing is certain — their webmasters are experts at creating and mandating their contributors to use inbound links.
If you've ever surfed on Wikipedia, you've likely got lost for several minutes hopping from one page to another, especially if you were researching an unfamiliar topic.
The same principle should apply to your website, and heat mapping analytics can help. Unlike Google Analytics, heat mapping shows you exactly the links your web users click and the ones they don't.
If you notice a trend of similar links being clicked more often than others, then you can use A/B testing to prove that the pattern works, thus improving your link-building strategy and encouraging users to stay on your site for more time.
Heat mapping software also shows you the assets, images, icons and areas on your site pages where your visitors expect there to be links. When a visitor hovers their mouse on parts of your pages, they may be expecting a link or hoping for a link.
This is an excellent signal to turn that asset into a link and continue the browsing experience for your visitors. By the way, average page views and average time on site are both signals to Google that your page is delivering value.
The more links and the more clicks, the better.
4. Pages Are Long, And You Want To Know How Far Down Each Page Your Visitors Are Scrolling
Today, your visitors are on your site while on their phones. Most of our websites are built with long scrolling pages. This makes the device viewing experience better, but it also puts parts of your site pages in jeopardy.
Are your visitors scrolling down to the bottom of the page?
This is especially important when you put your big and most important offer at the end of the page. If you want to drive demos and your demo offer is at the bottom of the page, are people even getting to see that because your page is so long?
Heat mapping software can also track how your scroll is performing. What percentage of people are scrolling down to the bottom of the page? How far are most people scrolling? This helps you position offers and position information on your site pages.
This is how you drive conversions and site ranking with the scroll data from heat mapping software.
Square 2 — Building The Agency You'll LOVE!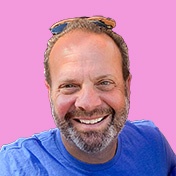 Mike Lieberman, CEO and Chief Revenue Scientist
Mike is the CEO and Chief Revenue Scientist at Square 2. He is passionate about helping people turn their ordinary businesses into businesses people talk about. For more than 25 years, Mike has been working hand-in-hand with CEOs and marketing and sales executives to help them create strategic revenue growth plans, compelling marketing strategies and remarkable sales processes that shorten the sales cycle and increase close rates.