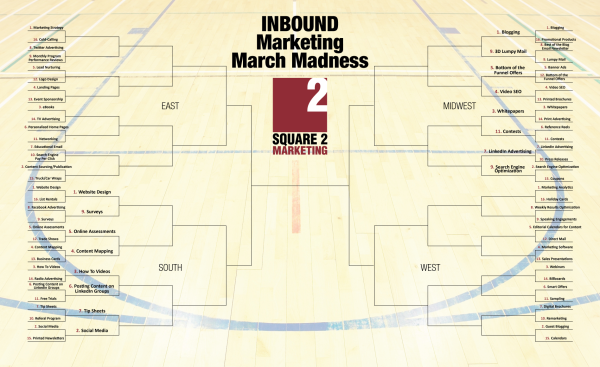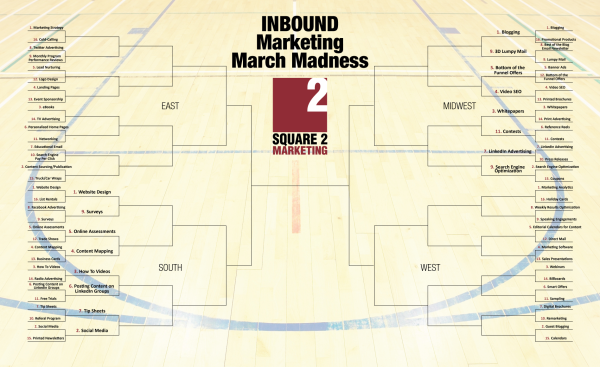 Hopefully you've started following the Inbound Marketing field of 64 top marketing tactics. We kicked it off yesterday with a post that outlined how we judge the tactics and how we are going to follow along as the basketball tournament moves forward.
Just like in the NCAA tournament, 16 marketing tactics went head-to-head yesterday, and today, we want to report on the results.
Two regions kicked off the tournament with games yesterday in the South and Midwest Regions. In the first game within the South Region, one-seeded Website Design easily defeated the 16-seed List Rentals. Remember, one of the key criteria for these tactics is earning new contacts instead of buying them.
In that same region, the nine-seeded Surveys upset the favored eight-seeded Facebook Advertising. The major benefit of surveys is the data you collect on your prospects. Also take into account that Facebook Advertising, while very segmented and targeted, is still just that – advertising.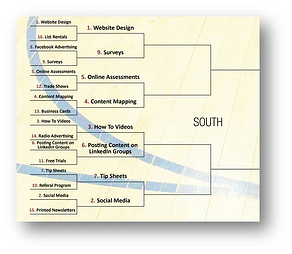 Sticking to the South Region, number two ranked Social Media had no trouble with number 15 Printed Newsletters, and number three ranked How-To Videos dominated number 14 ranked Radio Advertising. With the amount of website traffic Social Media now contributes, and the wide variety of uses for How-To Videos, both of these were easy games for the winners.
Jumping to the Midwest Region, the top seeds had little trouble with their competitors. Number one ranked Blogging stomped on the 16th ranked Promotional Products. Number two ranked SEO ran all over number 15 ranked Coupons, and number three ranked Whitepapers out-muscled Print Advertising to advance to the next round. In all three of these games, the inbound tactic delivered higher ROI and was far less interruptive than the competition.
Staying in the Midwest Region, there were two upsets. The ninth ranked 3D Lumpy Mail beat out Best of the Blog Newsletters with a last minute bucket. This was a close race, but since Best of the Blog is a lead-nurturing tactic and 3D Lumpy Mail generates new leads for clients, it got the nod. The other upset was when 11th ranked Contests got hot and beat sixth ranked Reference Reels. The tipping point for Contests was also its ability to generate new visitors and new leads for clients, where Reference Reels, while very powerful, are more helpful in the sales process and for bottom-of-the-funnel opportunities.
Other games in the South Region: Content Mapping embarrassed Business Cards, and Trade Shows were out-coached by Online Assessments in a game that was supposed to be much closer. In both games, content led the way, propelling these victories, and while Business Cards and Trade Shows are staples, they just don't deliver like they did 10 years ago.
LinkedIn Advertising, a seven seed, had much more trouble than expected with number 12, Press Releases, but the ability to target messages to an individual pushed LinkedIn Advertising over the top in that match up.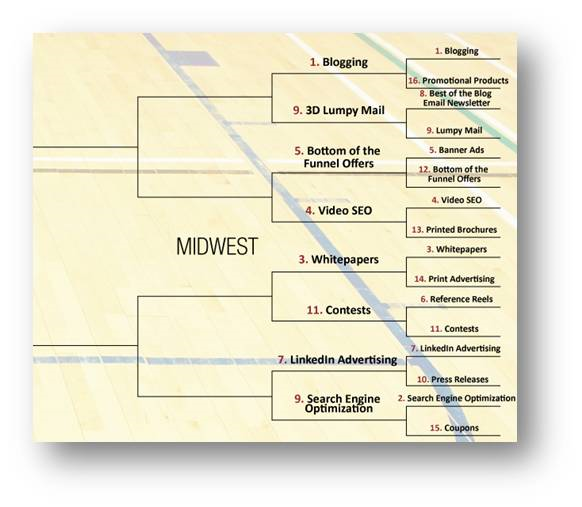 Finishing up in the Midwest Region, Video SEO was impressive by beating out Printed Brochures, and Bottom-of-the-Funnel Offers dominated Banner Ads, which looked old and tired by the end of the game. Both Video SEO and Bottom-of-the-Funnel Offers represent the new thinking in marketing, and they looked like it on the court yesterday. Some examples of solid Bottom-of-the-Funnel Offers include offering website visitors "10 Ideas in 10 Minutes", "ROI Calculators" and our favorite, "Learn How Many Leads Your Website Can Generate In Just 30 Minutes."
Wrapping up the first round in the South Region, Tip Sheets beat out Referral Programs and Posting Content to LinkedIn Groups squeaked by Free Trials in what was the closest game of the day. Tip Sheets had the noticeable advantage over Referral Programs, as Referral Programs are often inconsistently managed, even at the best-run companies. Tip Sheets continue to get website visitors to turn into leads, and they are also used in the sales process to help educate prospects early in the buyer journey.
Posting Content to LinkedIn Groups vs. Free Trials was also a very closely contested match up. But, Free Trials are overrated in regards to their ability to convert visitors into leads. Free Trials are hardly without risk and very often only taken advantage of by those who are already leaning towards purchasing. On the other hand, Posting Content to LinkedIn Groups is excellent at driving very qualified prospects to your website, and when you have a solid landing page in place, these prospects often convert into leads at a very high rate.
Sixteen games down and eight tactics moving forward into the Field of Thirty-Two. Check in tomorrow to see which tactics moved forward when they play later today. We hope you all are enjoying this as much as we are.
Start Today Tip – Run your own March Madness with your marketing tactics. You don't need 64 tactics to run a similar evaluation. Use our criteria and keep inbound marketing in mind and see which tactics are your most important inbound marketing tactics.
Square 2 Marketing – Leading The Reality Marketing And Inbound Marketing Revolution!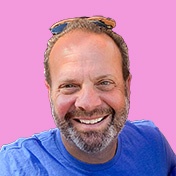 Mike Lieberman, CEO and Chief Revenue Scientist
Mike is the CEO and Chief Revenue Scientist at Square 2. He is passionate about helping people turn their ordinary businesses into businesses people talk about. For more than 25 years, Mike has been working hand-in-hand with CEOs and marketing and sales executives to help them create strategic revenue growth plans, compelling marketing strategies and remarkable sales processes that shorten the sales cycle and increase close rates.