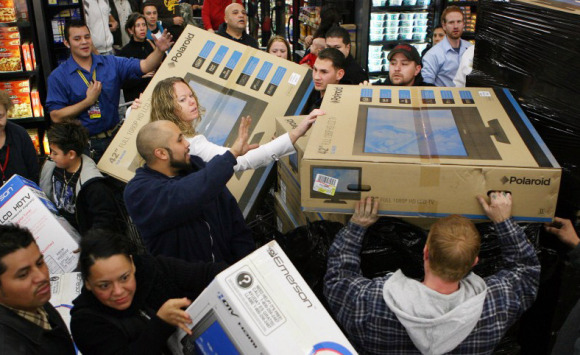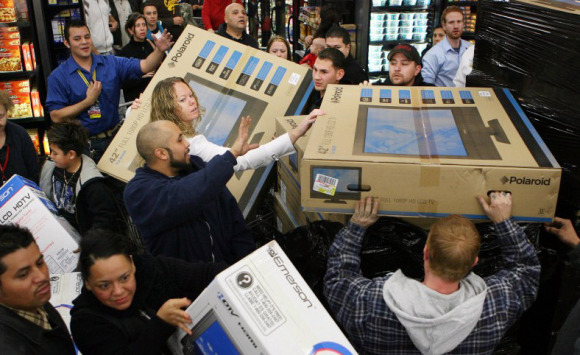 I didn't rush out to the stores at midnight this morning and I'm not planning on going anywhere near the mall or the closest Walmart.
I am, however, thrilled to bring you our Black Friday specials guaranteed to improve your inbound marketing effort through the end of this year and into 2013.
Blogging available at a deep discount – Every website needs a blog. The advantages of a blog and the relative low cost required to maintain the blog make this a Black Friday no brainer. Blogs help with onsite search engine optimization. Every time you add a new page to your website, Google sees it as fresh content. That helps ensure that your site gets "crawled" by the search engine more frequently. Plus, the fresher and more relevant the content, the better your rankings will be.
If you create a calendar of blog topics around the keywords you want to be found for, the effort required to write a blog a few times a week is minimal. So what are you waiting for? You don't even have to go to the stote to start enjoying the benefits of blogging today.
Videos for rock bottom prices – The days of expensive video shoots and expensive post production work are long gone. Homemade videos fit in perfectly with our YouTube culture. Don't misunderstand me, these videos need to be done professionally, they just don't require a professional video crew to achieve your objectives.
First, they need to use your keywords in the script, description, tags and labels required when you post the videos. Next, the sound has to be excellent. If your audience can't hear what you are saying, then the video is worthless. Finally, the videos have to be about your prospects and not about you. Consider "how to" educational videos as a start. No need to push, the store has unlimited video ideas for your business.
Guest blogging now available with inbound links – One of your objectives for your inbound marketing effort should be to drive new visitors to your website. A great way to do this is guest blogging. Take 10 minutes and create a short list of websites or blogs that are popular in your industry. If you have trouble coming up with these names, open up a web browser then search for "your industry" and "blogs". This will return a nice list to start with.
Visit the blogs to get an idea of what they are talking about, who is blogging and whether or not the conversations are relevant to your targets. When you find a good fit, reach out to the editors or moderators for these blogs. Ask if you can provide a few posts and give them a couple of post ideas. When they agree, write your post. It's that easy. Don't forget to include a link back to your website for more educational information. This is how you drive new visitors to your website. Quantities are limited, so make sure you get yours today.
eBooks, buy one get one free – Free eBooks are a great way to get your target prospects engaged with your business. People love getting something for nothing and the value of an eBook is high. Create a single eBook on a topic that's important to your buyers and then customize the eBook content for each vertical market segment. This gives you the chance to create a ton of industry-specific content without having to do individual eBooks.
These should be well-designed, easy to read and include graphics or images. Most importantly, your eBook should be all about your prospect's challenges, not about you and your business. If you include a short paragraph about your business and how you help your customers that will be enough to drive additional interest in your products and services. We honor competitor's coupons, so bring them in today to get your eBook special.
Websites, Offers and Calls To Action specially priced to move – You probably already have some traffic to your website and if you're not getting many leads, then one easy upgrade you should make to your site is to add an offer with a graphic call-to-action (CTA) button. Your website has one single purpose and that's to drive leads for your business. If you thought it was an electronic brochure, it's time to rethink your approach.
Adding an offer -- like an eBook or video -- to your site along with a graphic CTA button will almost instantly convert your site into a lead-generating machine. Add in a dedicated landing page for the offer and you have a nice inbound marketing package that can be added to your marketing program quickly and easily. These special bundles are only available for a limited time so call your inbound marketing expert today to take advantage of this Black Friday offer.
Take advantage of these five Black Friday specials and the number of leads you get from your website will increase. Individually, they will make an impact. Together, they will make an even greater impact. These are just a few of the inbound marketing tactics our clients enjoy. The more you do, the more leads you should expect. The more you do, the faster the leads will come in. It's a very straightforward and transparent process.
If you like these ideas, inbound marketing gives you many more low-cost, content-oriented marketing tactics that, when integrated into a Marketing Machine, helps your business get found, get leads and close sales.
To learn more about Inbound Marketing, click here or on the image to download The Ultimate Inbound Marketing Guide.
Square 2 Marketing – Leading The Reality Marketing Revolution.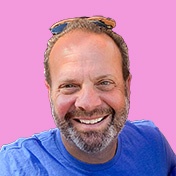 Mike Lieberman, CEO and Chief Revenue Scientist
Mike is the CEO and Chief Revenue Scientist at Square 2. He is passionate about helping people turn their ordinary businesses into businesses people talk about. For more than 25 years, Mike has been working hand-in-hand with CEOs and marketing and sales executives to help them create strategic revenue growth plans, compelling marketing strategies and remarkable sales processes that shorten the sales cycle and increase close rates.