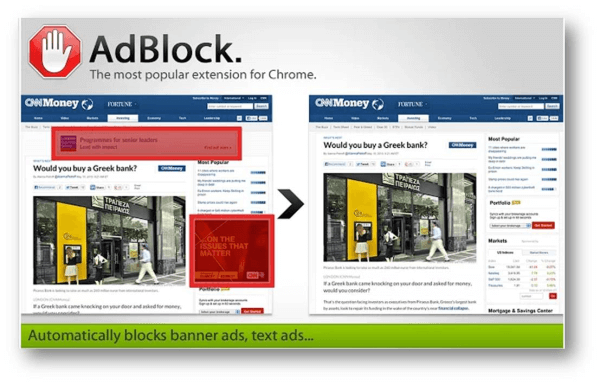 First, there was the Do Not Call List, which prevented unwanted phone calls to our homes and severely limited telemarketing. Then, caller ID enabled us to avoid answering the phone when people we didn't know were calling. Next, DVR was created, allowing us to fast-forward through commercials.
But advertisers haven't given up. They've moved to the Internet with online ads, banner ads and the ability to follow us around.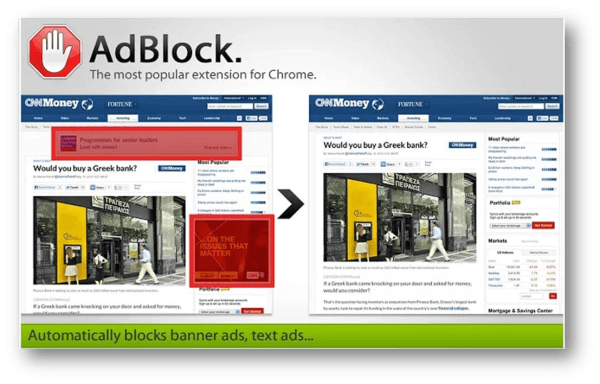 Yesterday, I loaded Chrome's AdBlock plug-in to remove every single online ad from my browsing experience. Hoorah! If you don't know about this, you have to check it out.
No more ads on Google, YouTube or any of my favorite sites. No more ads anywhere online. Take a look at the CNNMoney.com example pictured here.
If you think advertising is going to get you to your sales target and business goals, think again.
Buyer behavior has changed. Advertising isn't going to catch fire and become desirable. There are going to be more and more ways to keep ads away from consumers because consumers just don't want to be advertised to. They don't want to be sold to, and they don't want to be interrupted while having dinner, watching TV or browsing the Web.
Instead of being tricky and coming up with tools like remarketing (in which banner ads follow you around the Internet to get your attention while they stalk you), focus on earning your prospects' attention by helping them.
Use me as a real-life example. Despite being super excited to have eliminated all advertising from my web experience, I use search every day. Today, I was searching for golf shoes, outdoor furniture, hardwood floor repair and project management software. Progressive marketers would have easily been able to capture my attention for products and services in each of these categories.
How? Inbound marketing. Instead of employing banner ads, pay per click or social media sponsored ads, which are cluttering up my websites, why not try to help me? Offer me valuable information to assist me in making safe and educated purchase decisions.
I am interested in almost everything associated with each of those product categories. For instance, I am looking at recycled products for my outdoor furniture. I would love to read something about durability, heat conduction, production processes and the cost compared to more traditional products. A manufacturer or retail store that provided me with information related to any of these areas would have my undivided attention and, better yet, my email address. Yes, ladies and gentleman: a very well-qualified lead.
On the B2B side, our agency has been looking for new project management software for about four months. We have a very specific set of challenges: We need something that is web-based, that is able to grow with us, that offers dynamic scheduling and that enables estimating, financial and project-based analysis. It has been challenging to find details on all of the available options.
All of our research has been done online, and we were pretty well informed when we reached out to various sales reps. To be honest, each of the personal interactions were disappointing. Had even one of these companies offered educational information that advised me and my team, it would have differentiated that company significantly, putting them in the best position to win our business.
This is happening all over the Web. Right now, you are missing out on people who are coming to your website and not finding any information to help them, only information on you and your company. So they leave and continue their search for knowledge somewhere else – probably at your competitor's site.
Still not sure how to do this? Let me give you even more specifics. And don't worry, you're welcome to take these ideas and use them. They're yours.
With regard to the outdoor furniture I want to buy, how about one of these as a downloadable PDF on any of the websites that offer this type of product?
"10 Reasons Recycled Outdoor Furniture Lasts Longer And Looks Better Than Regular Wood Or Metal Outdoor Furniture"
An infographic that shows how much trash is used to make a piece of recycled outdoor furniture
A short video showcasing how easy it is to install, how great it looks and how effortless it is to keep clean
I'd be able to do this all day, and so would you. It's that simple. As for the project management software companies (feel free to use these ideas, too):
"15 Questions To Ask Your Project Management Software Sales Person Before You Sign Up"
"The Top 11 Must-Have Features For Agencies Looking For New Project Management Software"
Since I am worried about the implementation time and expense: "Seven Secret Ways To Ensure Your Agency's Project Management Is Implemented In 30 Days"
I would have downloaded all of these without even blinking. The cost to these firms would have been pennies, and the leads generated would have been significant.
And by adding a blog to the party, these firms would be able to write even shorter articles (like this one) daily. Blogs get found by search engines, and even when I use my new AdBlocked Chrome browser, I see interesting blog articles on the products and services I am ready to buy.
It's not just the new way to market your company: It's quickly becoming the ONLY way to market your company. You have to start shifting money away from wasteful, interruptive, traditional advertising and reallocate it to highly searchable, sharable and educational content that people want. Do it today to impact your revenue this year.
Start Today Tip – You may try to handle this yourself, but inbound marketing and content marketing take practice and time. A better approach would be to work with an inbound marketing agency that has experience building, implementing and optimizing an inbound marketing program that drives leads. In the end, it's going to be faster and cheaper than trying to do it on your own. Start today!
Square 2 Marketing - Leading The Reality Marketing And Inbound Marketing Revolutions!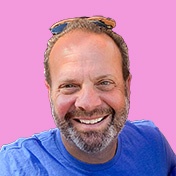 Mike Lieberman, CEO and Chief Revenue Scientist
Mike is the CEO and Chief Revenue Scientist at Square 2. He is passionate about helping people turn their ordinary businesses into businesses people talk about. For more than 25 years, Mike has been working hand-in-hand with CEOs and marketing and sales executives to help them create strategic revenue growth plans, compelling marketing strategies and remarkable sales processes that shorten the sales cycle and increase close rates.