Since the summer is now officially over, I'd like to compare inbound marketing to a timely example of outbound advertising that gets ignored—the aerial advertisement.
In case you're not sure what I am talking about. Take a look at the picture to the right. If you've never visited the beach, attended a sporting event or been to an outdoor concert, you might have been spared the aerial advertisement. But I'm guessing you are familiar with the idea.
A plane pulling a banner with an advertisement flies overhead, exposing millions of people to some product or service they probably care nothing about. Since most advertising is based on impressions, this type of advertising does deliver...in some cases, millions of impressions and perhaps even at a very low cost.
But what percentage of people beneath the ads actually look up to see the ad? Worse yet, how many actually do something about it? After all, your goal isn't just to expose people to our brand, it's to drive them to DO something. Call, click or come in right?
One of the major advertisers at the Jersey Shore is Comcast. Do they actually think people will switch from Verizon just because they saw a plane carrying a Comcast banner? Doesn't it have more to do with picture quality, movie options, internet speed, service features and customer service?
Not to mention, the space you have for your message is severely limited. Look at the pic here again. Buy one, get one free—of what? Maybe there was another plane that flew by before this one with the rest of the message?
How about all the people reading? Listening to music? Talking to their friends? Playing catch? Swimming in the ocean? Really, the only people who even see the banner are those sitting around doing nothing. What's that, maybe 20%? But you pay for them all. Whether they see and care about your ad or not.
Now I know this sounds extreme and most of you are probably chuckling to yourself. Who would ever do this? This is such a waste of money and such a silly way to market a business.
But guess what: This is the same as buying a print ad in a magazine or buying radio ads or going to a trade show. It's just an extreme example. All of these traditional outbound marketing tactics are sold based on potential audience (a.k.a. "impressions") as opposed to more tangible factors like website traffic or leads generated. Using some of the newer tools available to business owners, CEOs and marketing professionals (content marketing, social media, blogging, video, and email marketing) delivers more tangible results in a more personalized, one-to-one manner.
On a side note, I reached out to the aerial advertising company to get rates. I thought I would share the costs and deliver a high-level ROI model for all of you but, believe it or not, I am still waiting for a call back from their sales team.
I think this teaches us a very valuable lesson—no matter how great your marketing is, if your sales team doesn't continue creating a remarkable experience, it's going to be very, very challenging to close sales and drive your business to new heights.
I am going to blog more about this tomorrow because this is such an important point of discussion. Today's focus remains on moving from interruptive outbound marketing to more engaging and personalized inbound marketing.
Start Today Tip – It's important to take a very objective view of your current marketing. Are you using any interruptive marketing tactics? While you might not be doing any aerial advertising, you might be doing some local print ads or even some radio. You need to take a look at the performance of those programs. How many visitors have they driven to your website? How many leads have you received from those investments? If you aren't able to quantify the performance of those programs, you might want to consider reducing or even removing those and reallocating that money to more inbound marketing oriented tactics.
Square 2 Marketing – Leading The Reality Marketing and Inbound Marketing Revolution!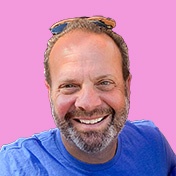 Mike Lieberman, CEO and Chief Revenue Scientist
Mike is the CEO and Chief Revenue Scientist at Square 2. He is passionate about helping people turn their ordinary businesses into businesses people talk about. For more than 25 years, Mike has been working hand-in-hand with CEOs and marketing and sales executives to help them create strategic revenue growth plans, compelling marketing strategies and remarkable sales processes that shorten the sales cycle and increase close rates.