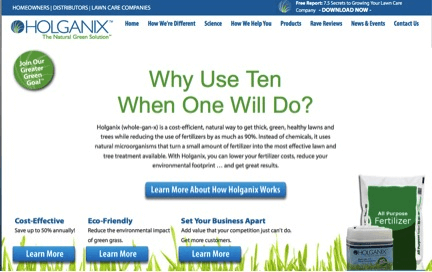 Listen up! You know your website needs several important features if your company is going to successfully generate more new leads. In fact, as readers of this blog should know by now, getting leads from your site needs to be your single biggest website strategy goal.
And what's the best way to get all those new leads to convert? By integrating strong calls to action (CTAs) throughout your website design. This is no secret, really but lots of businesses overlook this critical element. You need to set yourself apart from that crowd. Having calls to action strategically placed throughout your website increases the likelihood that your website visitors convert from lurkers to leads.
A call to action is a banner, button, graphic or text-based link on your website with the express purpose of prompting a website visitor to interact with your company directly. Think about it: what do you want users of your website to do? Contact you? Sign up for your email list? Schedule a consultation? Buy your products? Once you know the action you want them to take, work on your "call" to come up with the most intriguing and succinct term or phrase and encourage conversion. Then, make sure your CTA leads to a dedicated landing page where prospects can easily connect with your offer. For instance, if your CTA encouraged the download of a free report, tip sheet or guide, it should lead to a landing page form requesting a visitor's name and contact information in exchange for this valuable content.
Still confused? Check out this shot of the homepage of Square 2 Marketing client, Holganix, to see an excellent example of integrated calls to action. How many CTAs do you see?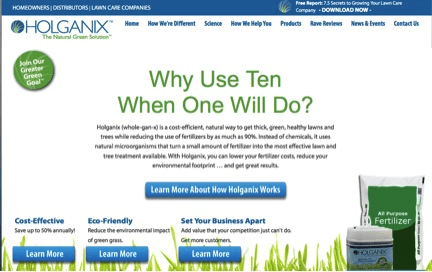 Go even further by using calls to action specific to the exact level of interaction with your company that each website visitor is looking for. We use the "Trio of Offers":
A No Risk Offer (NRO) for people who are looking to download content or are just "testing the waters" to see what your company's all about. Use a call to action to encourage the user to download a free report, for example.

A Low Risk Offer (LRO) provides a more interactive experience (webinars, surveys, quizzes, etc.) and requires a bit more engagement on the part of your prospects. Calls to action for this kind of offer might include "Register For This Month's Webinar" or "Take the Online Challenge."

A Direct Business Offer (DBO) addresses those who know, like and trust your company and are ready to do business right now. These offers should be accompanied by a CTA along the lines of "Schedule Your Free Consultation Today."
A call to action may seem like a small thing but, executed correctly, it packs a huge conversion punch. Combining your offers with a strong call to action is a surefire way to speed up your lead generation. So be bold and make sure you strike the right nerve. Otherwise, you're probably losing leads. Tomorrow, we explain how to craft the kind of calls to action that set your business apart from the competition by inspiring immediate response…so stay tuned!
Start Today – Take a hard look at your website from a marketing standpoint. Beyond keeping the viewer interested, are you encouraging and motivating him or her to interact with you further? If you don't have calls to action, that answer is automatically no. Begin searching for places on your website to utilize these action-oriented buttons and check back tomorrow for our tips and tricks on crafting excellent calls to action.
Square 2 Marketing - Leading the Reality Marketing And Inbound Marketing Revolution!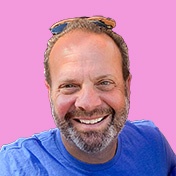 Mike Lieberman, CEO and Chief Revenue Scientist
Mike is the CEO and Chief Revenue Scientist at Square 2. He is passionate about helping people turn their ordinary businesses into businesses people talk about. For more than 25 years, Mike has been working hand-in-hand with CEOs and marketing and sales executives to help them create strategic revenue growth plans, compelling marketing strategies and remarkable sales processes that shorten the sales cycle and increase close rates.