How And Why Inbound Marketing Works
Learn Why Inbound Marketing Works And Old-School Marketing Doesn't Work Anymore
You don't have to look any further than your own buyer behavior to see why inbound marketing works so well. Do you watch TV commercials when you DVR your shows? Do you notice the print ads in your favorite magazine? Do you click on pay-per-click ads on Google? Neither does anyone else.
But it's actually getting worse. As of June 2015, 200 million people were using ad-blocking software on their browsers and smartphones. So your intended prospects aren't even seeing your pay-per-click, banner ads and pop-ups.
Today marketing has evolved into a science designed to create a remarkable educational experience for your prospect. This is how you can match your marketing to your prospect's buyer journey. In this chapter we'll show you exactly why inbound marketing works so well with today's buyers.
---
Why Inbound Marketing Works
Since buyer behavior has changed so dramatically over the past few years, and the internet has empowered all of our buyers with the information they think they need to make sound purchase decisions, our marketing and sales processes must be adjusted accordingly.
No one buys anything until two conditions become satisfied. First, you have to feel that your purchase is a "safe" one, and second, you need to have acute pain. Think about your own buyer behavior. The last time you bought something substantial (car, sofa, TV) you were 100% comfortable with your choice and you absolutely needed or wanted what you bought. You know it's true.
Now, apply what you learned in college marketing. Reach and frequency states you need to tell as many people as possible, as many times as possible, about your business, and when they need it (their pain is acute), they will remember you and buy from you.
That's fine if you're Pepsi, Coors or Acura, but not if you are any reasonable business with a limited marketing budget and a CEO who wants to know how many leads you generated this month.
If you want to get your prospects to buy, you have to press their "buy button."
The only way to do this is to make them feel safe. In fact, the buy button is controlled by the same part of the brain that controls the fight-or-flight reflex. Again, think about your own buyer behavior. How do you feel when you're approached by a salesperson? Not great, right? You want to avoid creating that feeling for your prospects.
Educate, advise, counsel and coach your prospects instead of trying to sell to them.
This aligns perfectly with inbound marketing, content marketing, email marketing and many of the digital marketing tactics that innovative inbound marketing firms deploy.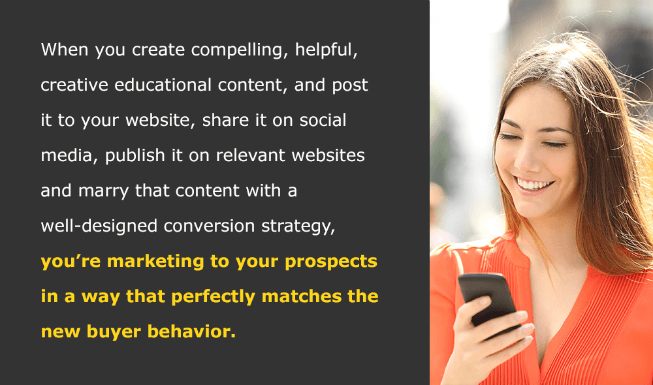 The next step in pressing that buy button is to nurture those leads effectively.
By continuing the educational conversation with them and providing additional helpful information, you continue to make them feel safer and safer. By keeping them close to your company in a planned out and structured way, when their pain becomes acute (by the way, we never know when that pain becomes acute), they don't search for companies like yours; rather, they slide down the sales funnel and ask to speak with you or someone on your team.
When you talk about getting people to buy, you can't leave the sales team out of the conversation.
One of the major challenges associated with changing the way you market your company is changing the way you sell to your prospects.
If your marketing team is guiding and your sales team is selling, you have a disconnect. This is one of the fastest ways to push your prospects away. Consider mapping content directly into your sales process, and consider revamping your sales process so that it is designed to help your prospects make safe purchase decisions.
---
How Does Inbound Marketing Work?
People all over the world are trying to figure out how inbound marketing works. We've already talked about why it works. I'm referring to actually understanding the mechanics of how it works to generate new visitors to your website and how to turn those visitors into leads for your business.
You're going to be surprised to find that this has nothing to do with the actual tactics that go into an inbound program. You don't need me to tell you how to write a compelling blog article that gets found, and you don't need me to tell you how to build a website so that your prospects have a remarkable experience with your company. These and other specific tactics are critical, but they are far from being part of the secret sauce.

It introduces a methodology allowing you to connect marketing tactics – The idea of integrated marketing isn't new. Even traditional advertisers know that their marketing tactics need to be tied together. But those tactics can still be siloed, and those silos are broken down and removed with inbound. The thread that ties all of the inbound tactics together is inbound itself. The process is a single effort focused on optimizing a variety of tactics with real data and quantitative performance as the measure of success.

To do it right, it needs a strategy before tactics – While there might be some people who disagree, 14 years of doing inbound for clients has shown that having a well-thought-out, comprehensive marketing strategy before you start is one of the secrets to an inbound program that delivers results. Without an inbound marketing strategy and plan, running an inbound marketing program is like baking a cake without a recipe. Unless you're a master baker, the risk of your cake coming out tasting less than yummy is high.

It's data and performance based – For years, marketing was an art, but today, it's a science. Every day, we get data on the performance of all aspects of an inbound effort. We get data on blog articles, webpages, rankings for keywords, email campaigns, lead nurturing emails, conversions on specific landing pages, CTA buttons and content types. All of this information gives us unprecedented insight into what's performing and what might be underperforming. Better yet, we get this in real time.

Its mission is leads, not branding – "Get your name out there" has been the rallying cry for marketers for years. Today, the new mantra is, "Get leads!" How refreshing: Finally, there's a business-oriented measurement for marketing. Inbound is the only methodology that provides the tools to generate leads, instead of just "get your name out there and hope someone calls you." Hope is not a strategy!

It has an automation component – Today, marketing is exponentially more complicated than it was even two or three years ago. Yes, you can buy software to automate your recurring marketing tasks, like email and landing page development. But, if you want to really make an impact on your business, you need to be looking for an inbound automation platform. Inbound marketing is so methodical, so scalable and so repeatable that it requires automation to make it hum.

It's about them, not about you – This is more of a marketing issue than an inbound issue, but it's a common mistake we see. Whether you're doing inbound or not, you still have to talk about your prospects. Resist the urge to talk about yourself. Your prospects don't care about you; they only care about how you're going to help them.

It uses the best of today's marketing tactics – As we mentioned above, inbound takes the best of today's buyer-focused marketing tools and puts them together in a Marketing Machine. They are tightly integrated and, when coupled with a solid strategy and a methodology to optimize the effort weekly, they produce solid results month over month for years to come.

It's systematized, scaled and replicated – Inbound marketing is a process. Processes are designed to be scaled. So, once your inbound marketing or inbound sales process is set up, it can be scaled, systematized and replicated so that it runs behind the scenes with oversight instead of deep involvement. Need more leads? Turn up the process.

It's optimized day by day, week by week, month over month – Finally, you get insight into how you're doing. Not at the end of a three-month ad campaign, but rather every single day. With inbound, you literally look at your smartphone and see visitors, conversions, leads, sources of visitors, blog performance and more. Today, we adjust our program weekly so that, by the end of the month, we have overachieved.

The better you get at it, the higher your return on investment – Whether you're running an inbound marketing agency or an internal marketing department, this is one of the best reasons to be considering or even executing an inbound program. As you get good at it, it takes less time and requires fewer resources, meaning you make more money.
In addition, as your program improves, it actually gets easier to generate the leads you need to hit your goals. When you have 15,000 followers and you publish a blog article, you should expect many more new visitors to your site than when you only had 150 followers.
Inbound takes time. Here's a bonus secret: Get started today. The sooner you start, the sooner you're going to start seeing results. Apply all of these insights and before you know it, you'll have an inbound machine driving both marketing and sales at your company.