I don't have to tell any of you that the holy grail of marketing is the generation of leads that turn into sales and revenue, enough to propel your company well past your revenue goals and into double-digit growth territory.
What you might not know is that the secret to lead generation is the use of offers on your website. Yep, that's it. Boil it down to its most basic form, and you end up with this.
Create the right offers, make them compelling, place them strategically on your website and keep them fresh month over month, and you have the marketing machine you need to hit all of your sales goals.
Okay, that's simplifying the situation a bit, but here is how you do what I described above.
Plan And Strategize
We see more inbound marketing plans run aground because someone skipped the planning and strategy phase. Don't do that. It takes thinking to create content that turns website visitors into leads. You need to know your prospects. What moves them? What questions are they asking? You need to know how to engage them, what problems they have and how your products or services solve those pains. You also need to know what makes your business special. Skip this step at your own peril.
Next, you need to plan out your editorial calendar. Creating a series of offers that convert visitors into leads takes smarts. What are you going to write about? What keywords need to be included? Do you make a video or a written document? What about infographics? It's easy to get overwhelmed and distracted if you don't have a plan. Today, content marketing has so many moving parts, so you need to think it out. What do your CTA (call-to-action) buttons look like? What about your landing pages? Do you want to email the offers or send the person to a page with the offer right there?
Plan it out up front for easy implementation down the road.
Create The Offers
Now you're ready to actually write and design the offers you've planned to add to your website. I strongly advise you to use a professional writer and professional graphic designer for both tasks. If your whitepaper, e-book or tip guide is poorly written, it's not going to help your prospects feel good and safe when it comes to hiring you. If your offer isn't designed well, is hard to read or isn't responsive to smartphones and tablets, well, you get the idea.
This might be a prospect's first exposure to your business. Do you want them reading something poorly written or looking at something that's been poorly designed? No. You want them to have an amazing experience with your company at every turn. Don't skimp or cut corners here.
Create The Offer Buttons
You might write the best whitepaper since the Declaration of Independence, but if you don't create a compelling call-to-action button for it, your prospects won't want it. Call-to-action buttons are a critical part of the equation. Without graphic, bold, marketing-message CTA buttons, your results are going to be limited. See our example of a graphic CTA button at the top of this post.
Create The Landing Pages
If your prospects like your CTA button and click on it, they land on what we call a landing page. This page has only one goal: to get your prospects to fill out a form and submit their contact information to you, turning them from anonymous website visitors into first-class, qualified marketing leads.
Make sure you don't accidentally confuse your prospects or give them too much to do on that page. Keep it simple: include no navigation, use bulleted text and show a big, bold picture of the offer so your prospects see exactly what they're going to get when they receive your valuable piece of educational content.
The last part of this page is the form you're going to ask them to fill out. Don't ask for too much information. Email only usually works best for prospects in the early part of the sales funnel or still in the awareness stage of their buying process. The more information you ask for, the fewer leads you're going to get.
Create The Delivery
You created the offer, designed the button and built the landing page. You can still blow it if you don't deliver the content in a way that makes your prospects feel great about your company. Don't make them wait. People want instant gratification. Once they submit their contact information, take them directly to a page where the content resides. This is the best way to ensure that your new fans get the best experience.
Track, Test, Rinse And Repeat
All of this sounds good, but who knows if it's going to work or not? Actually, you'll know. Inbound marketing is repeatable, measurable and optimizable. After a couple of days, you're going to see which offers are working, which CTA buttons convert and which landing pages drive the most leads. Over time, you drop out the underperforming content, add in new content and double-down on the content that your prospects love. The result: world-class inbound marketing campaigns.
It's going to take some practice, but if you follow the recommendations above, you're going to see the number of leads from your website increase week over week and month over month.
Start Today Tip – The best way to get started with creating offers is to inventory all of the questions your prospects are asking during the sales process. This list is the basis for our content marketing plan and strategy. Each of your offers needs to answer one of the questions on that list. The more questions you answer with content, the more leads you're going to generate for your business. Start with one question, one CTA, one landing page and one delivery page. After you've let that run for two weeks, you'll know what you need to do next.
Square 2 Marketing – Leading The Reality Marketing And Inbound Marketing Revolution!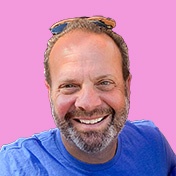 Mike Lieberman, CEO and Chief Revenue Scientist
Mike is the CEO and Chief Revenue Scientist at Square 2. He is passionate about helping people turn their ordinary businesses into businesses people talk about. For more than 25 years, Mike has been working hand-in-hand with CEOs and marketing and sales executives to help them create strategic revenue growth plans, compelling marketing strategies and remarkable sales processes that shorten the sales cycle and increase close rates.