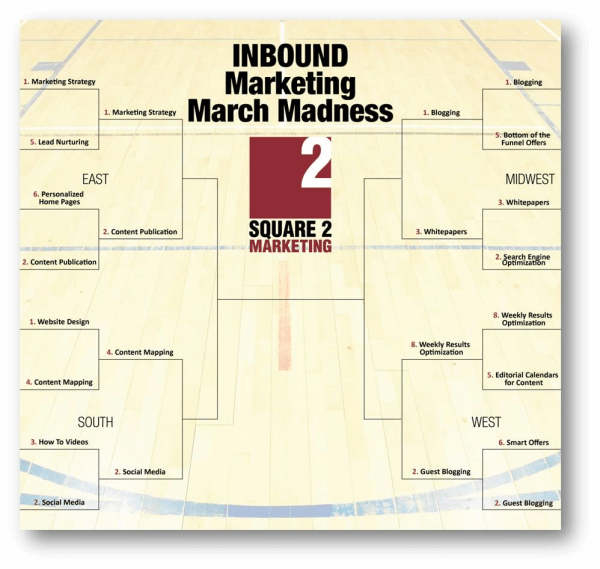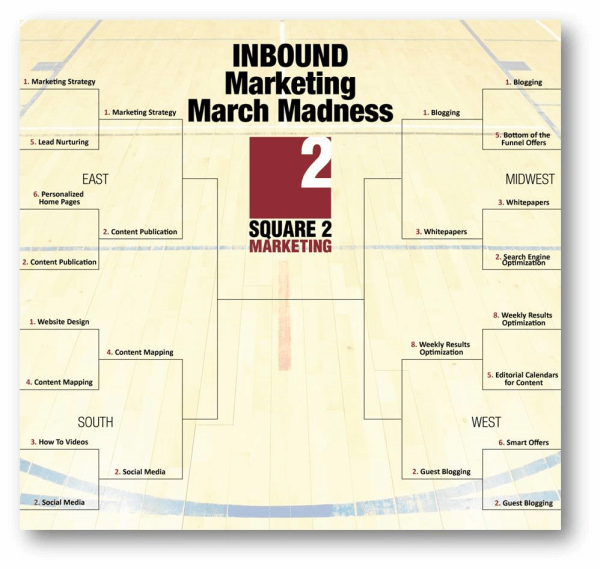 Inbound Marketing's version of March Madness continued last night with 16 teams in competition and eight of them emerging victorious, moving onto the Elite Eight and being just one step away from competing in the Final Four.
Click on the picture to the right to see it in a larger, easier-to-read format.
In what was expected to be a "no contest," the perennial favorite and number one seed in the East Region, Marketing Strategy, easily handled the fifth seeded Lead Nurturing.
While lead nurturing is critical, it just couldn't keep up with the athletes on Marketing Strategy. We have seen programs with similar tactics flounder without a marketing plan and strategy. It's going to be very difficult to beat this team going forward.
Also in the East Region, the number two seeded Content Publication beat the number six seeded Personalized Home Pages in a contest that was much closer than the experts predicted. Personalized Home Pages has been hot through the end of the regular season and advanced further than most expected in the tournament, but the sheer value associated with Content Publication – driving website visitors and real leads by publishing existing content on key website properties – just couldn't be matched.
On a side note, personalizing your prospects' experiences on your home page is going to become a requirement over the next 12 to 18 months. Your prospects are going to expect it and you are going to want to deliver it, especially when you see conversion rates tripling when compared to static sites. We expect this team to be one of the top contenders in next year's tournament of 64. They are definitely a team on the rise.
In the South Region, the focus on content continued when the number four seed Content Mapping upset the number one seed Website Design. This game had its fair share of controversy and, in the end, it could have gone either way. But, the ability to map content to the prospect's journey and apply content outside of marketing and into the sales process was just too much for a more traditional tactic like Website Design to match.
Staying in the South Region, number two seed Social Media was able to handle the potentially overrated number three seed, How-To Videos. Social Media was considered a number one seed by many of the experts, so this wasn't a surprise to anyone in attendance. Social Media, just based on the sheer numbers, is going to be very difficult to beat should they continue to advance.
In the West Region, number two seed Guest Blogging out-muscled and out-rebounded the sixth seeded Smart Offers. Again, this team is one to watch next year and beyond. They are a young team, with underclassmen who are talented and very strong shooters. Guest Blogging is going to be a perennial challenger for the championship going forward.
In what was one of the major upsets in yesterday's set of games, the number eight seed Weekly Results Optimization took advantage of the foul trouble that Editorial Calendars experienced. The extra advantages associated with measuring results weekly, making real-time adjustments weekly and applying a continuous improvement approach to inbound marketing are obvious. The results speak for themselves.
Last but not least, the MidWest Region had its share of exciting games. First, top seeded Blogging defeated Bottom-of-the-Funnel Offers with three-point shooting and shut-down defense. Blogging should be one of the final teams when the dust settles, if they continue to play at the pace they played yesterday.
And in what is considered a major upset, number two SEO went down to number three Whitepapers. Whitepapers was on their game, and many think SEO can be delivered effectively with educational content like whitepapers if they are coordinated, mapped and integrated effectively across all the inbound marketing tactics. The future of SEO is educational content, and we saw that played out on the court.
The schedule for the rest of the tournament, for those of you who want to set your DVRs, looks like this: On Monday, we will get down to the Final Four, reporting on the four games that make up the Elite Eight discussed here today. The Final Four teams will play Thursday and Friday of next week, and the Championship will be held on Monday, April 7th.
Start Today Tip – You can use all the head-to-head battles in the Inbound Marketing March Madness Tournament to help make selection decisions at your company. Radio Advertising or Pay-Per-Click? Traditional SEO or Content Marketing? All of these questions come up day in and day out. Now, you have some comparison information and some background on why one tactic might perform better than another tactic. Apply these at your company and you improve your ability to get found, get leads and close sales.
Square 2 Marketing – Leading The Reality Marketing And Inbound Marketing Revolution!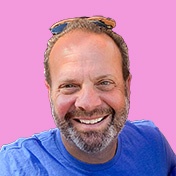 Mike Lieberman, CEO and Chief Revenue Scientist
Mike is the CEO and Chief Revenue Scientist at Square 2. He is passionate about helping people turn their ordinary businesses into businesses people talk about. For more than 25 years, Mike has been working hand-in-hand with CEOs and marketing and sales executives to help them create strategic revenue growth plans, compelling marketing strategies and remarkable sales processes that shorten the sales cycle and increase close rates.