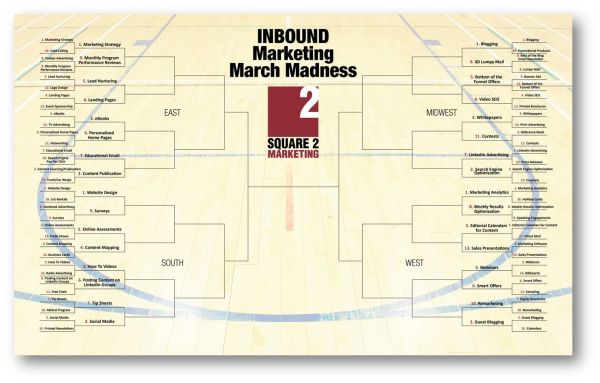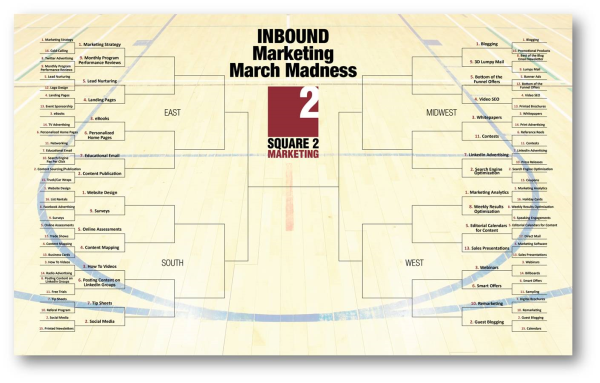 In what has become a hugely popular tournament, inbound marketing tactics are dominating the more traditional outbound marketing tactics included in the tournament.
The two remaining Regions, East and West, finished up round one and there were a few unpredicted upsets in the West Region. The East Region played out with no unexpected results.
In the East Region, the number one seed Marketing Strategy blew away the 16th seed Cold Calling in a game that was never even close. The number nine seed, Monthly Performance Reviews, did upset the number eight seed Twitter Advertising, primarily due to the number of rookies playing on Twitter Advertising. As that team gains a little more experience, they may be more formidable next year.
Staying in the East Region, number four Landing Pages and number five Lead Nurturing beat their opponents Logo Design and Event Sponsorship. Neither of those games presented the upsets some experts predicted. Number three e-books ran up and down the court to get by the number 14 seeded TV Advertising, and the six seeded Personalized Homepages out-rebounded the number 11 seeded Networking to advance to the second round.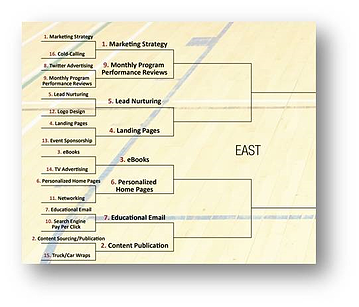 The number two ranked team, Content Publishing, unveiled a new motion offense to leave the 15th ranked Truck Wraps scratching their heads. Content Publishing has a very good chance to go all the way this year.
The final game in the East Region pitted the number seven seed Educational Emails versus the number 10 seed Search Engine PPC. This was by far the closest of the games in the East Region, taking Educational Emails two overtime periods to finally put down Search Engine PPC.
In the West Region, one of the biggest upsets of the tournament to date was when number 13 Sales Presentations got past number four Marketing Software. It's not that we don't support Marketing Software for lead generation and inbound marketing program performance, but it IS POSSIBLE to run an inbound marketing program without marketing software, and that tipped the scales in Sales Presentations' favor.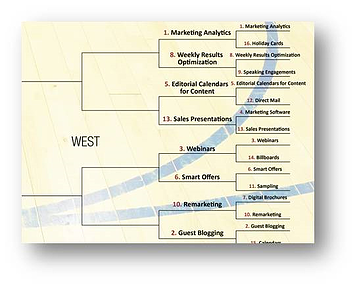 Number one ranked Marketing Analytics and number two ranked Guest Blogging dominated their competition, sending number 16 ranked Holiday Cards and number 15 ranked Calendars home with their tails between their legs.
Number eight ranked Weekly Results Optimization beat number nine ranked Speaking Engagements on a last minute three pointer. Speaking engagements are an excellent source of highly qualified leads, but many businesses lack the speaking expertise and talent to execute this tactic.
Number five ranked Editorial Calendars for Content beat number 12 ranked Direct Mail. Number three ranked Webinars took care of number 14 ranked Billboards in a game that was never close. Number six ranked Smart Offers, who was in the tournament for the first time in their history, beat number 11 ranked Sampling to advance to the round of 32.
Finally, in the West Region, number 10 ranked Remarketing upset number seven ranked Digital Brochures in a game that saw both teams' superstars foul out in the final minutes of the game. While Digital Brochures save money and paper and are easily shareable, they couldn't keep up with the personalization that Remarketing delivers.
These games complete the first 32 games of Round 1. Tomorrow, we will look at Round 2 match ups and report on the tactics that advance to the field of 16. After a few days off, we will be back to finish up the tournament on Friday and then pick it up Monday of next week.
Start Today Tip – Use the key learning from comparing these tactics to help you decide if you have tactics that need to be retired or if you have tactics you have yet to kick off. You should trust that if these tactics are moving through the tournament successfully, they have been proven to deliver results for clients. That means they help your business get found, get leads and close sales.
Square 2 Marketing – Leading The Reality Marketing And Inbound Marketing Revolution!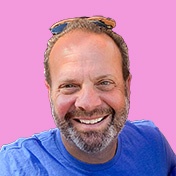 Mike Lieberman, CEO and Chief Revenue Scientist
Mike is the CEO and Chief Revenue Scientist at Square 2. He is passionate about helping people turn their ordinary businesses into businesses people talk about. For more than 25 years, Mike has been working hand-in-hand with CEOs and marketing and sales executives to help them create strategic revenue growth plans, compelling marketing strategies and remarkable sales processes that shorten the sales cycle and increase close rates.